Effortlessly create your own Yoga sequences
and practice them mindfully
The Revolutionary Yoga Decks used by over 42,985 yogis around the world. Now with an improved design, more asanas and new features you are going to love.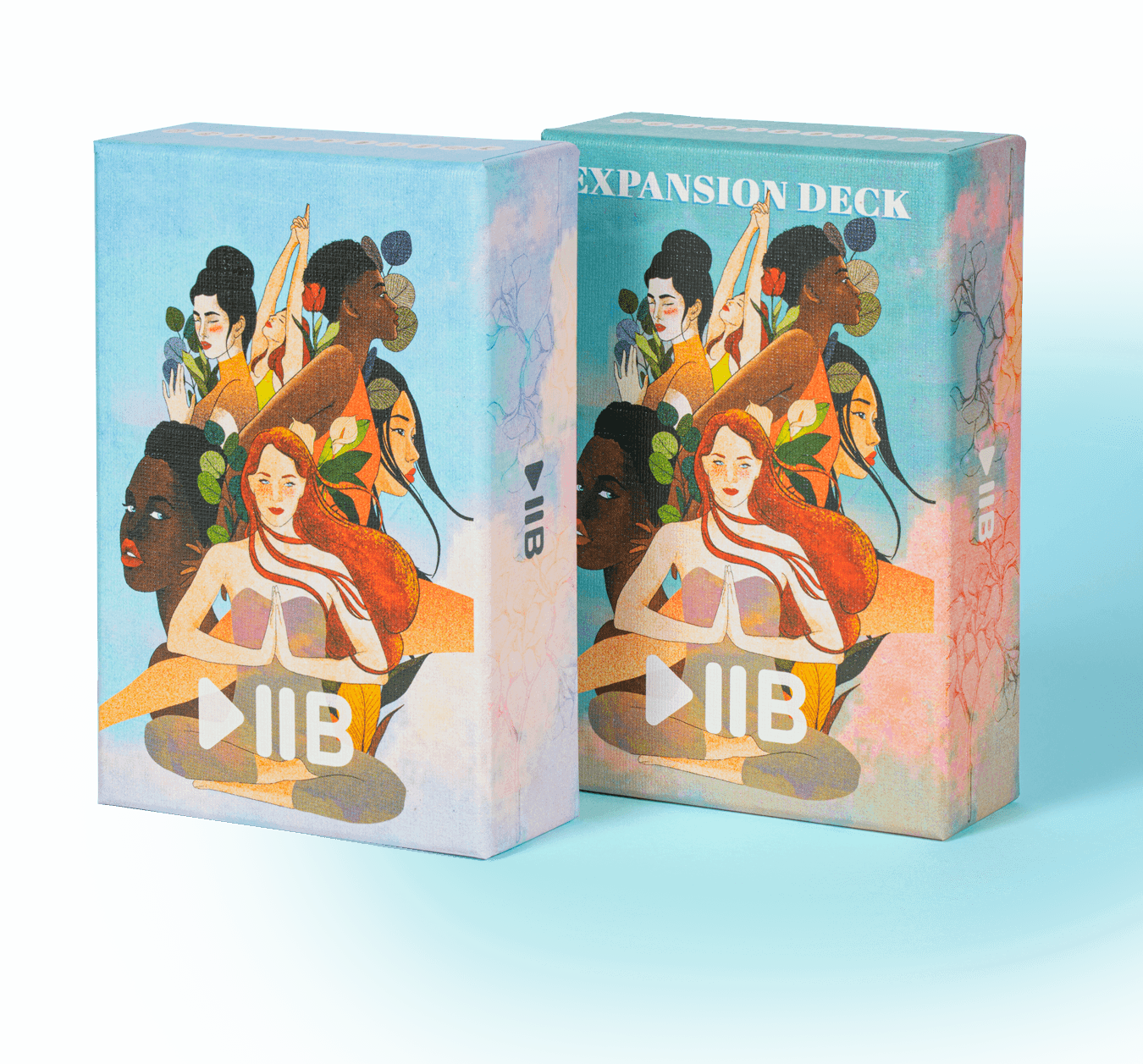 Praised by Yoga teachers all over the world
I wouldn't be without them when planning a yoga sequence! They are so helpful and just the colors and the picture alone help to prompt when I am teaching. Absolutely love them!
These cards were a game changer for my personal practice and as a new RYT-200 HR instructor they are helping me to become more confident in sequence planning.
Bella Hayward Mullet - USA
Quick shipping and the cards are amazing. They will definitively add much ease to my class planning and also help me come up with creative ideas. 
The New PlayPauseBe Deck
At a Glance
82 illustrated poses in 9 categories
A unique sequencing reference system
Cues to practice safely
Benefits for each pose
Name in English and in Sanskrit
Difficulty level indications
Chakra indications for each pose
Intention Cards
Complete Manual
Enjoy a Personalized Yoga Practice
The PlayPauseBe Yoga decks are designed to help you create a truly personalized practice. They will help you practice yoga mindfully, at your own pace, disconnecting from everything.
The Yoga Deck is a beautiful work of art made of 82 cards. There are 9 categories that will take you through a complete yoga practice, from warm up to slow down.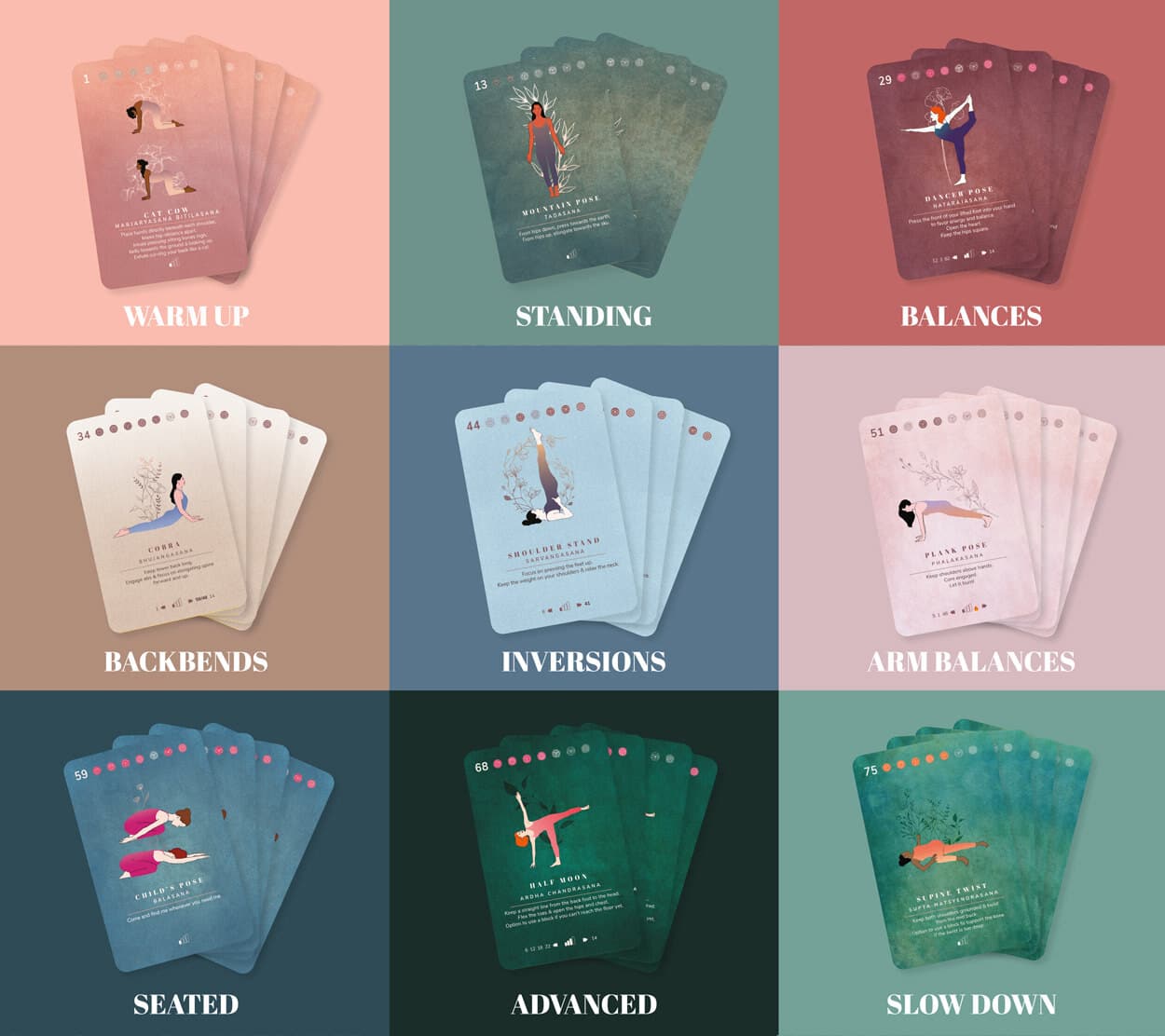 Create Yoga Sequences Like A Pro
PlayPauseBe helps you create an infinite number of sequences, whether you are a beginner or advanced. On every card, beneath each position, there is a simple phrase that helps you set your focus and practice safely.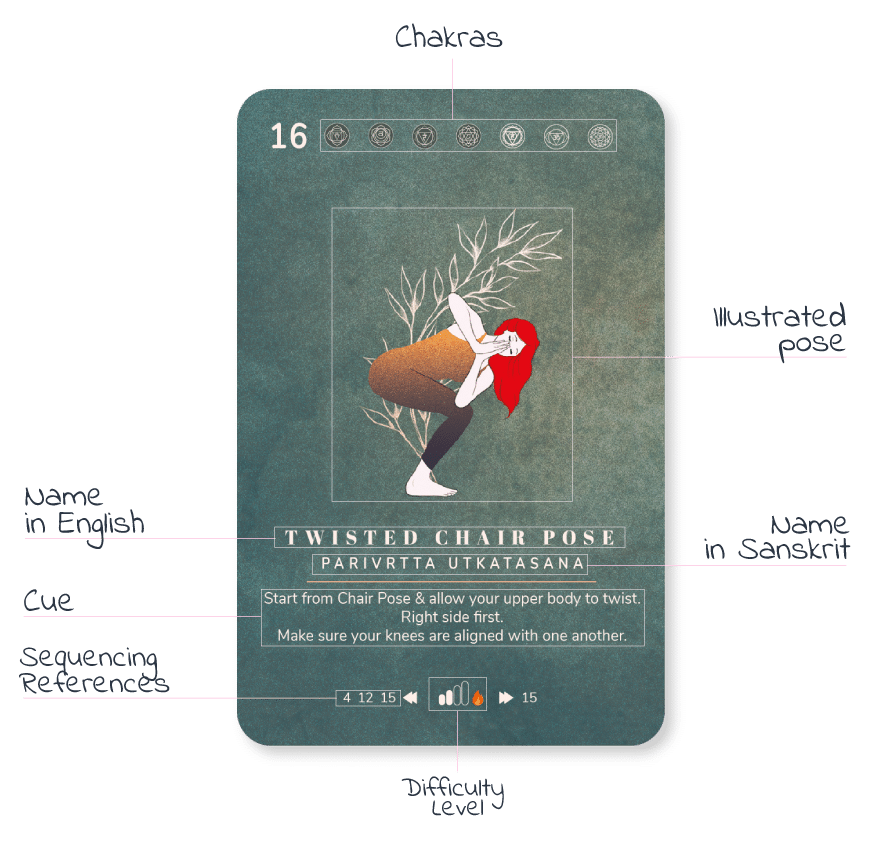 Under the phrase, the numbers on the left of the "rewind" symbol are suggested positions to practice before the card at hand, while the numbers on the right of the "fast-forward" symbol are suggested positions or counterposes to play after the card at hand.
The "volume" symbol under the phrase gives you an indication of how advanced the position is. The fire figure will indicate if a position is aimed at building heat and make your muscles burn. This way you can choose to create a dynamic sequence or a relaxing one.
With these indications, creating sequences has never been so easy!
See PlayPauseBe in action!
Target Benefits of the following sequence: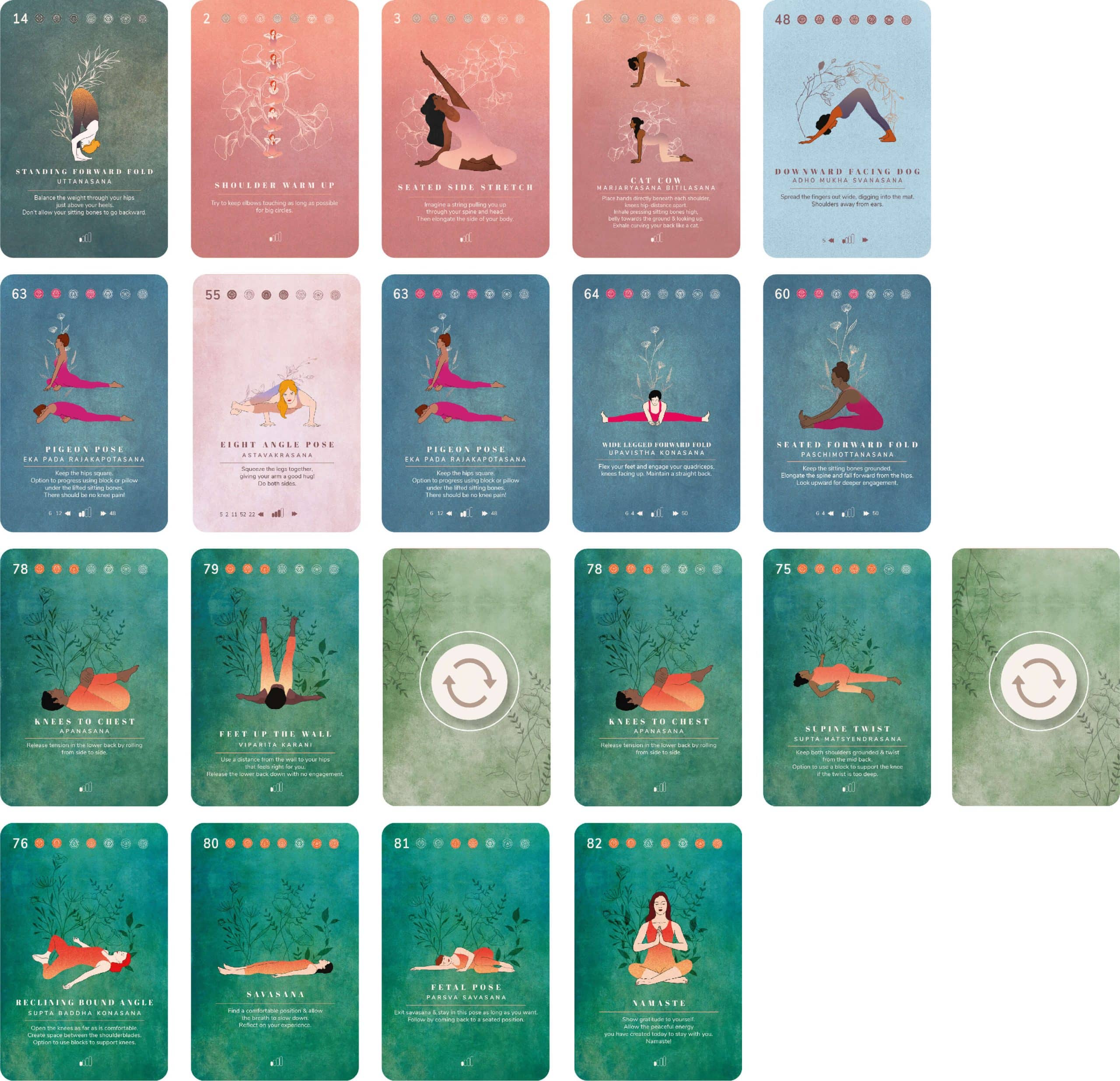 On the top of each card we added which chakra the pose activates. For each pose, you can find highlighted, the chakras involved.

This way, you can easily create sequences based on a specific chakra theme, or discover a deeper understanding of each pose on an energetic level.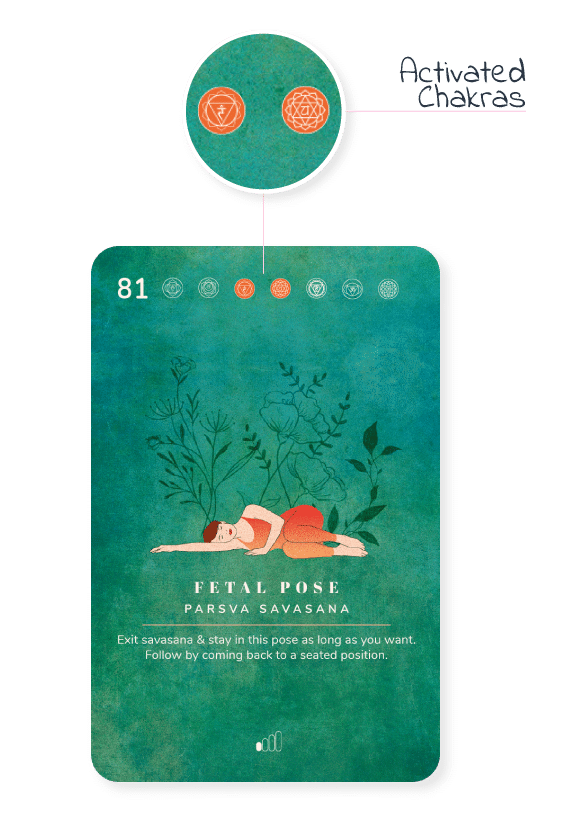 Root Chakra
Sacral Chakra
Solar Plexus Chakra
Heart Chakra
Throat Chakra
Third Eye Chakra
Crown Chakra
Get Specific Benefits from your Yoga Practice
On the back of each card, you will find 10 benefits. The ones that are relevant for the card at hand are highlighted. This way you can also create a practice according to your health goals.
Lungs
Heart
Digestive System
Strength
Flexibility
Mind
Immune System
Organ & Hormones
Posture
Sleep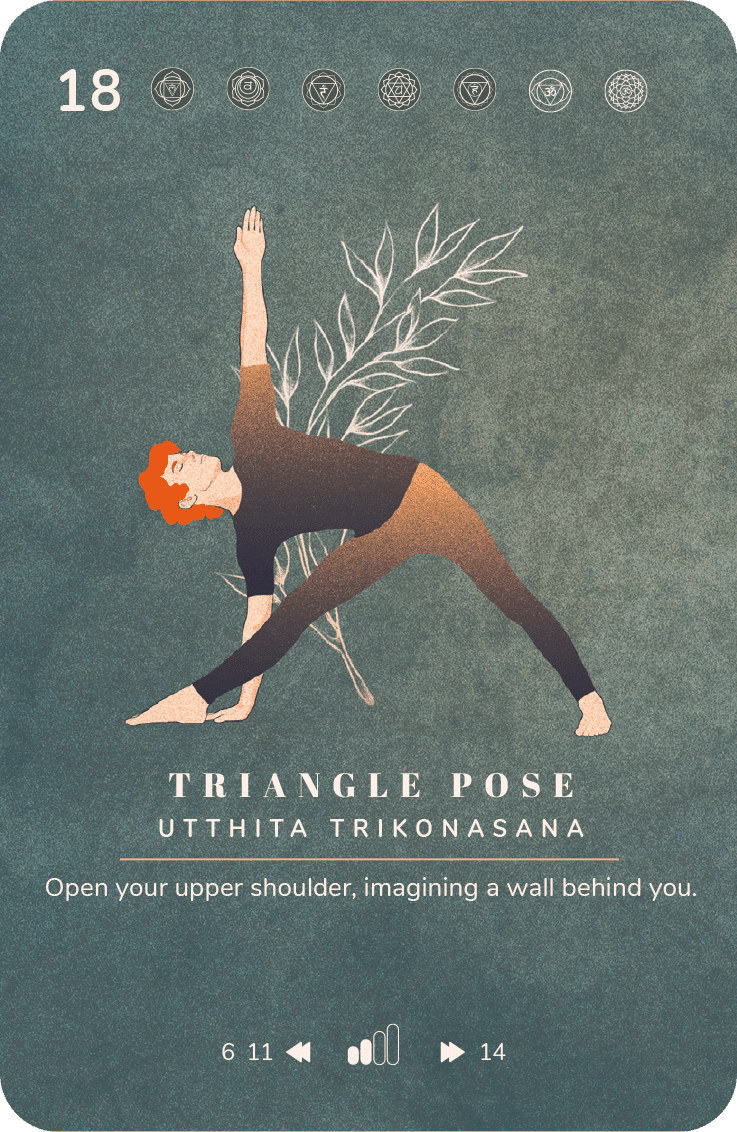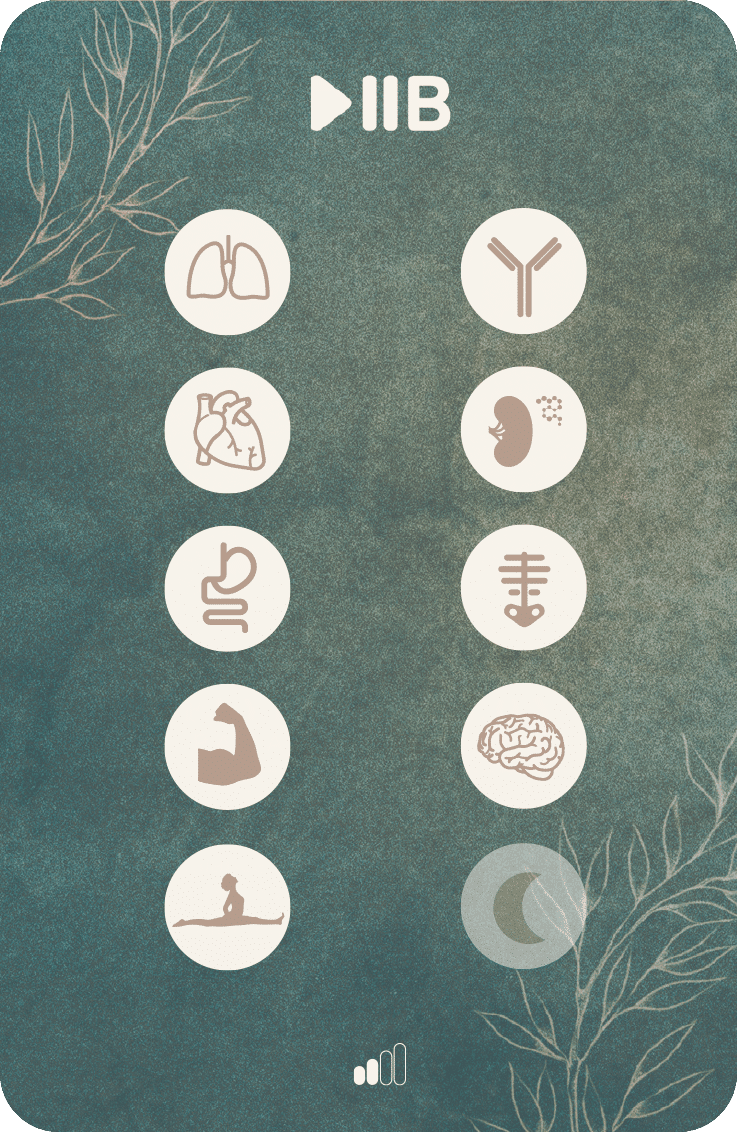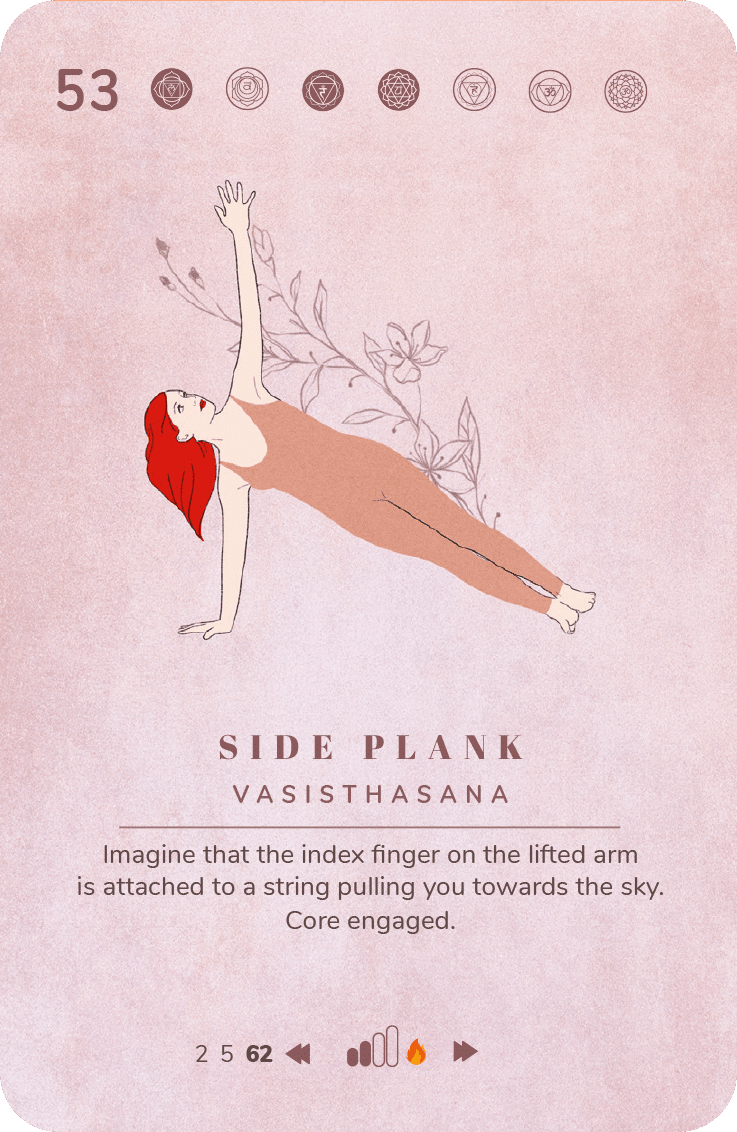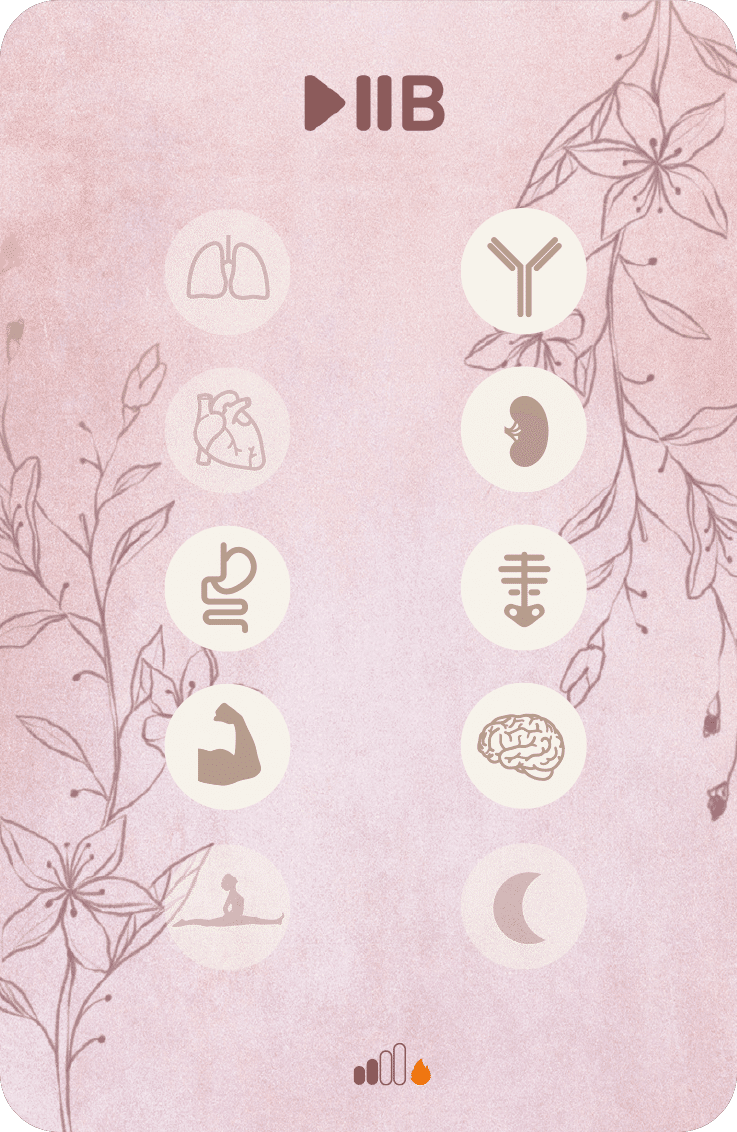 Front & Backside of the cards with highlighted benefits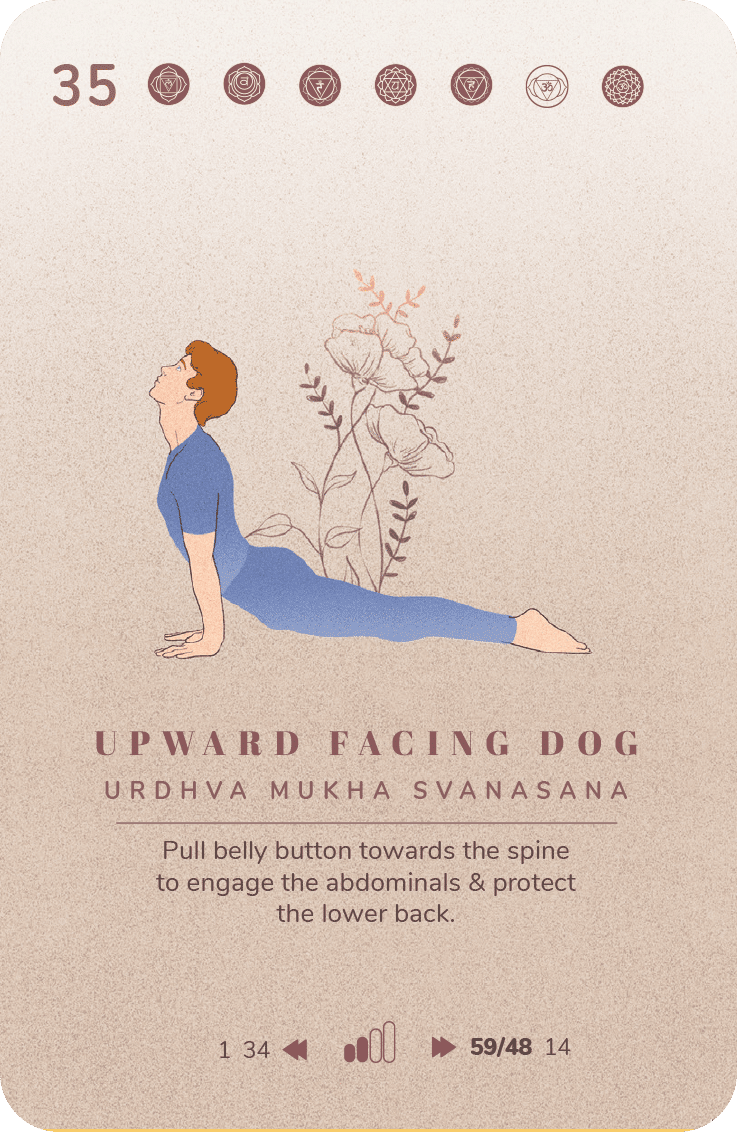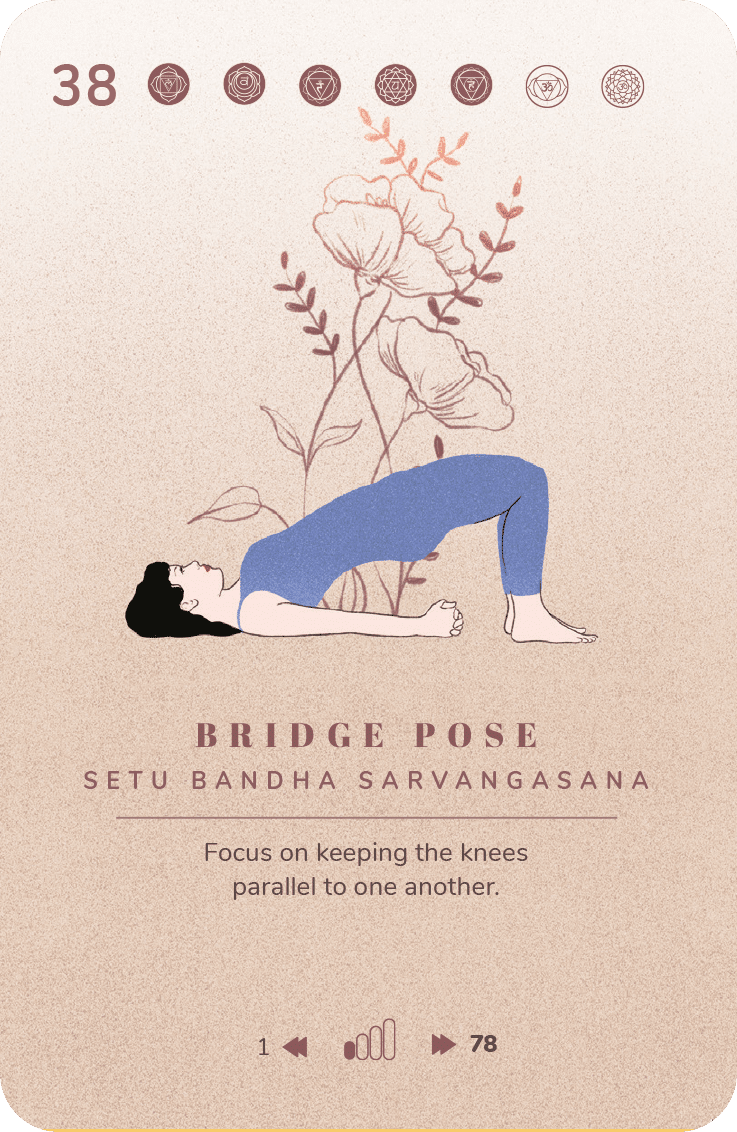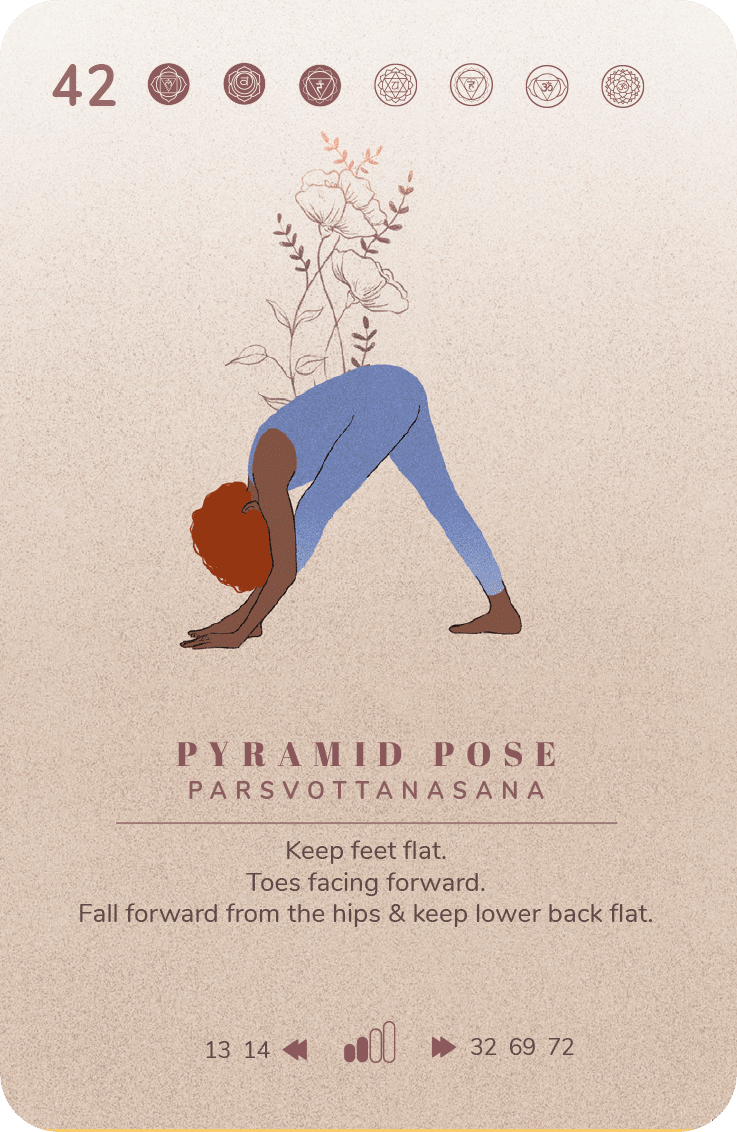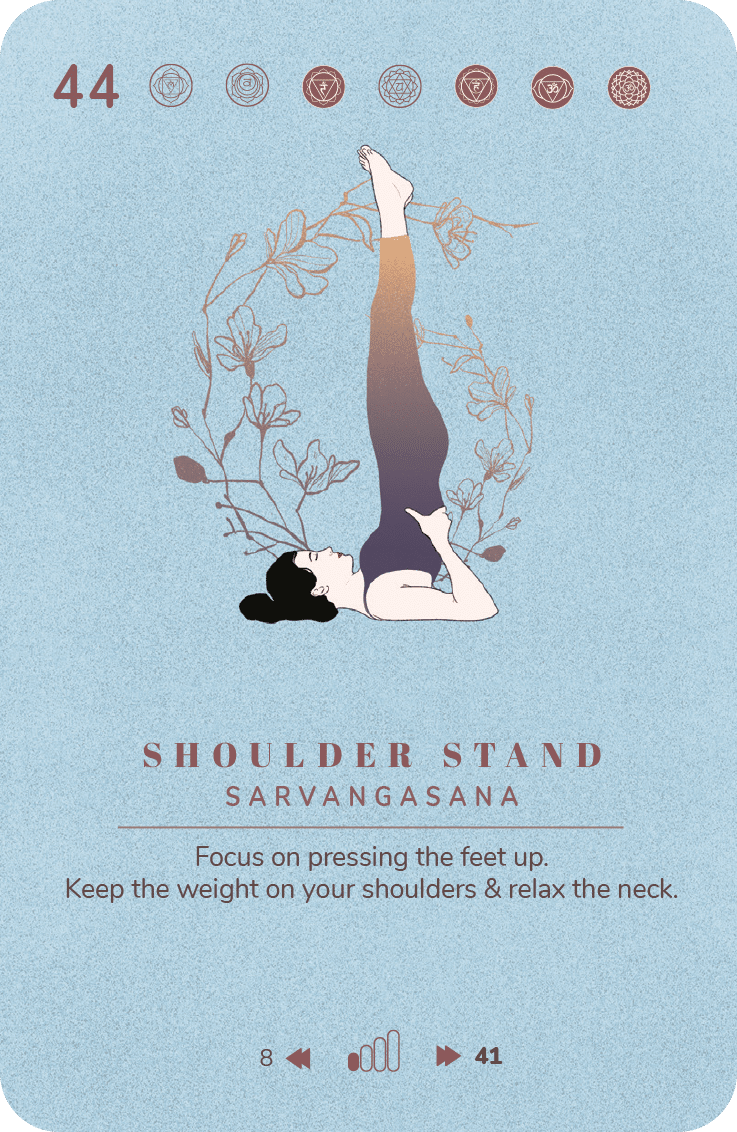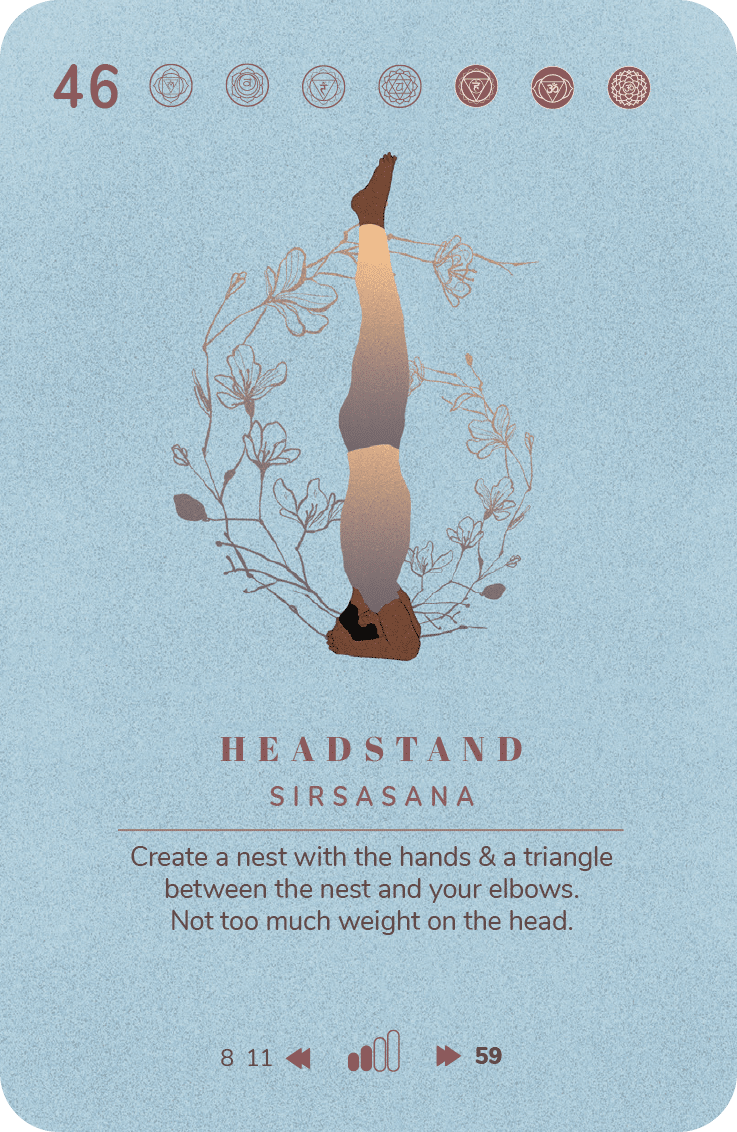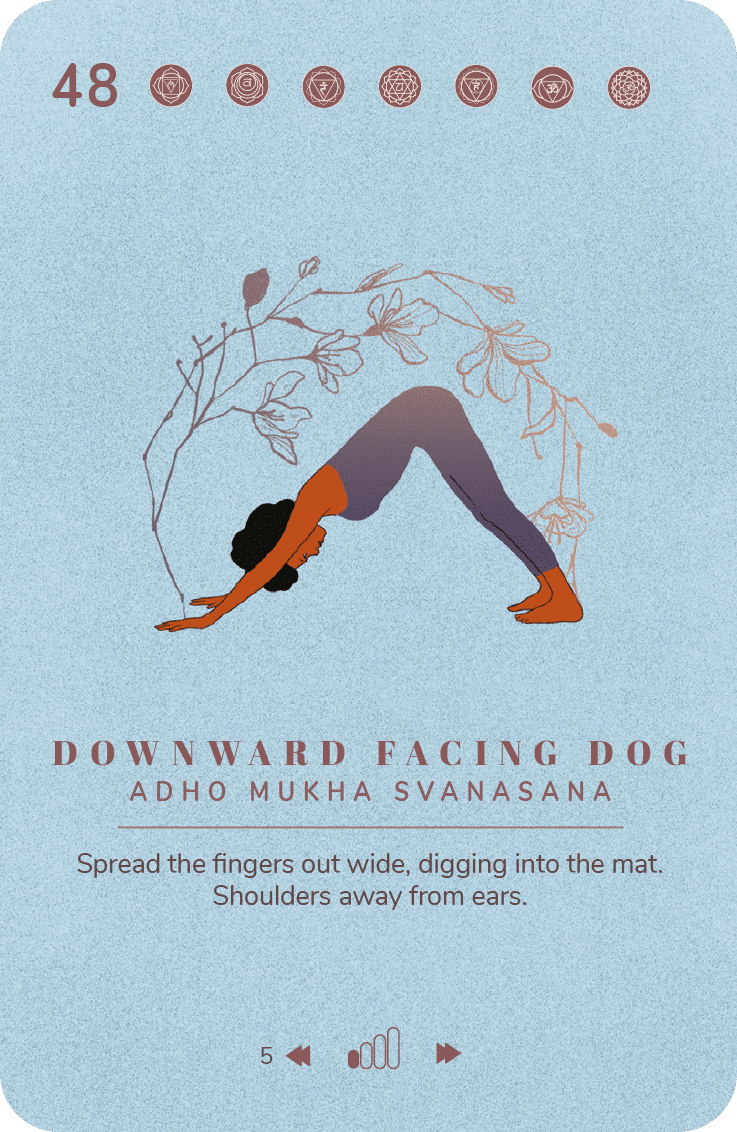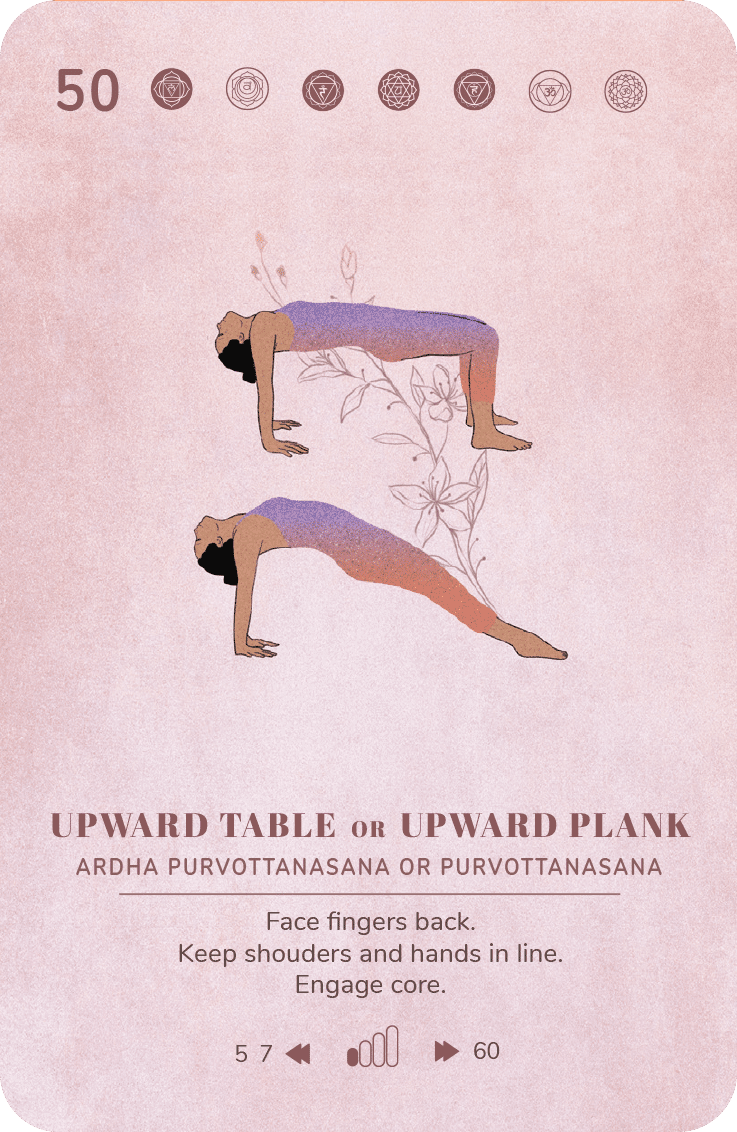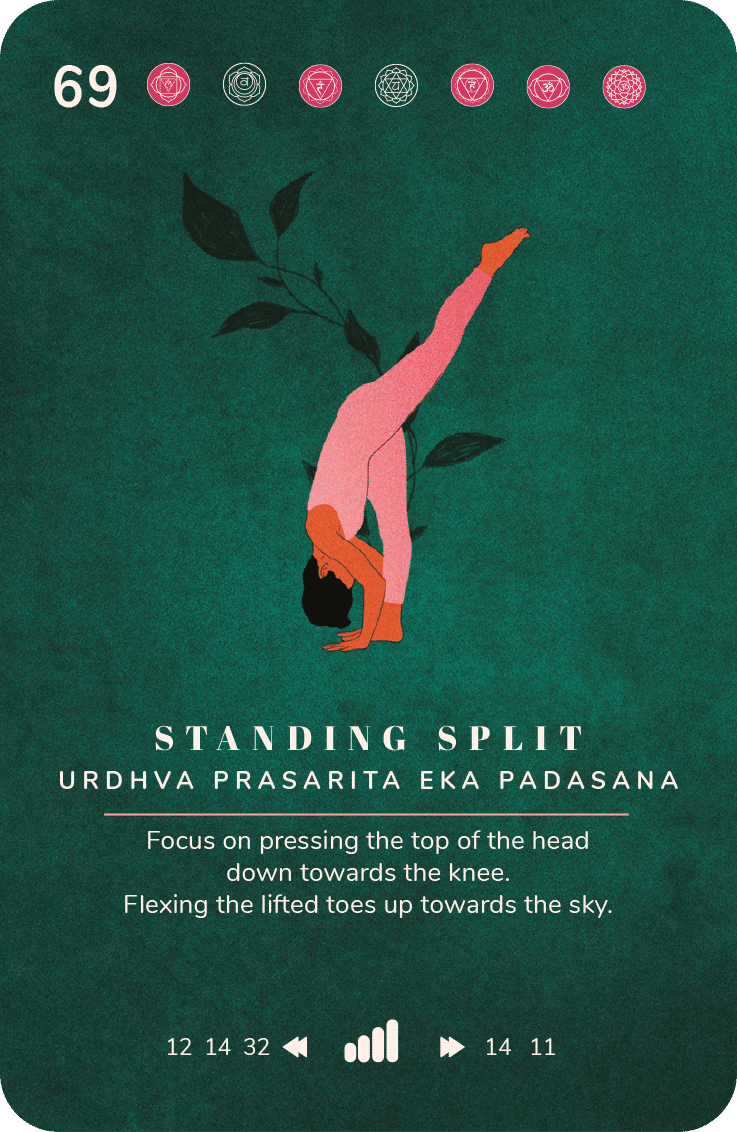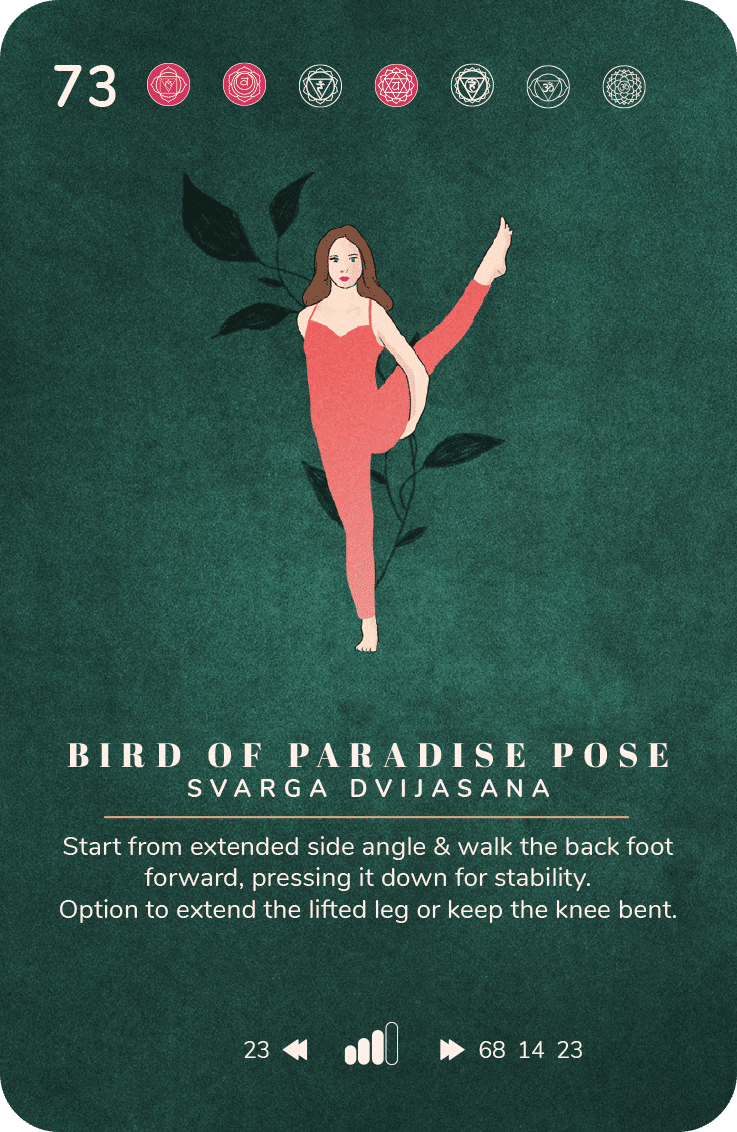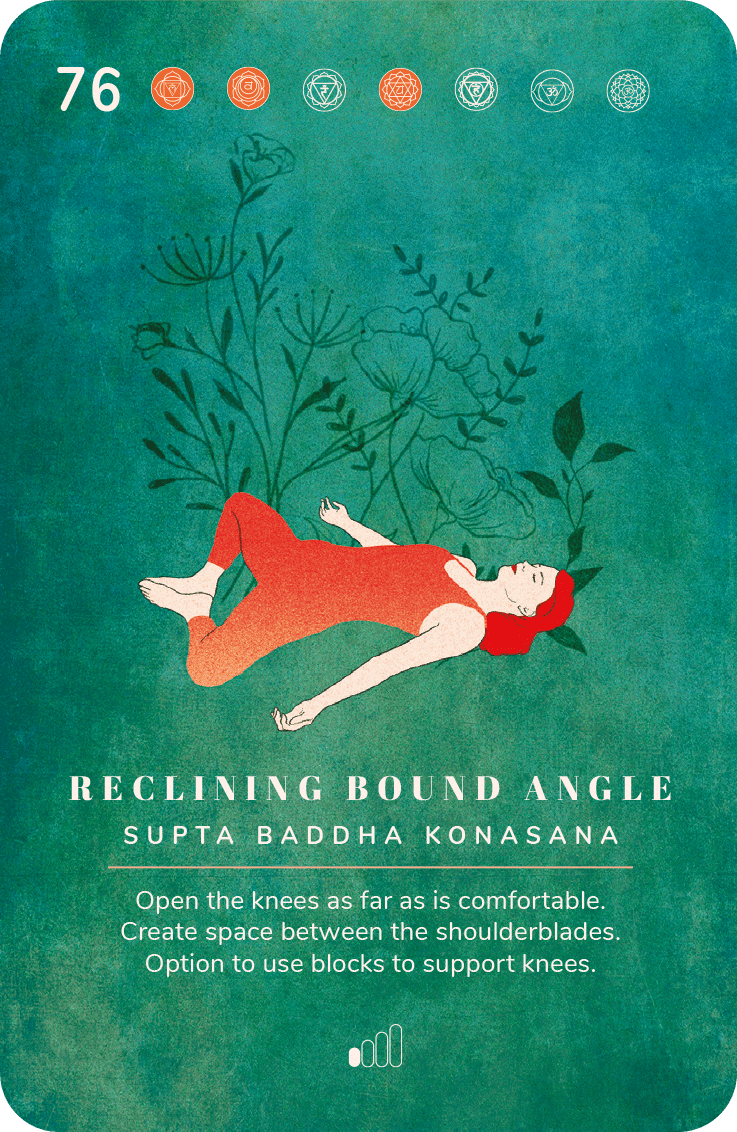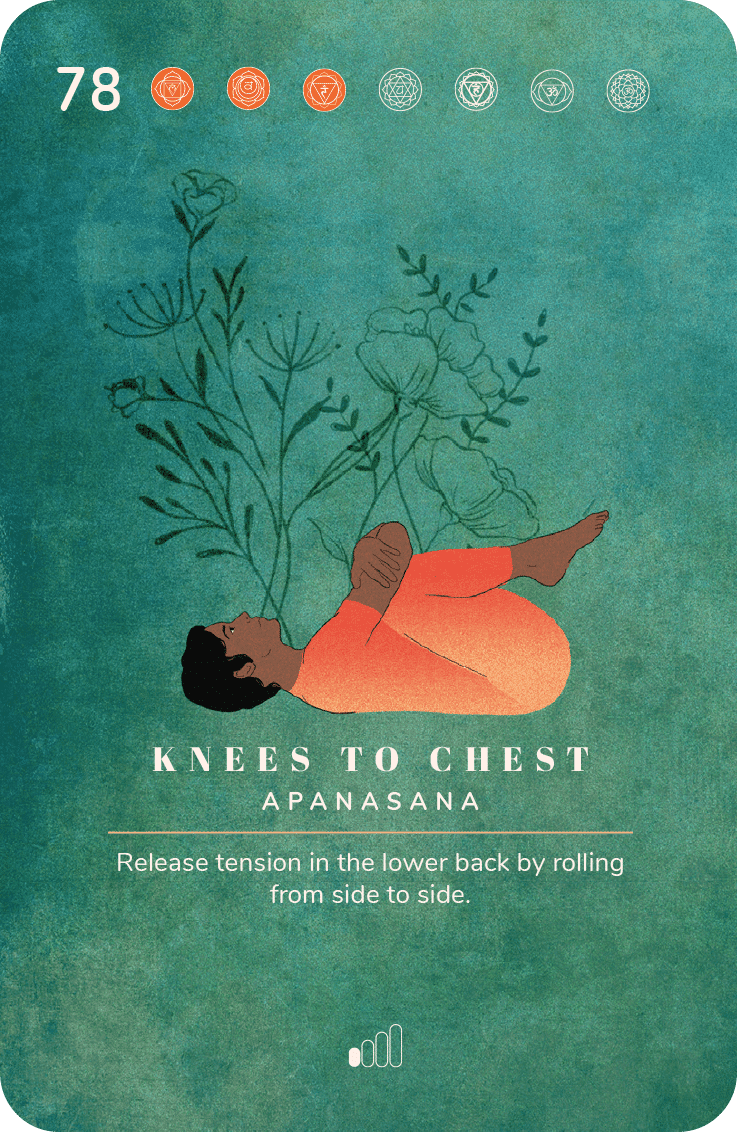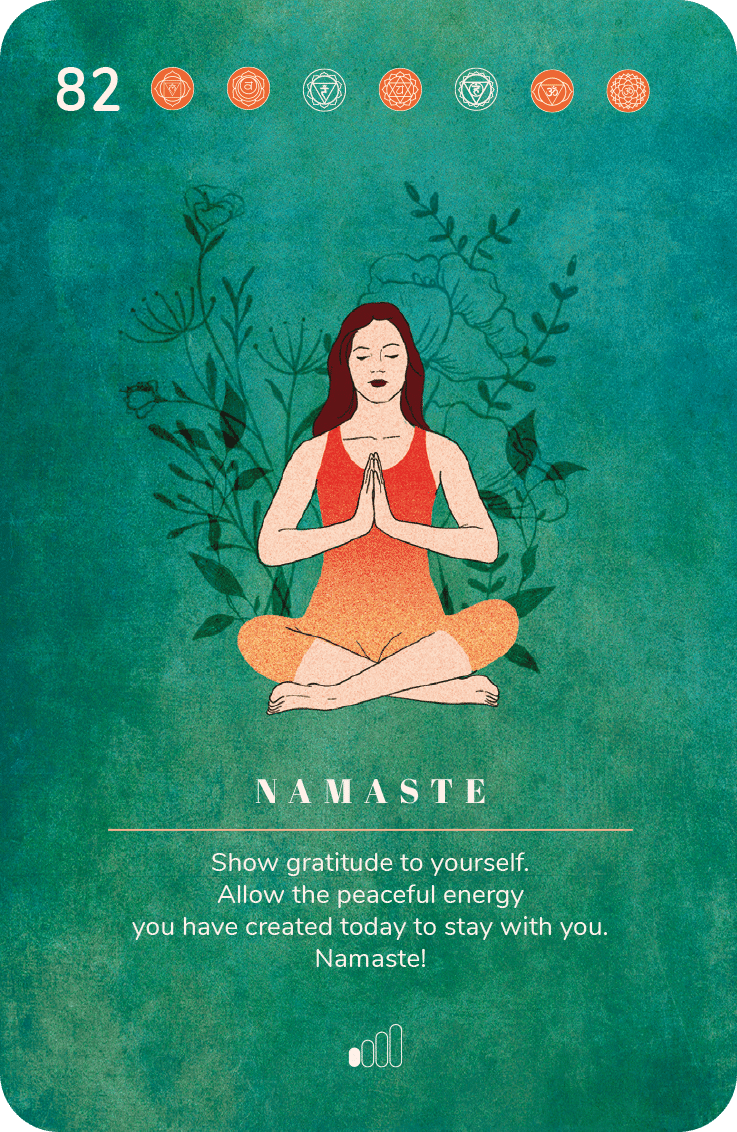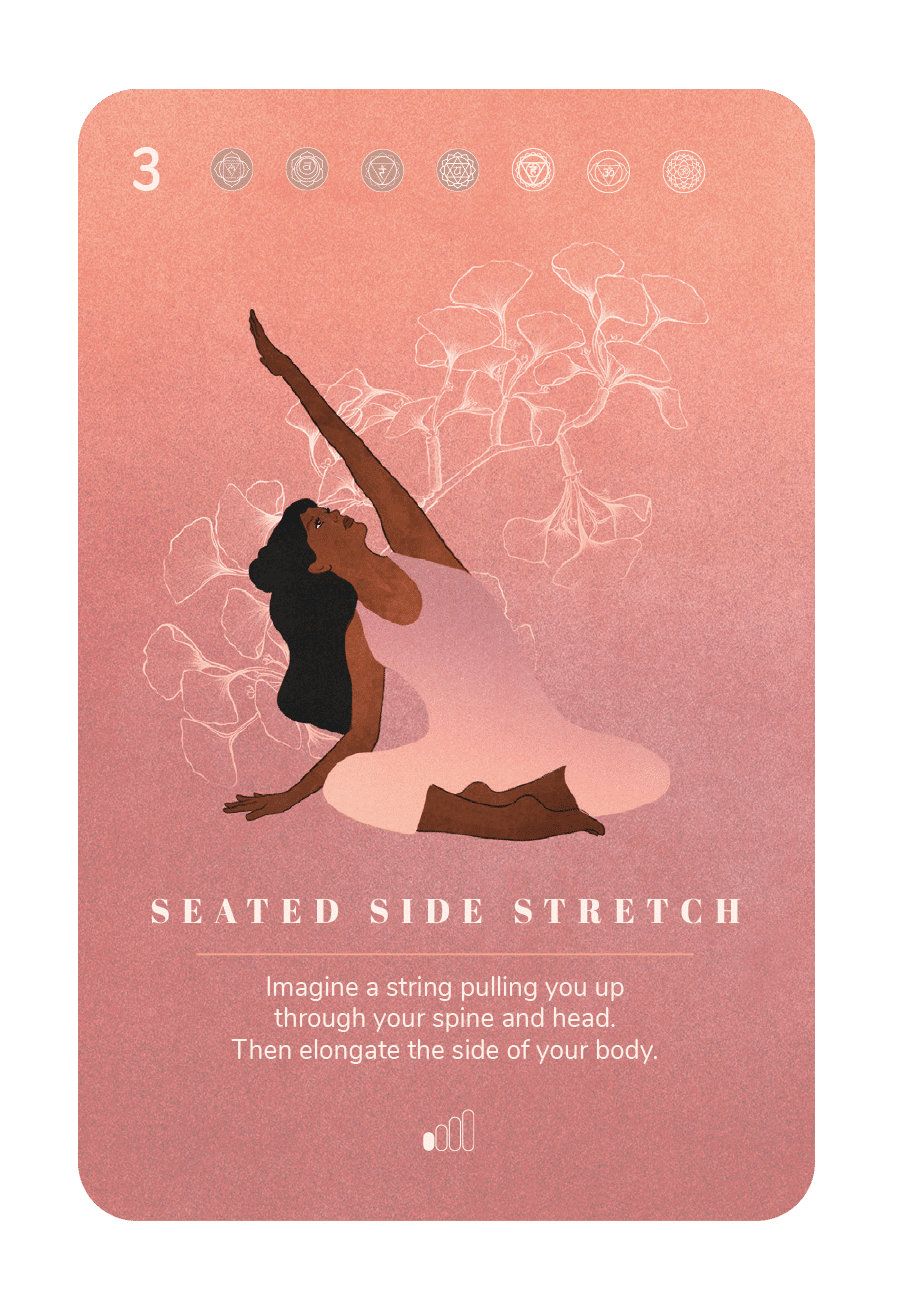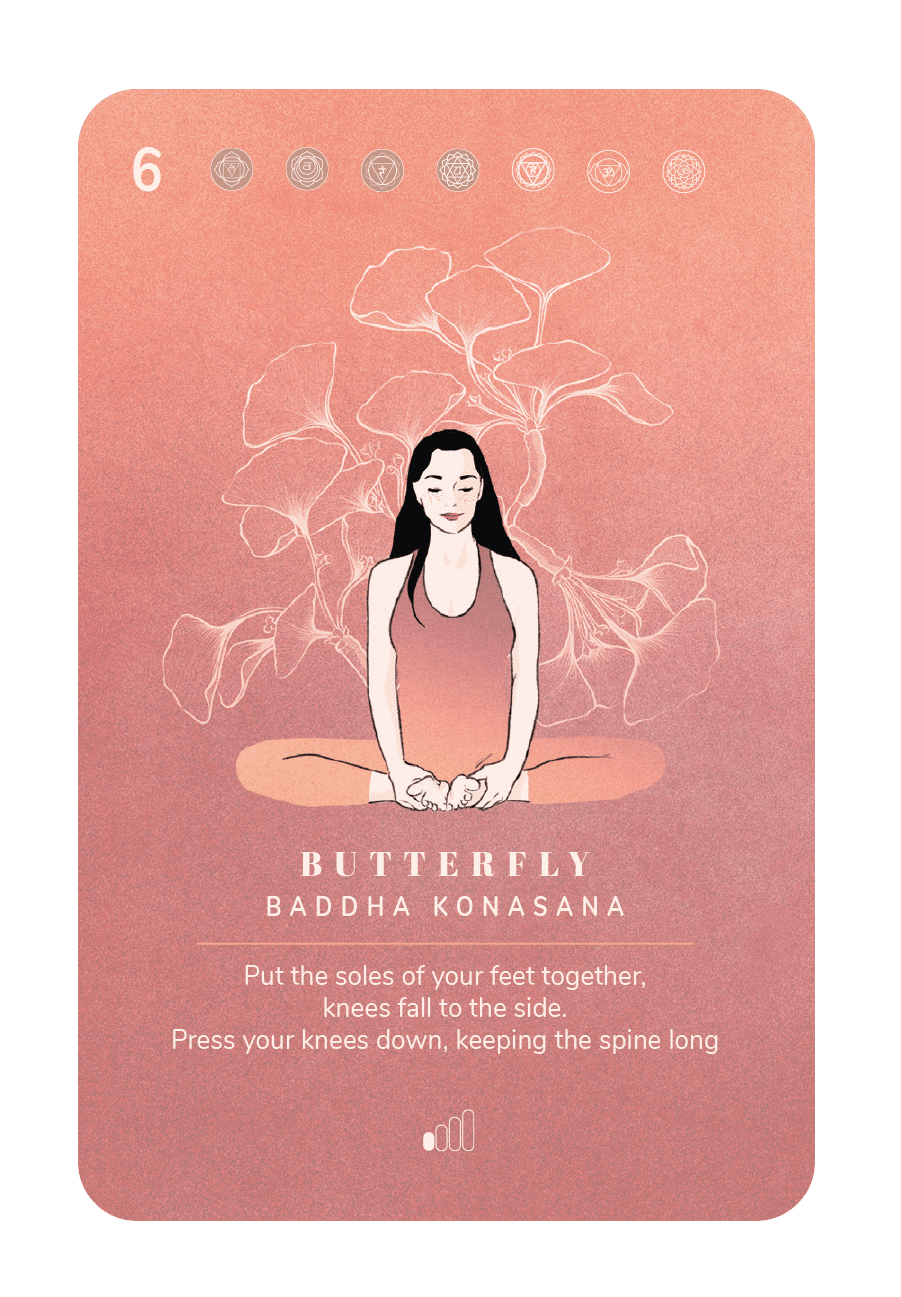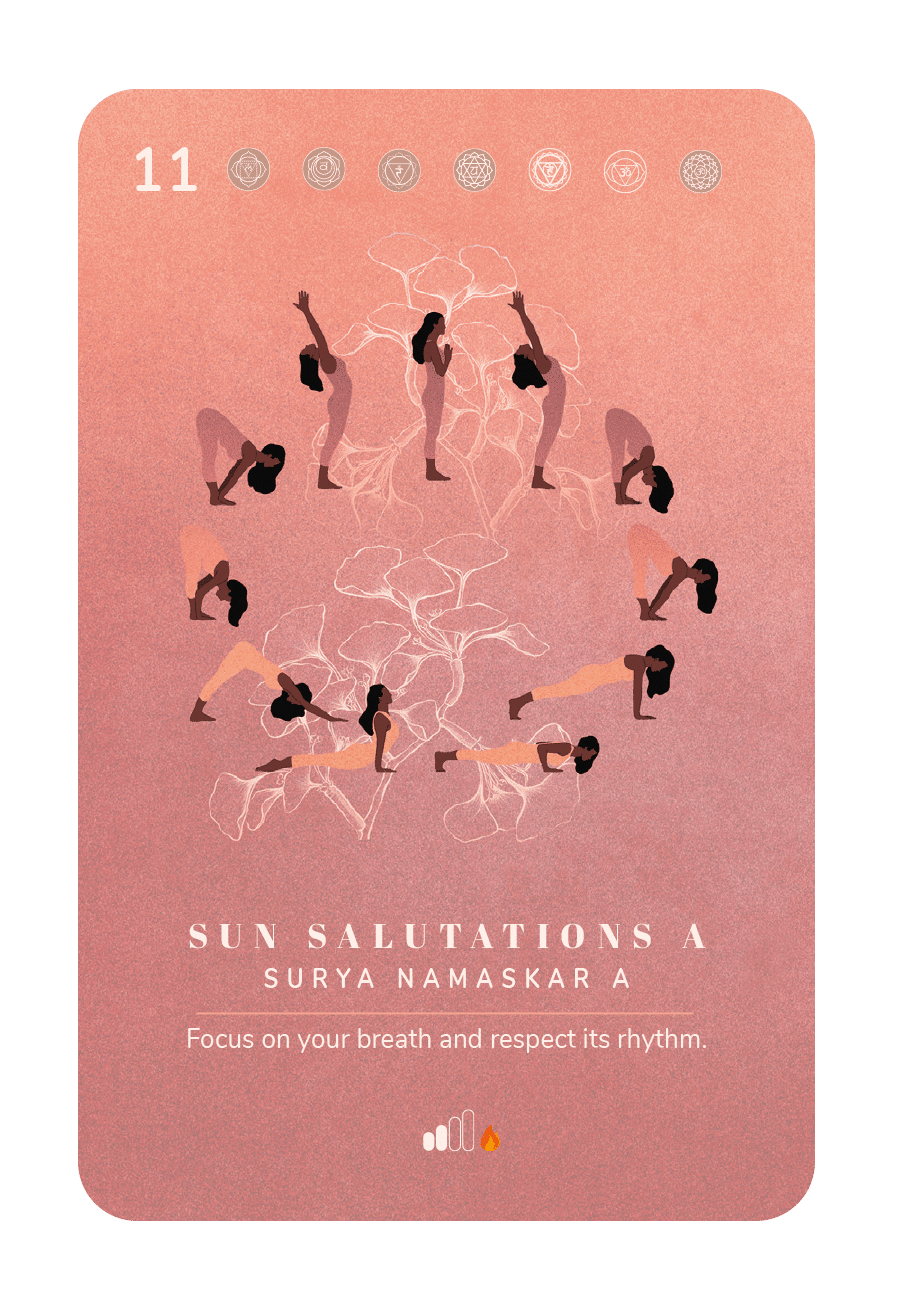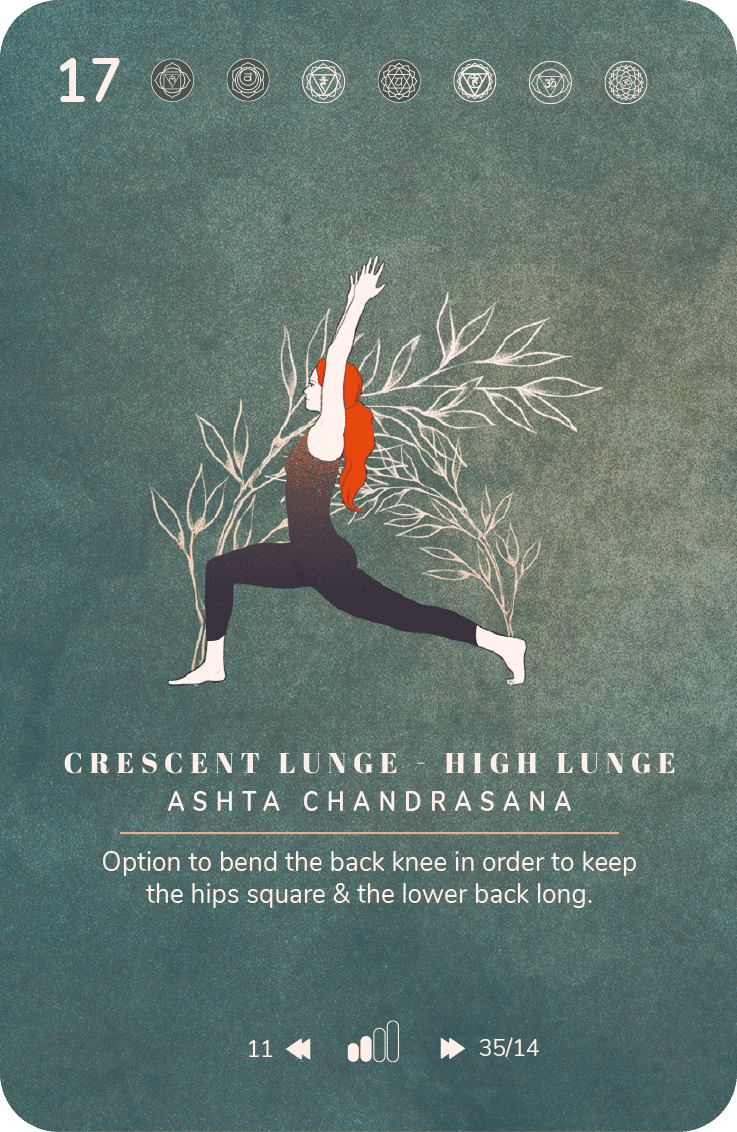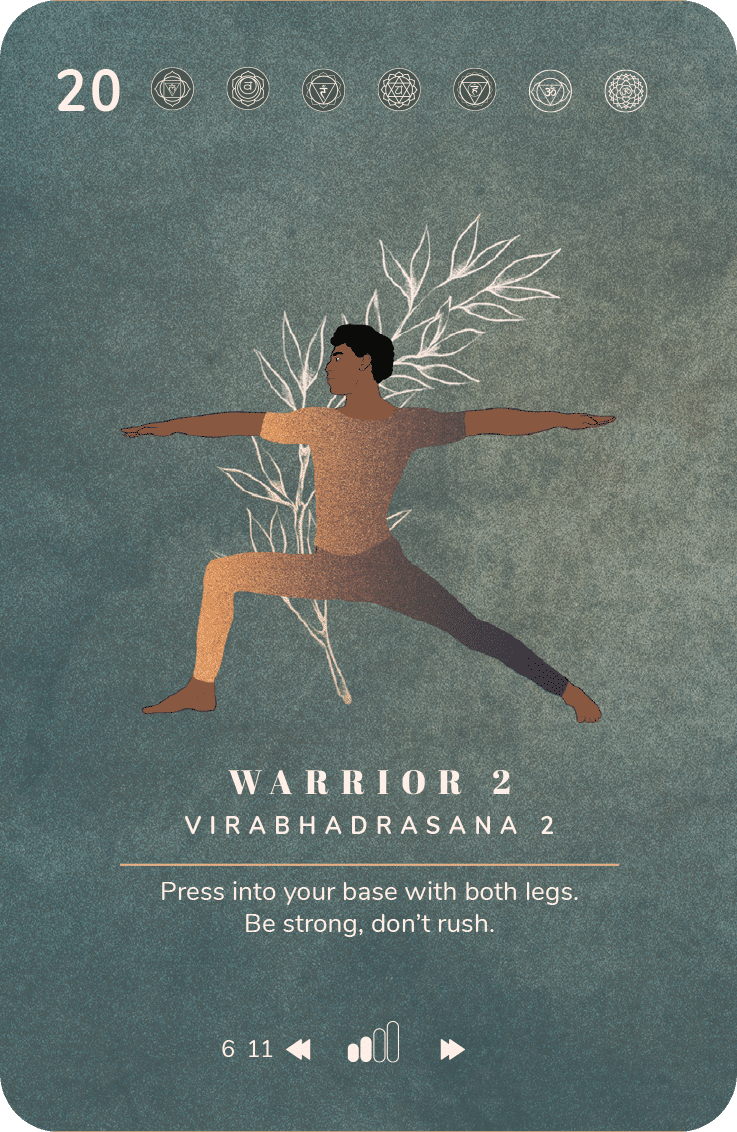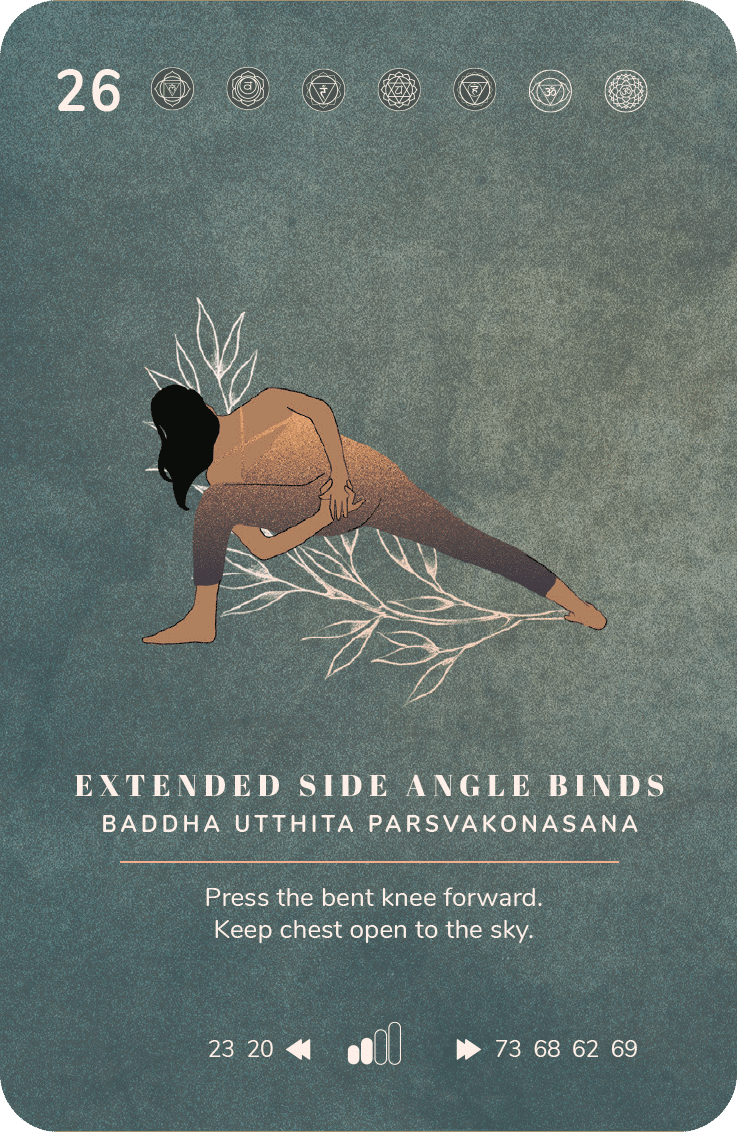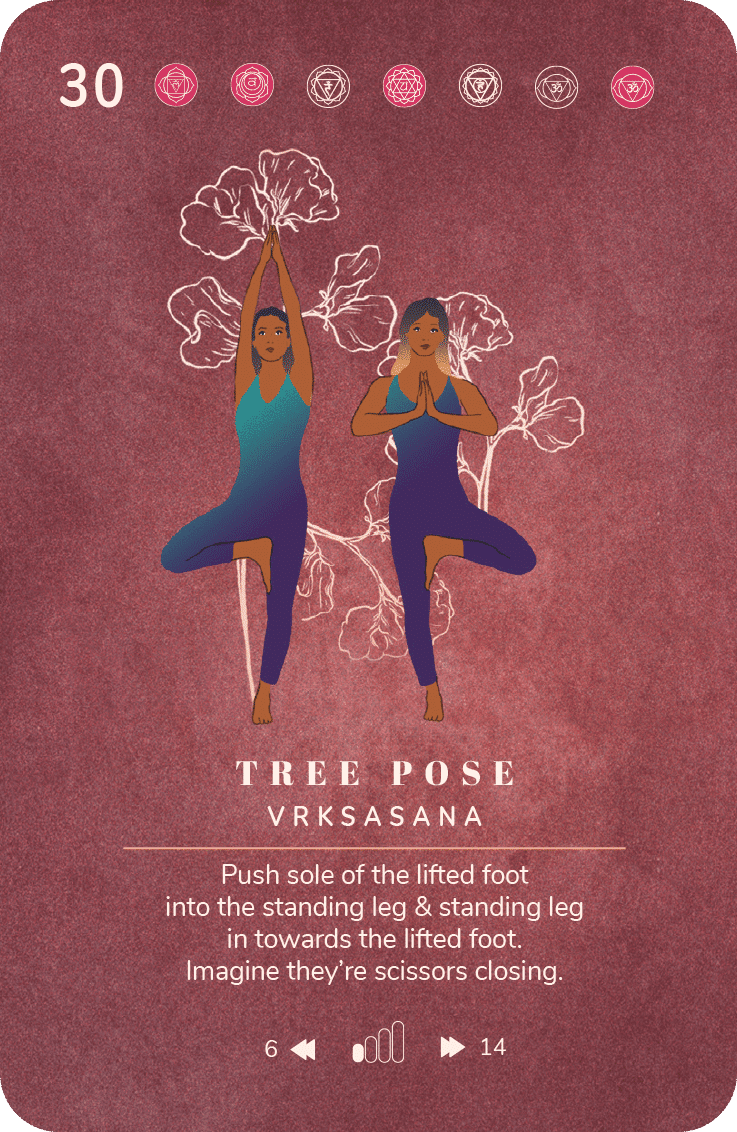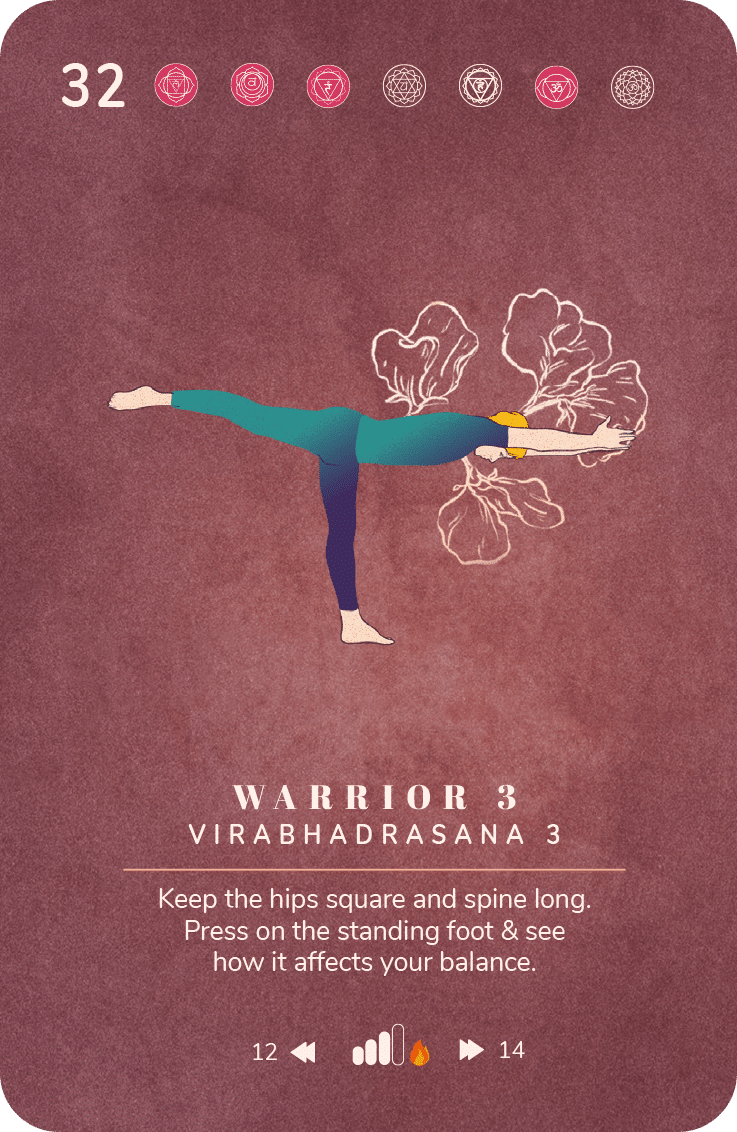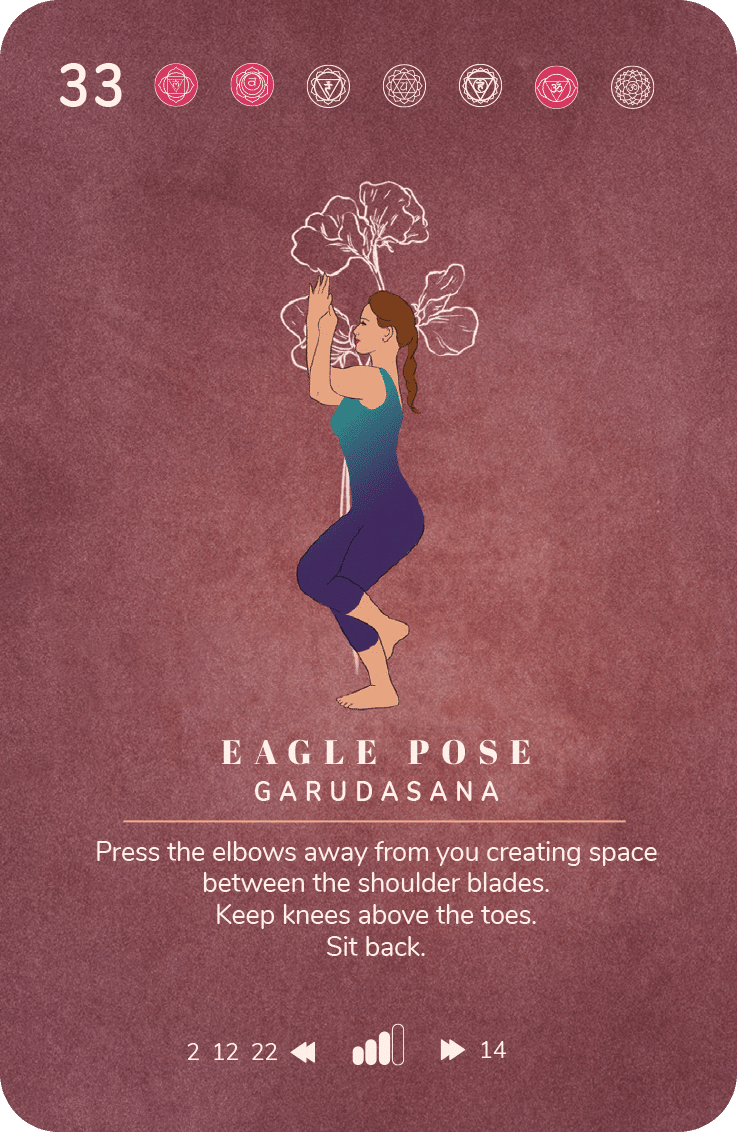 Preview of 27 cards from the PlayPauseBe Deck
Bring your practice to the NEXT level... with the New Expansion Deck.
For the yogis that want to build longer sequences, we have created a deck including copies of the most common positions, bonus cards for sequence building and intentional cards that encourage you to bring more purpose to your practice.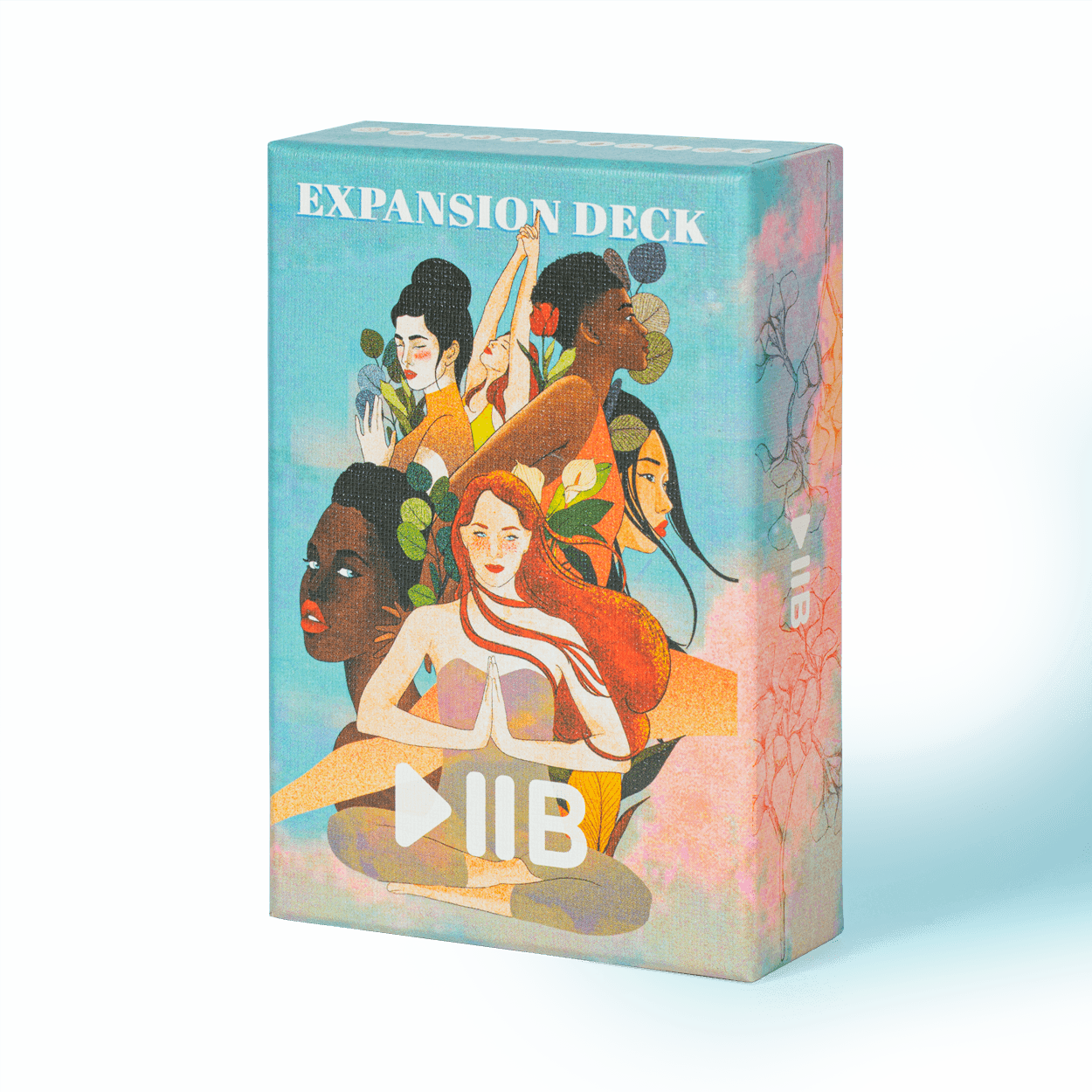 The bonus cards are designed to help you remember to: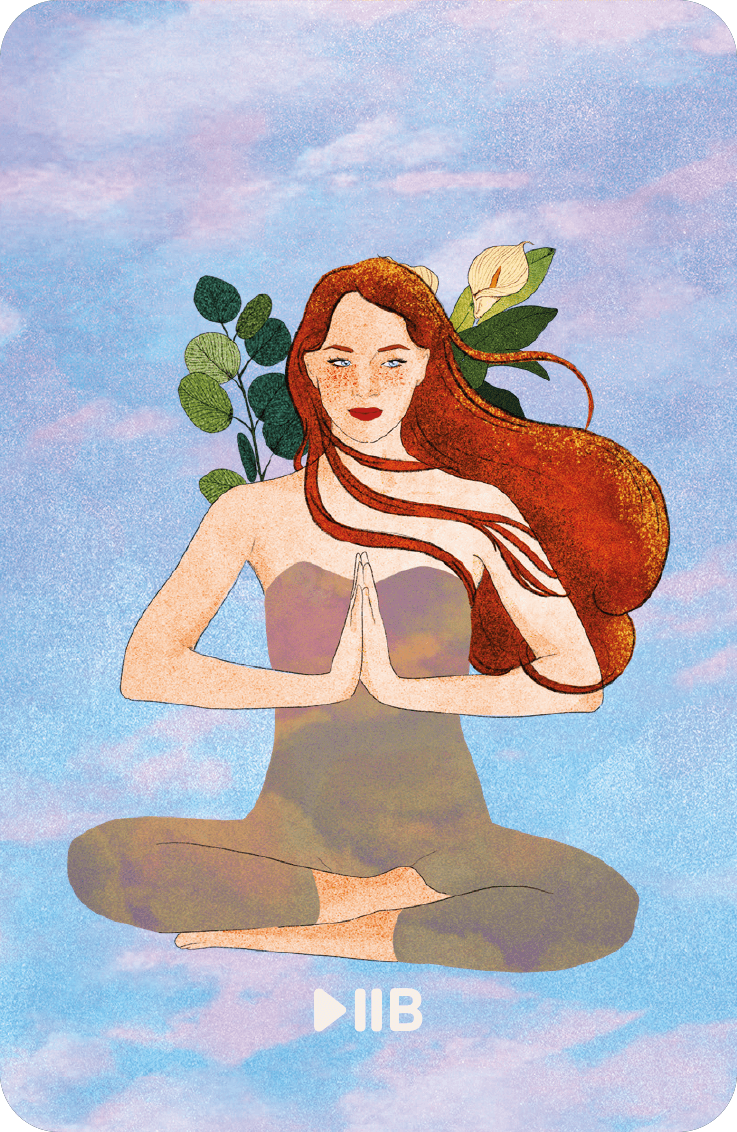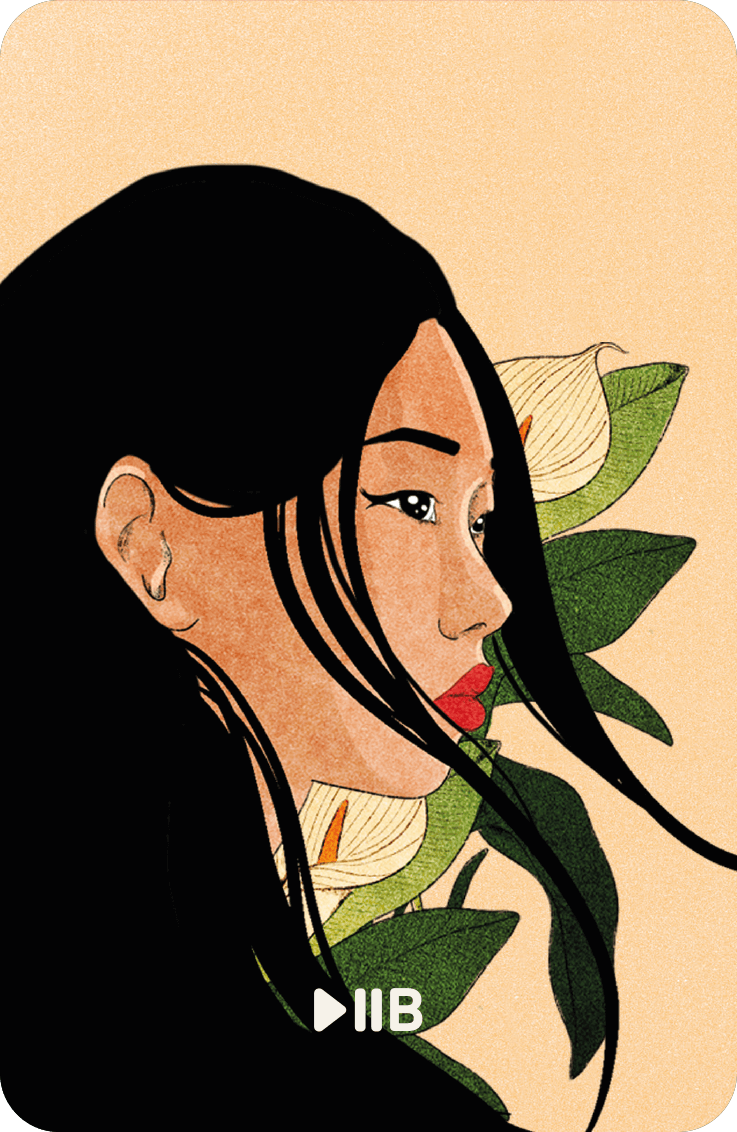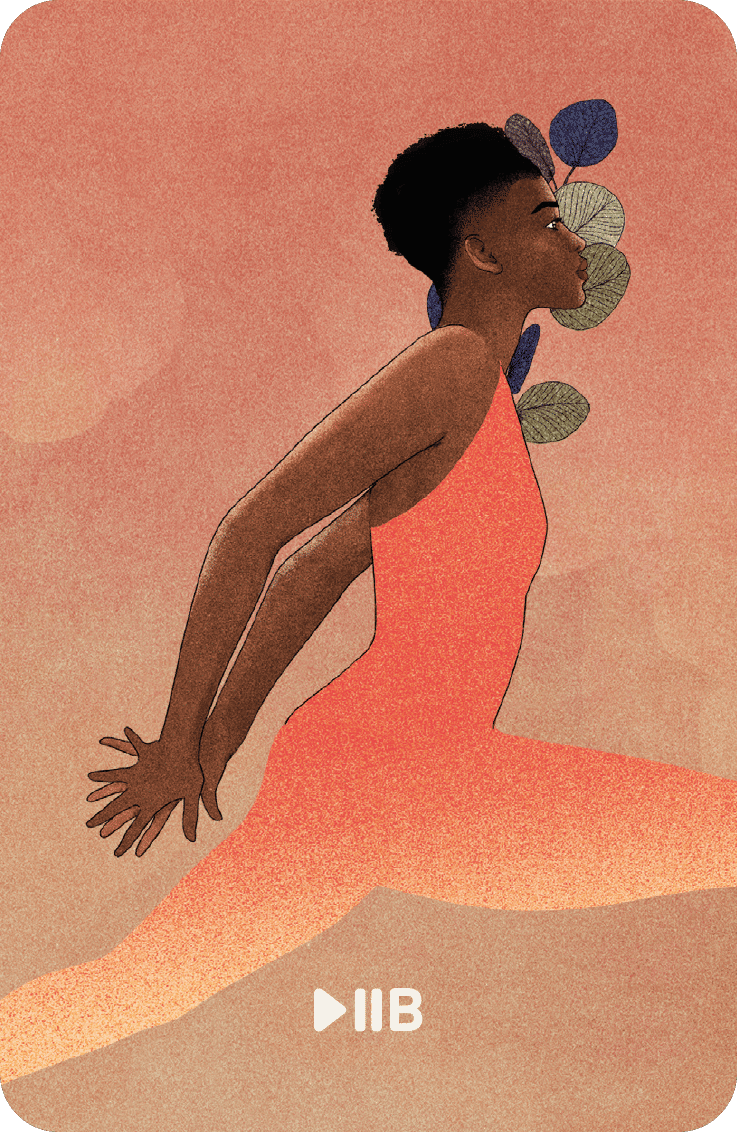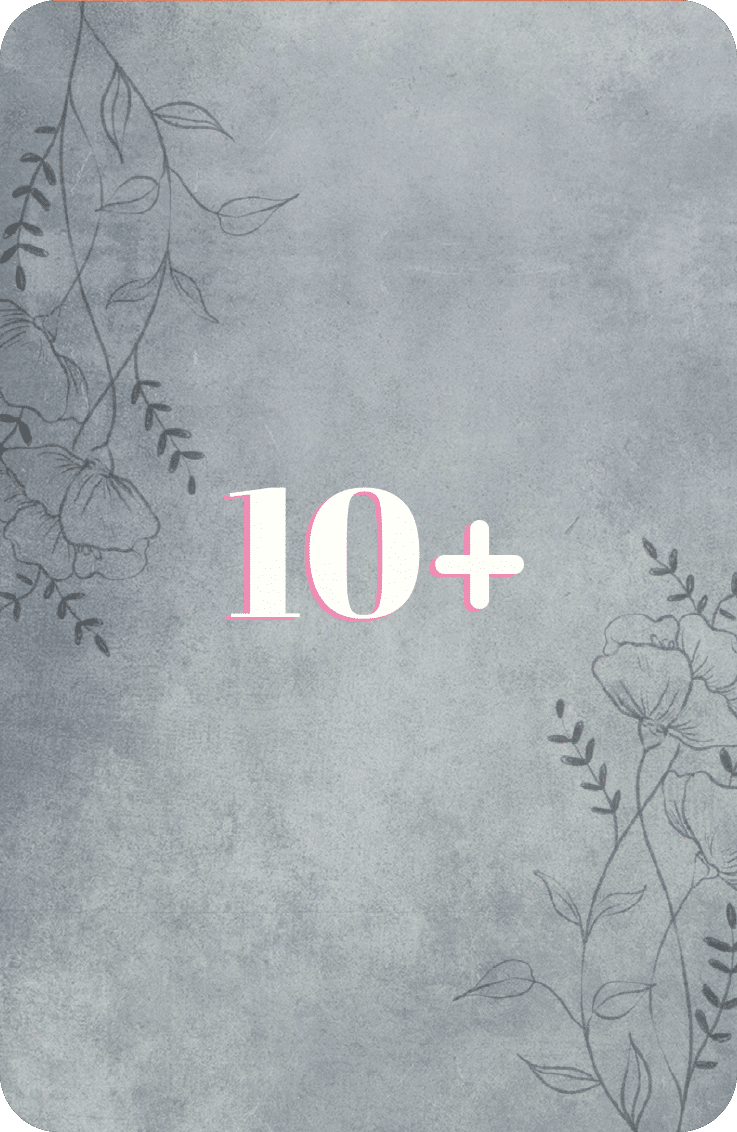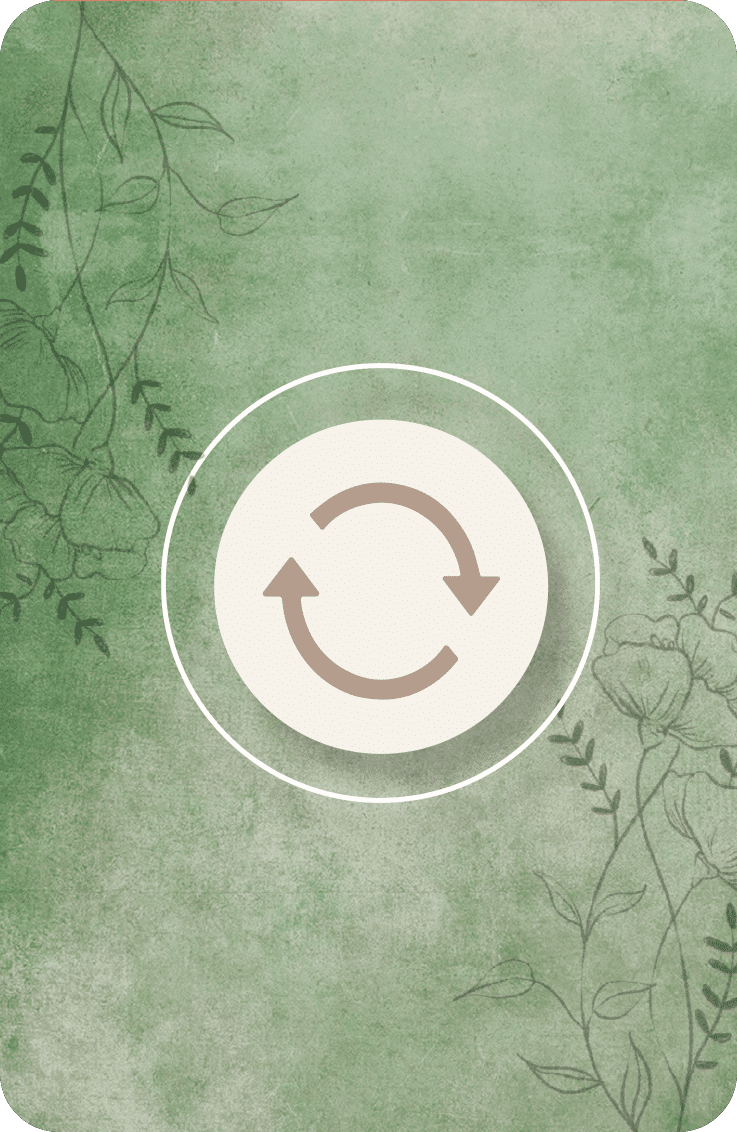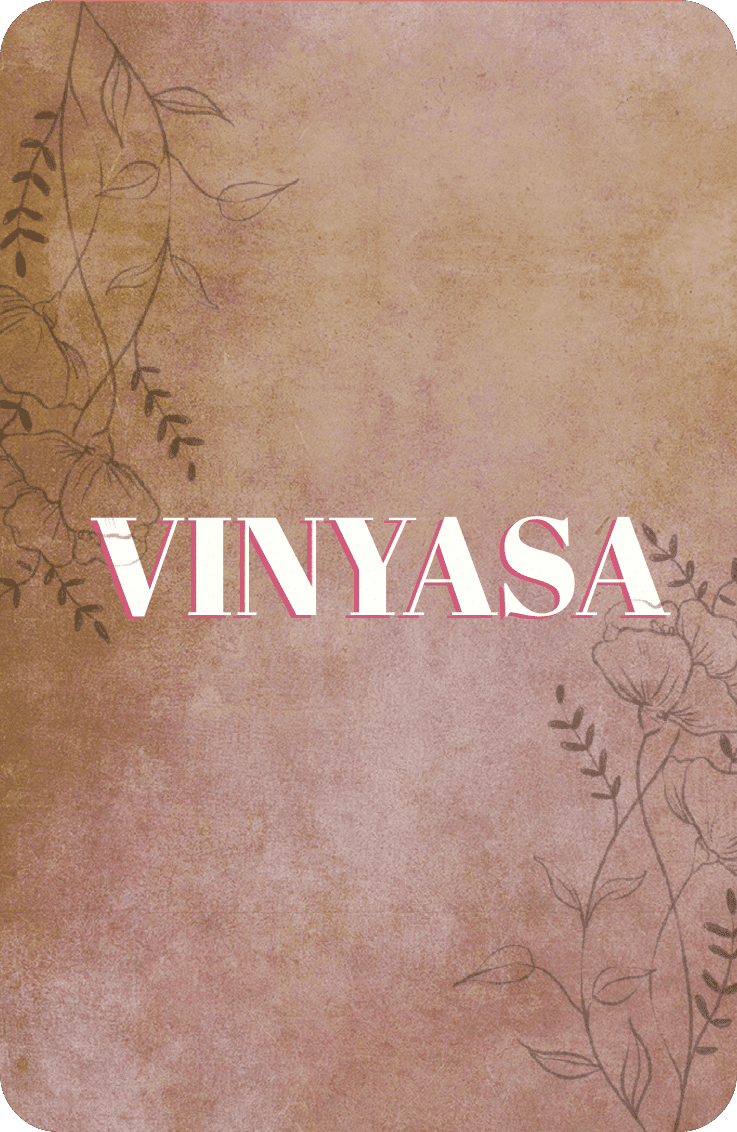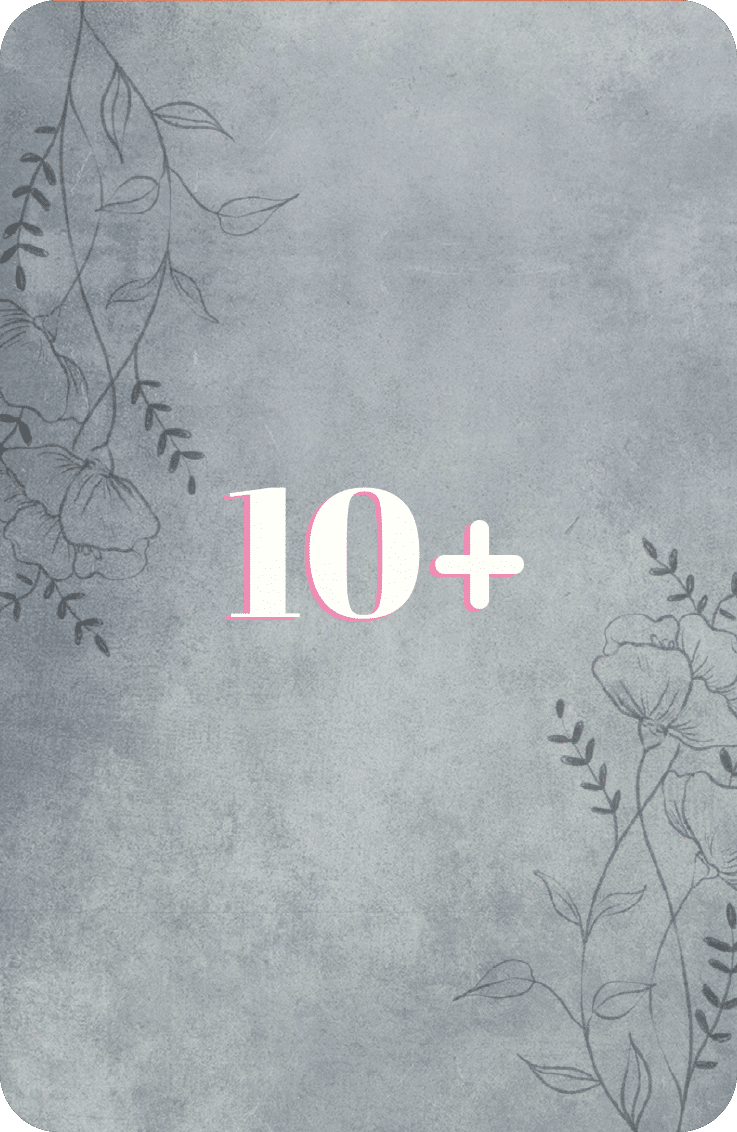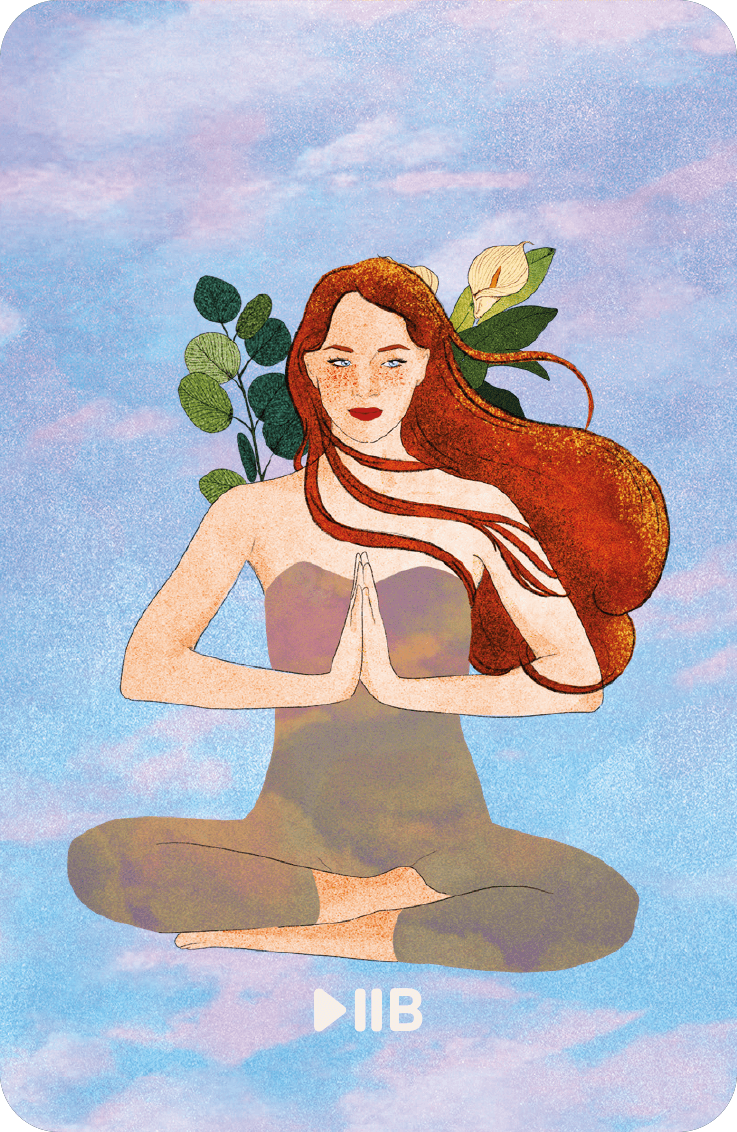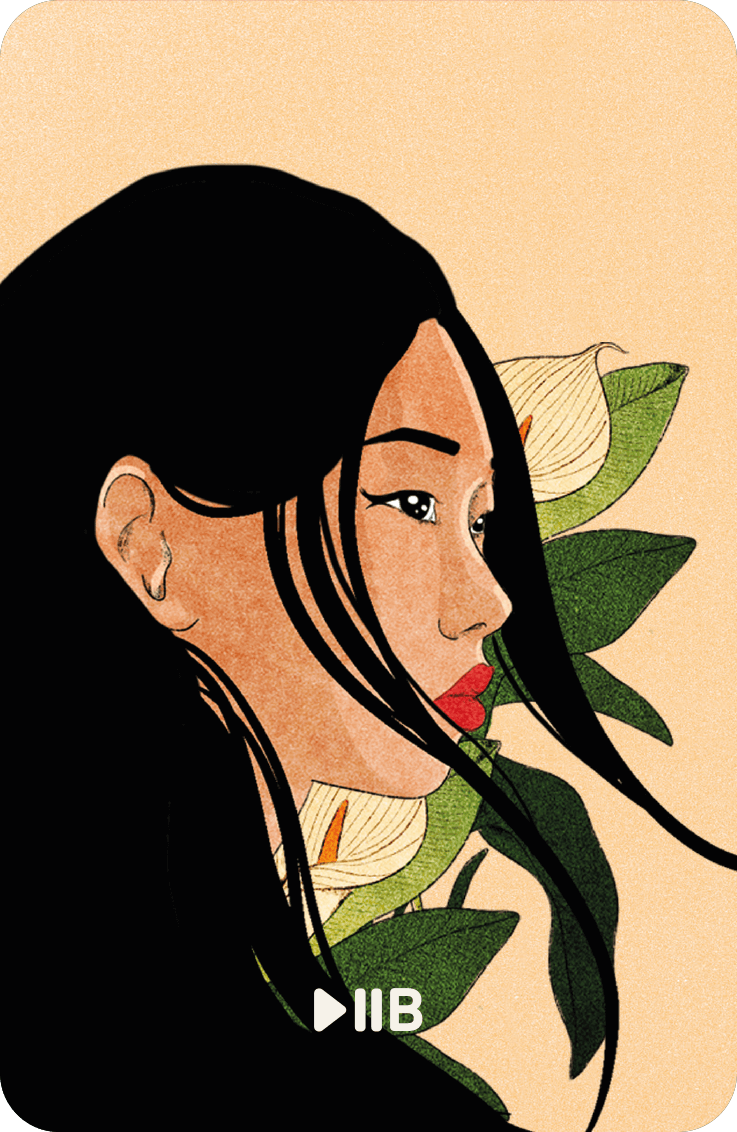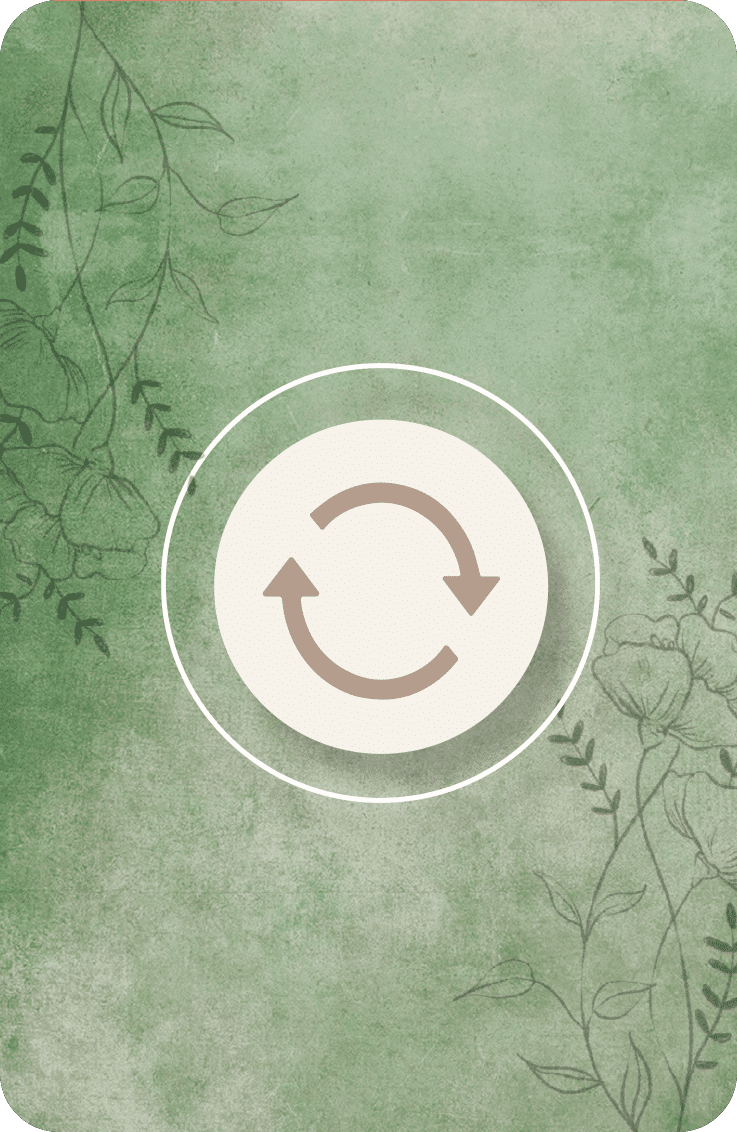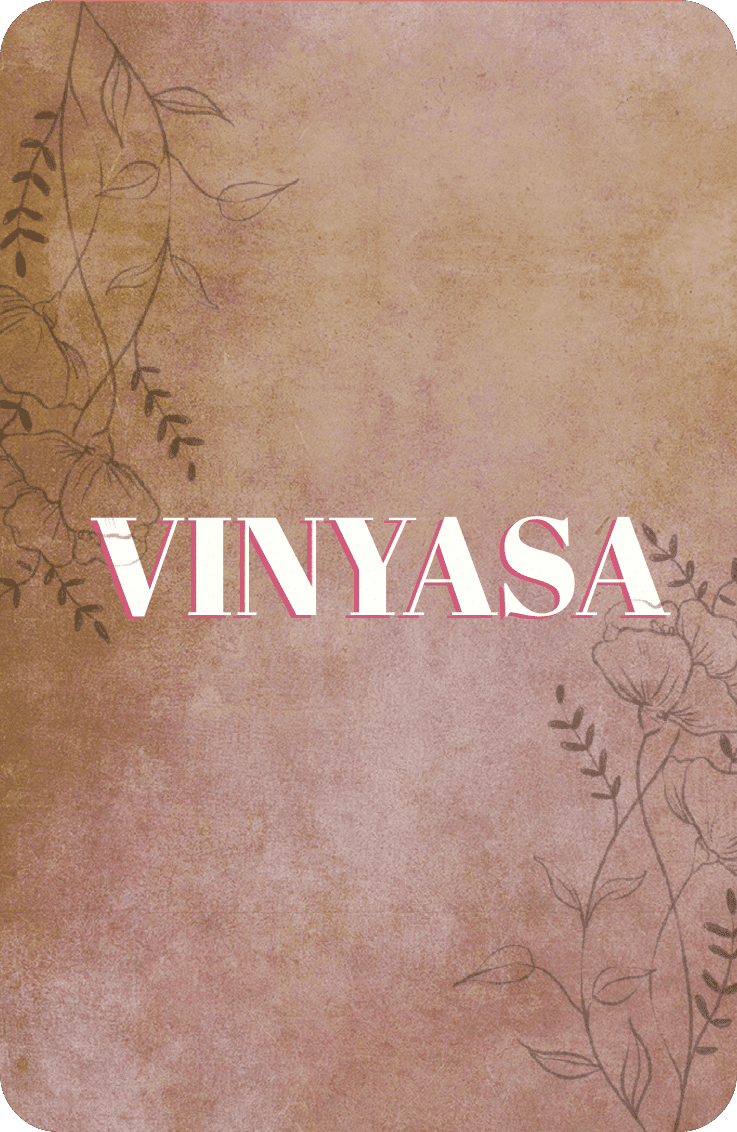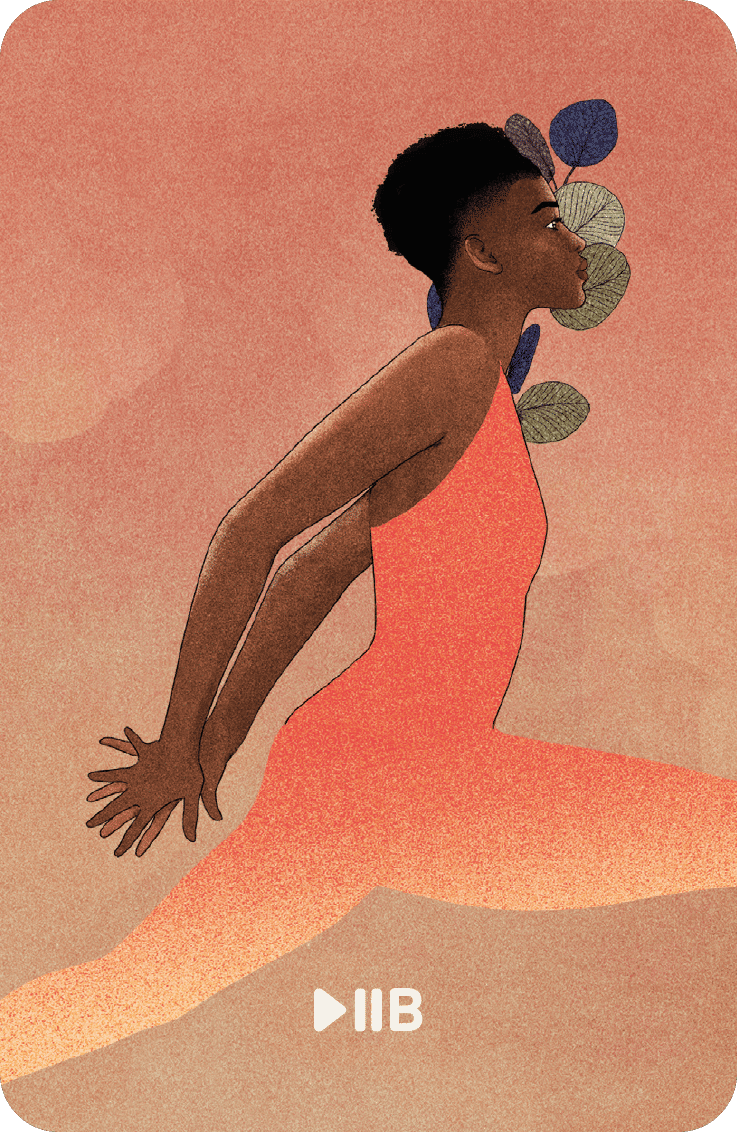 +12 new intentional cards!
The intentional cards are the perfect solution if you're struggling to find new ideas and inspiration for your yoga practices. Each card features a stunning artwork, representing a specific quality, such as self-love, compassion, truth, confidence, grounding, freedom… and so on.

Take a moment to absorb the magical energy from each card and let the power of your inner intuition show you what to focus on…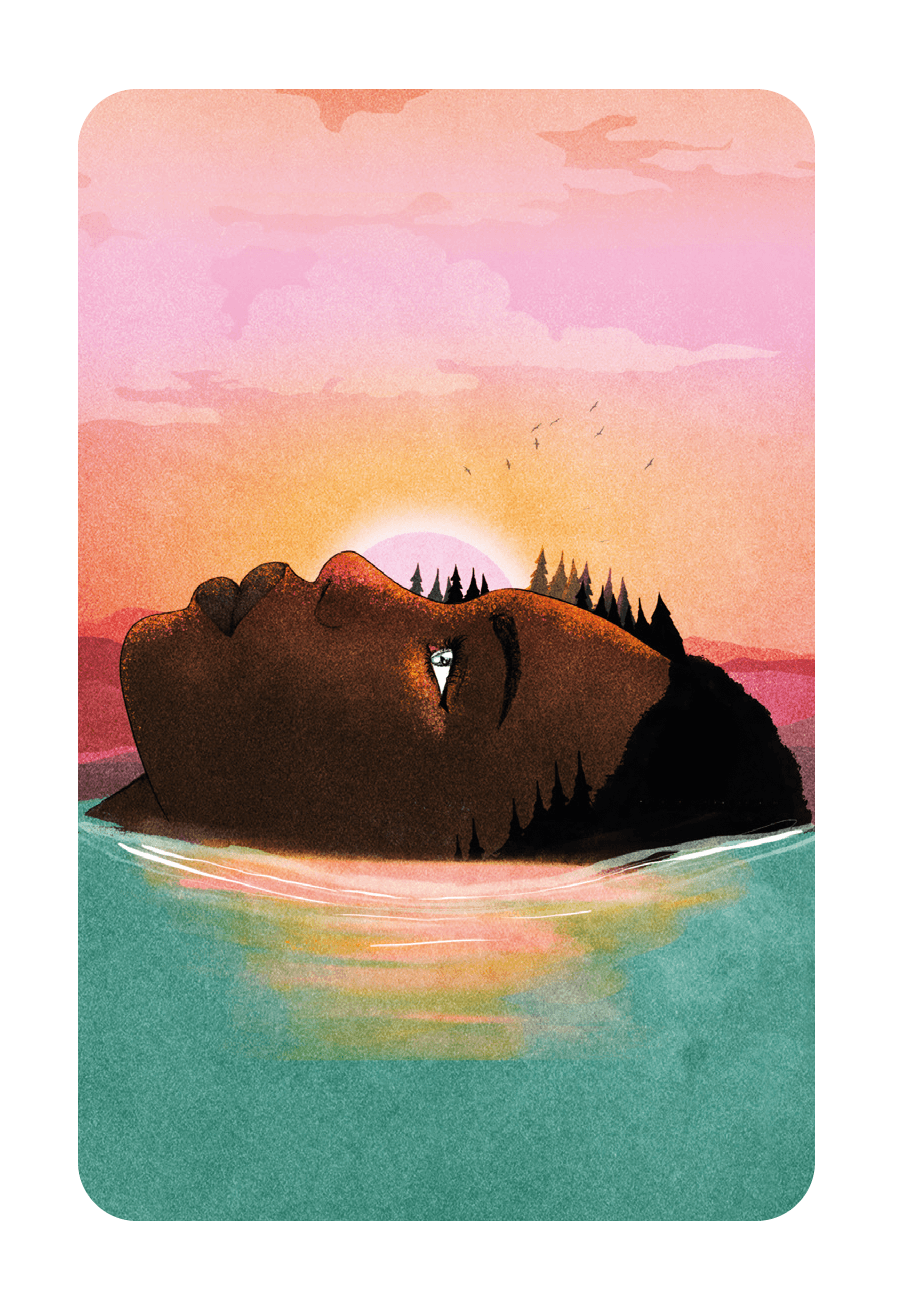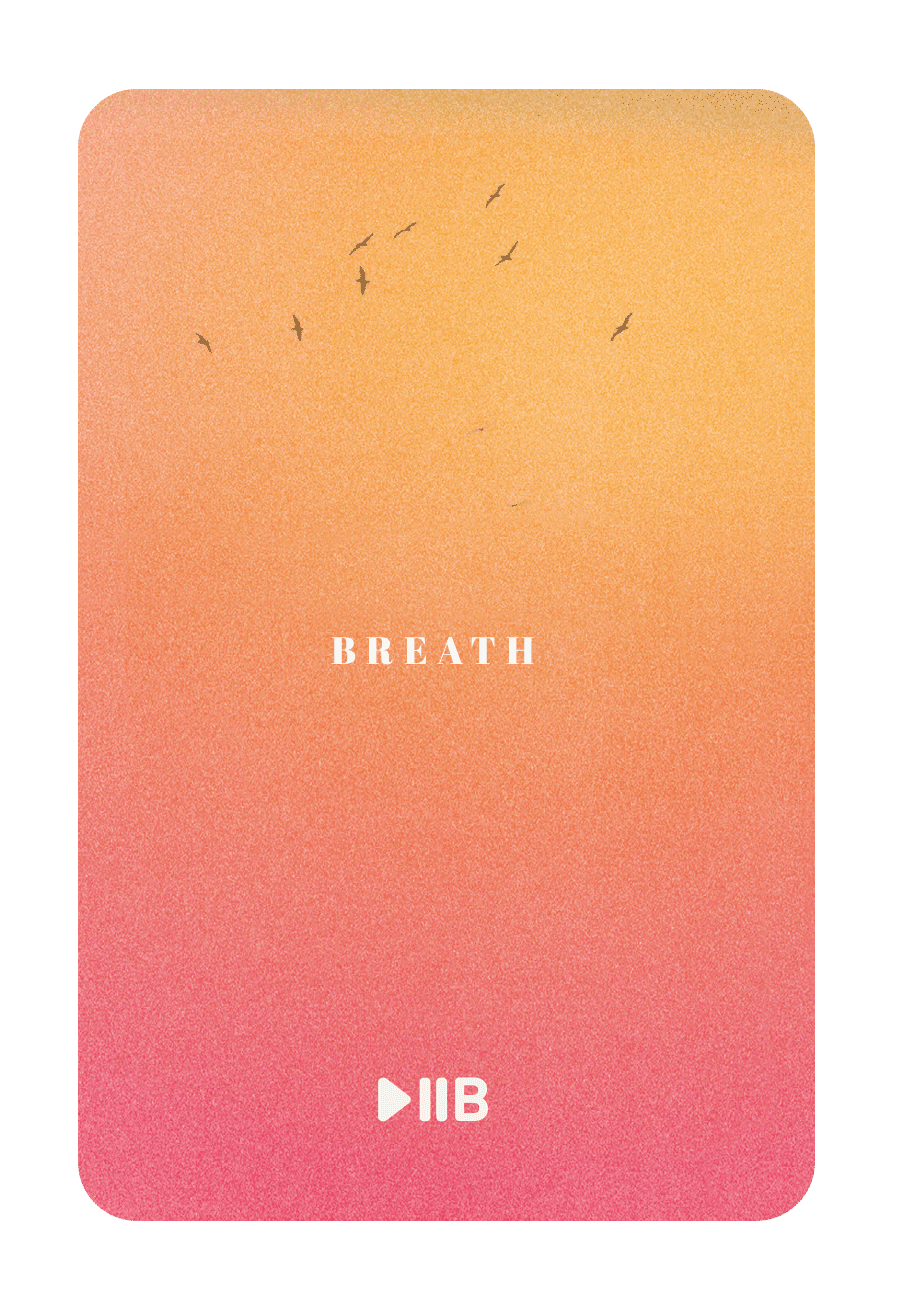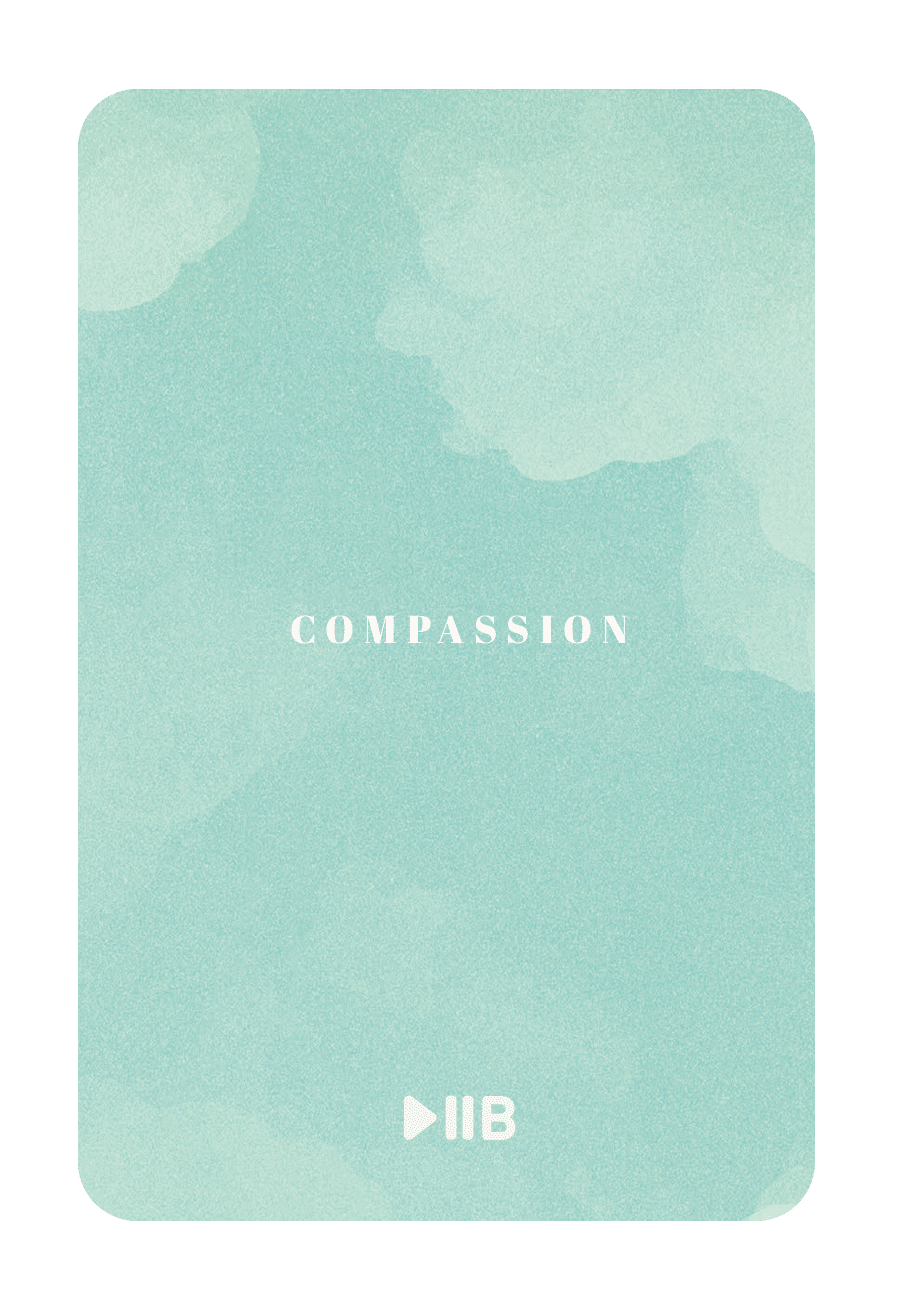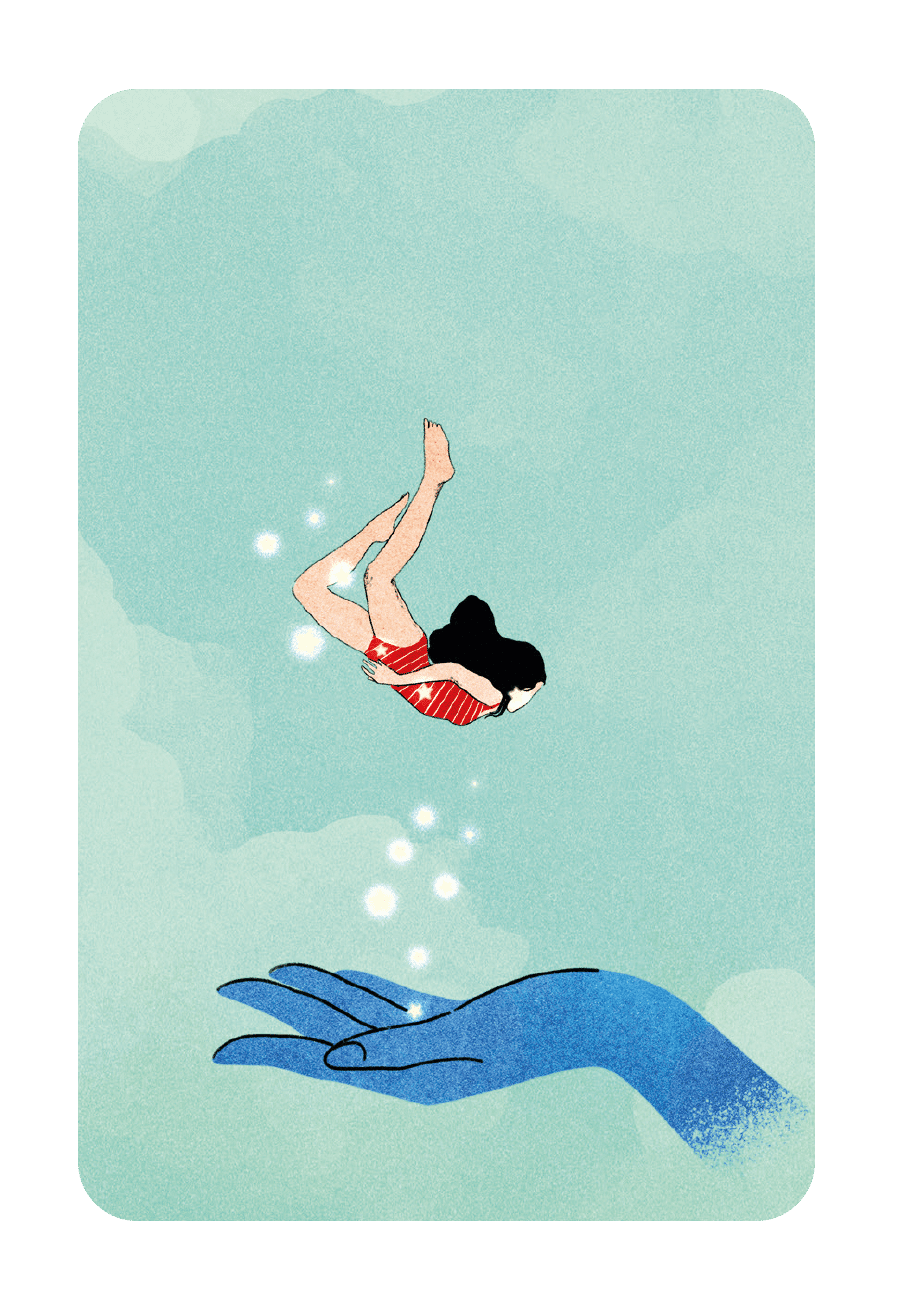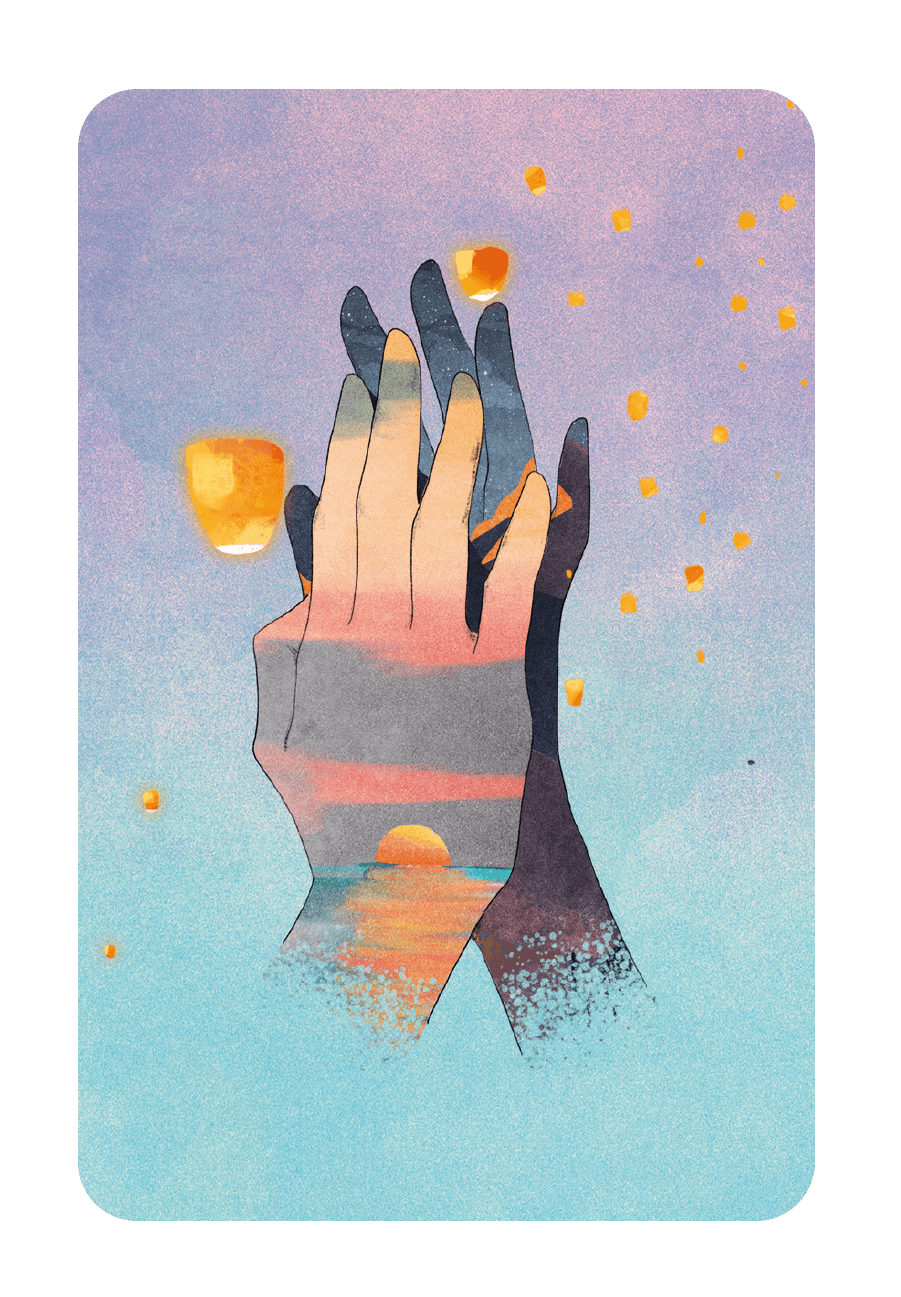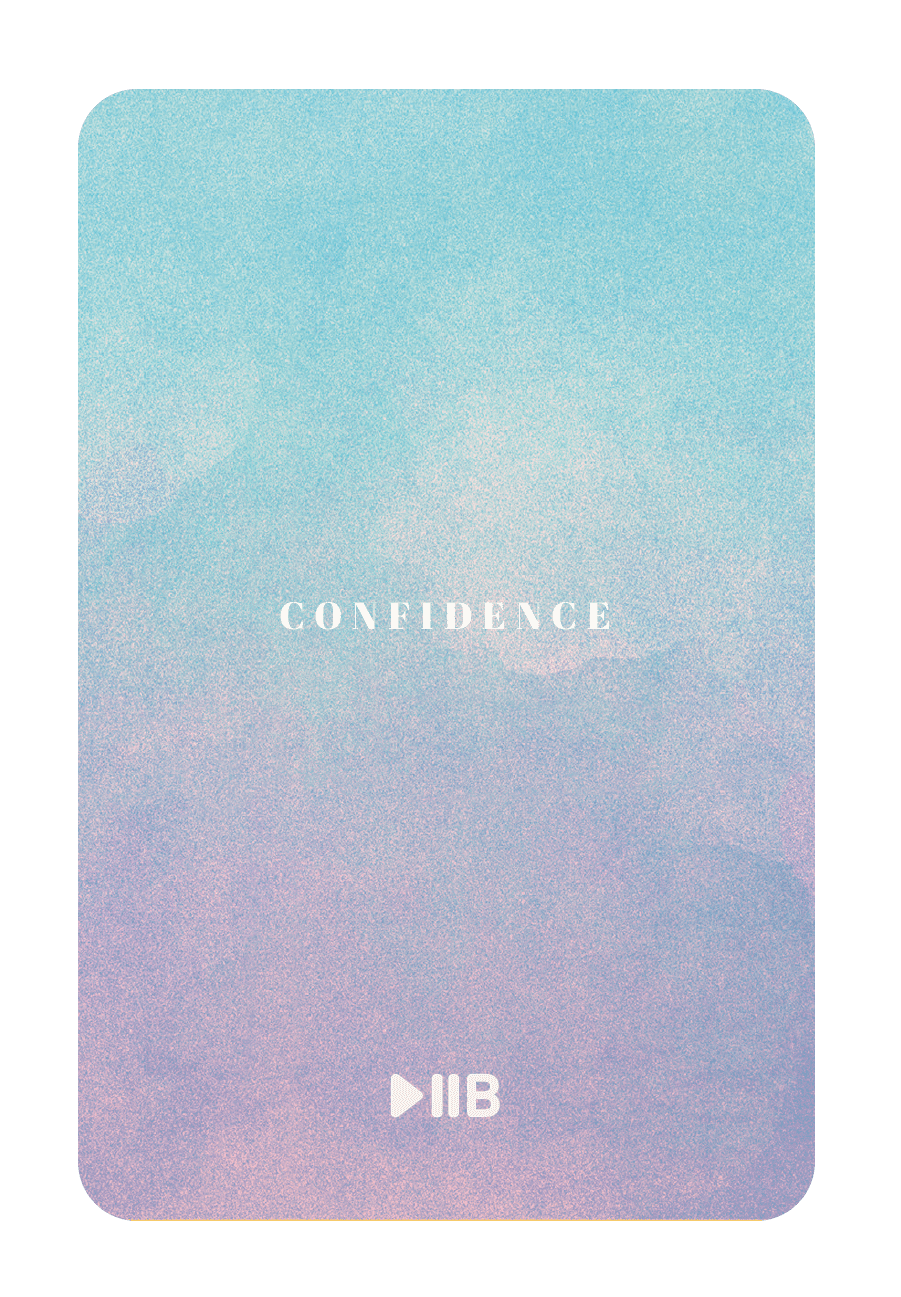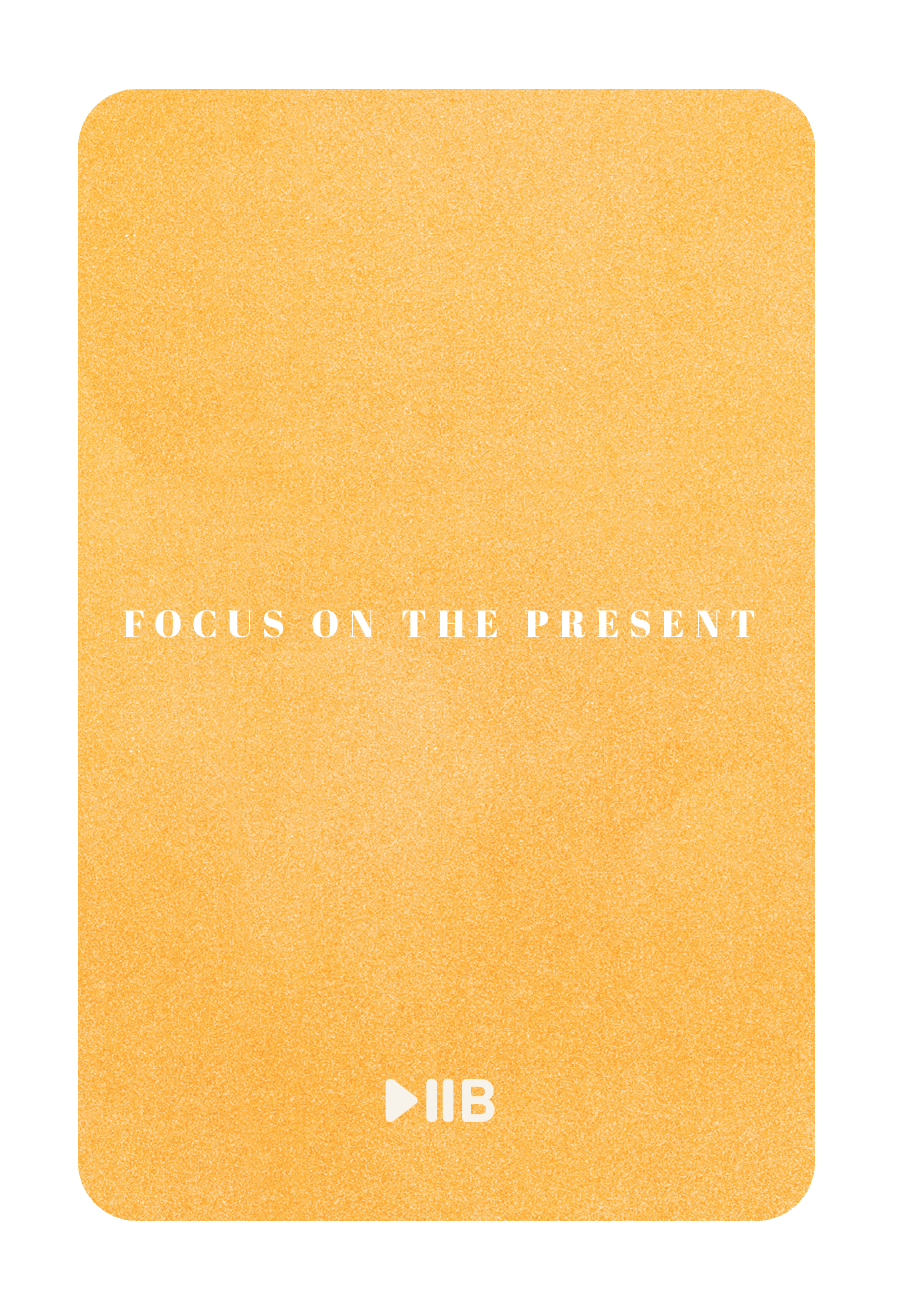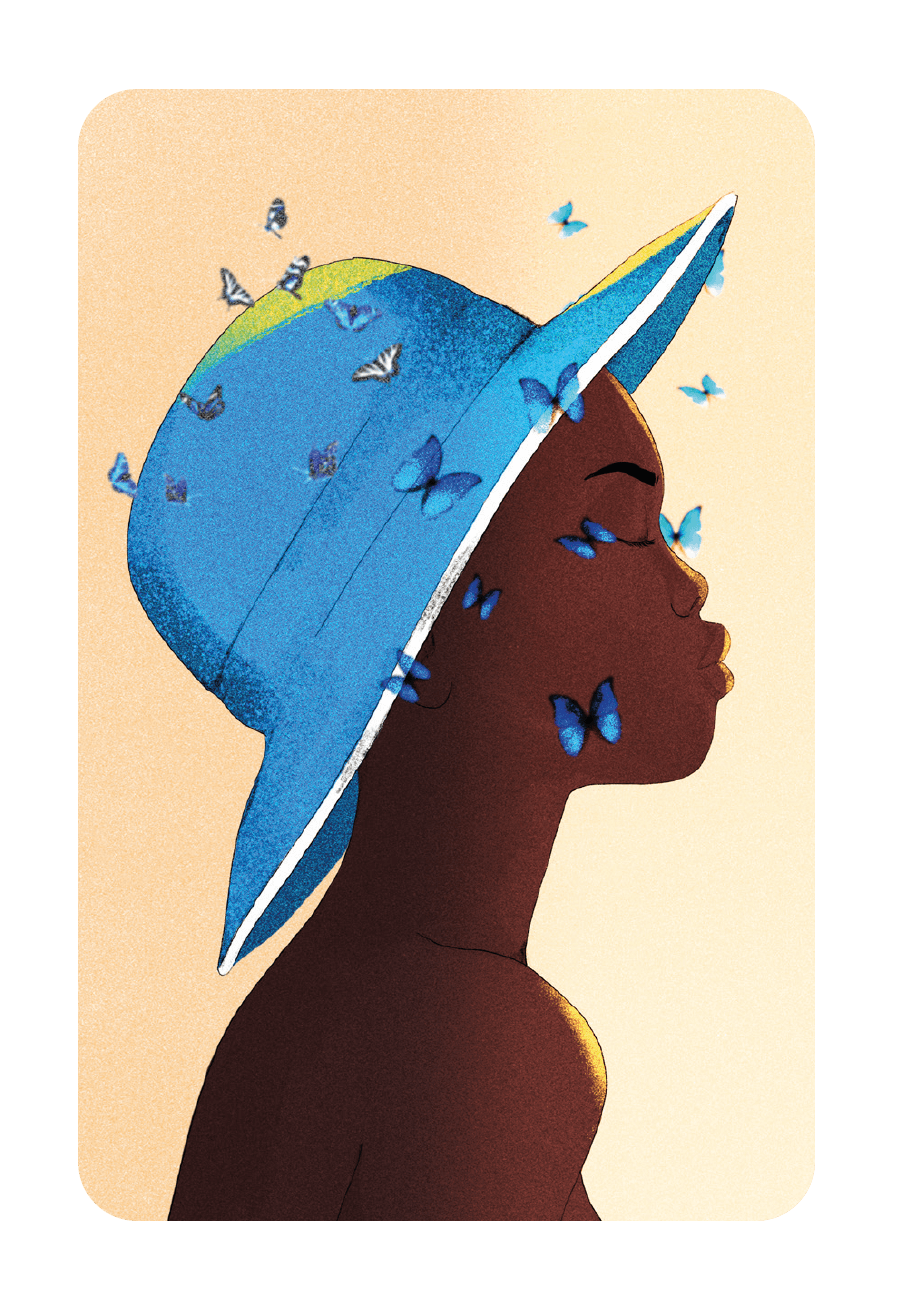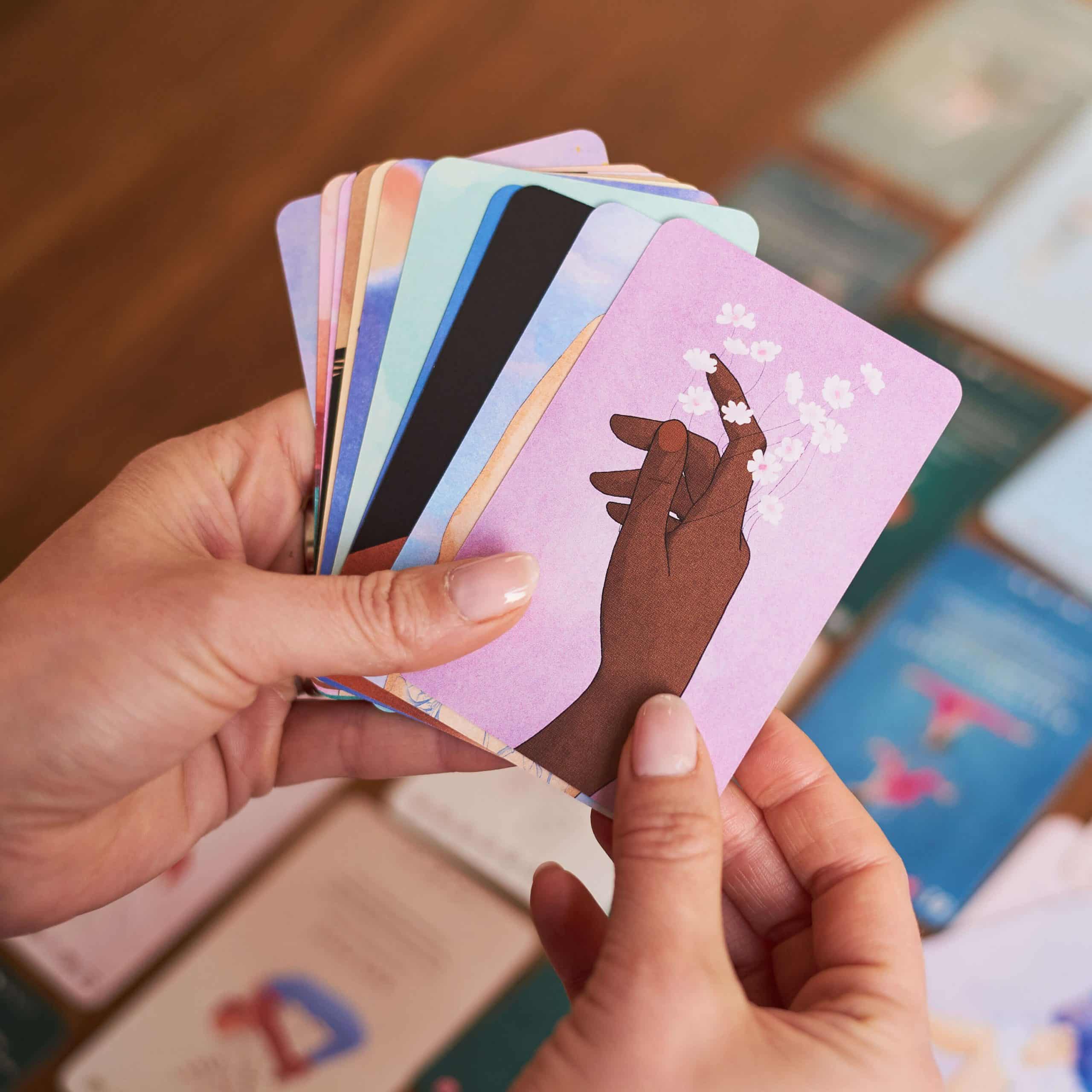 The decks are a work of art made by the renowned Italian artist Giulia Rosa who personally designed the cards in every detail. It took us over a year to create the final version of the decks.
Umberto, our founder, believes Giulia will one day be the next Andy Warhol*, and the PlayPauseBe deck will be a truly iconic product helping millions of Yogis around the world.
*Since they first met in 2020, Giulia has been featured in Forbes and as a guest in national and international exhibitions. You can find Giulia on Instagram @giuliajrosa where she has a following of more than 500k
A newly designed,
long lasting box.
The rigid box is made with a fine Linen-structured paper and the cards are made of a 320g Pro paper produced in Italy from FSC Certified sources. The highest standard in terms of flexibility, resistance to moisture, and durability.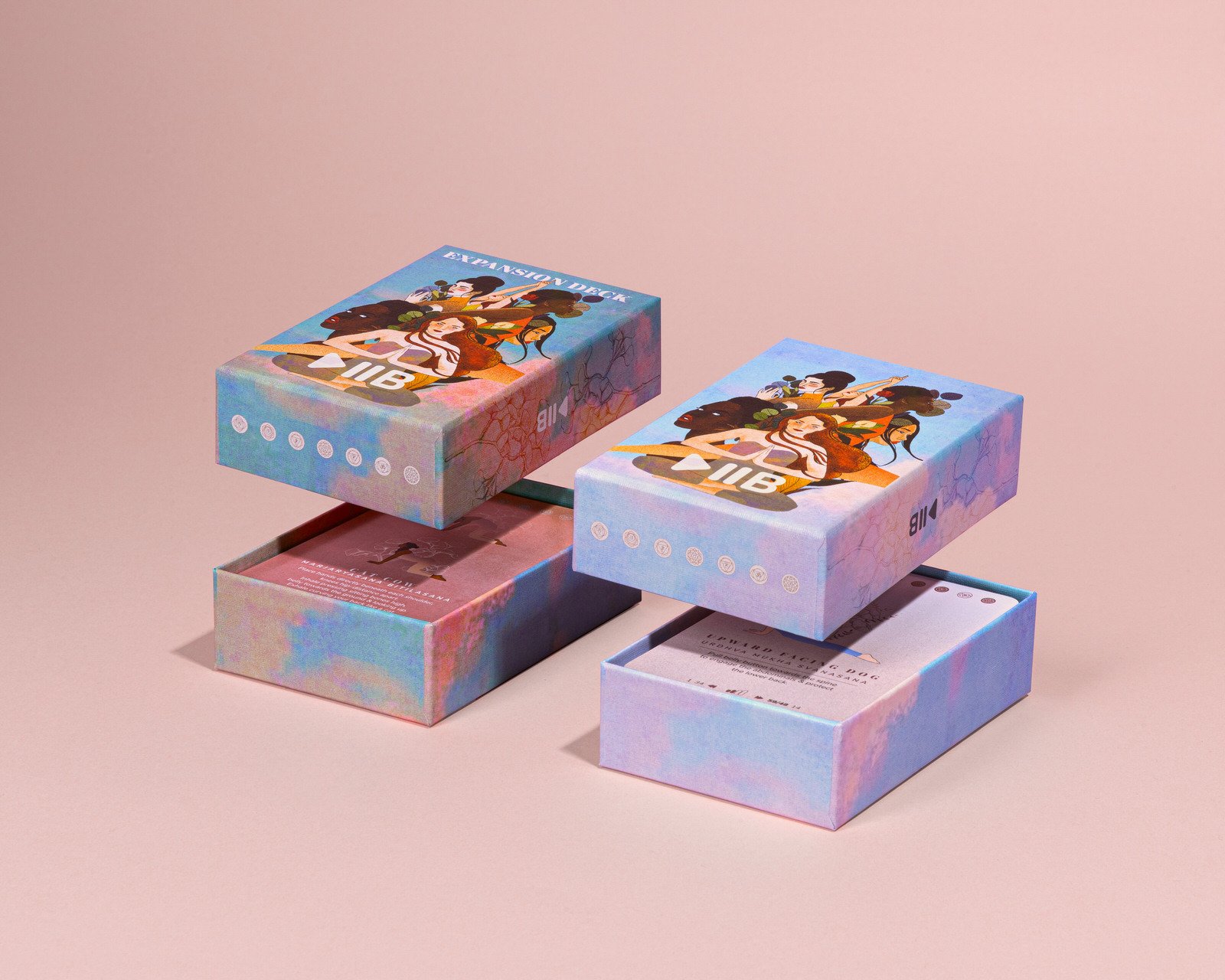 Practice in a
distraction-free
environment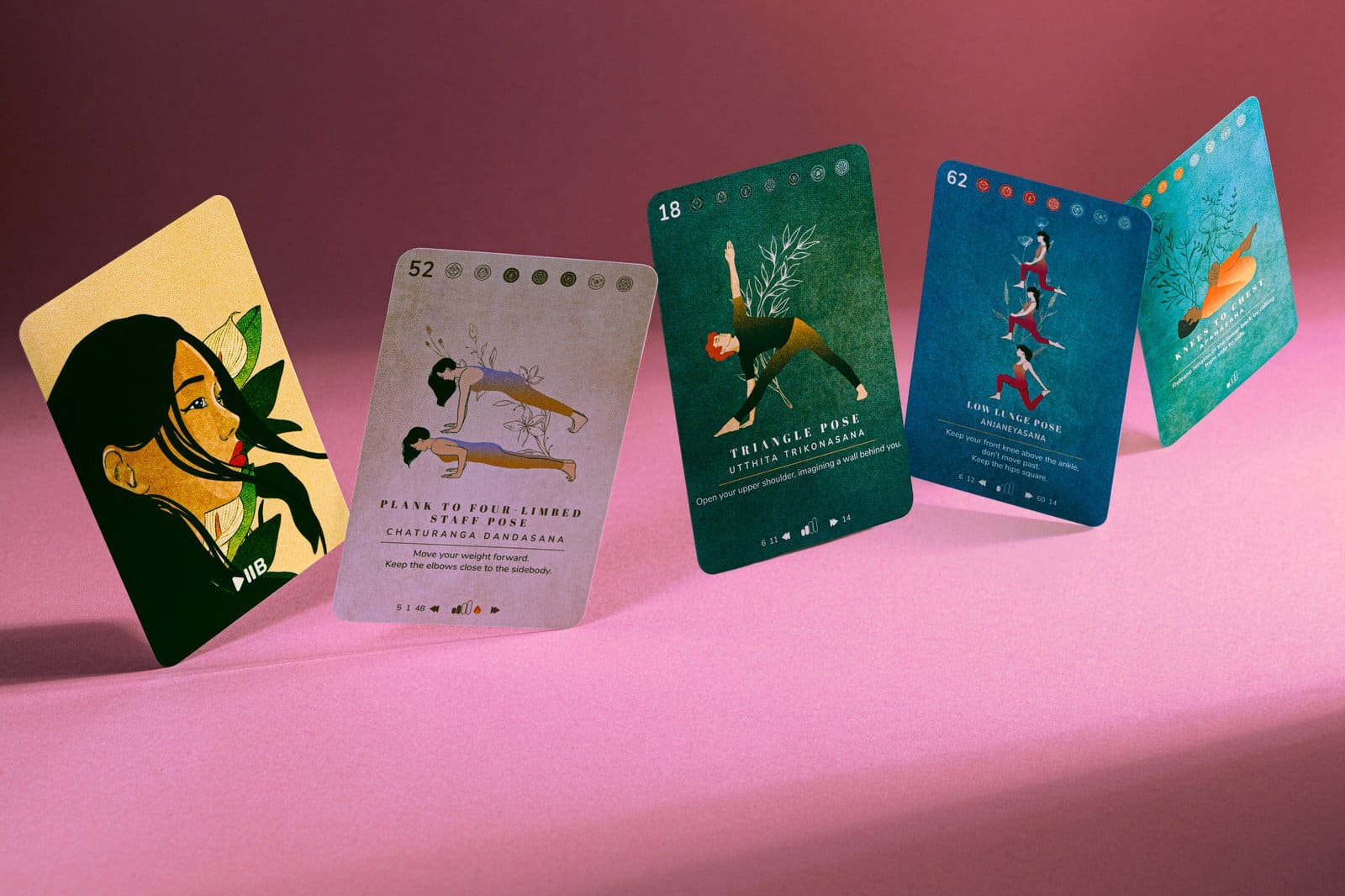 The PlayPauseBe yoga decks help you create a regular practice that unleashes your spirit in a distraction-free environment, where you can forget about your digital devices for a while.
Feel free to practice whenever and wherever you want: at home, in nature, or in your favorite spot, and enjoy the beauty of the present moment.
The PlayPauseBe cards are made in Europe with the highest quality, sustainable materials available. Our Eco factory is powered by solar energy, uses rainwater in sanitary installations, and recycles all production waste. Our goal is to make sure that we do not grow at the expense of our planet and its climate.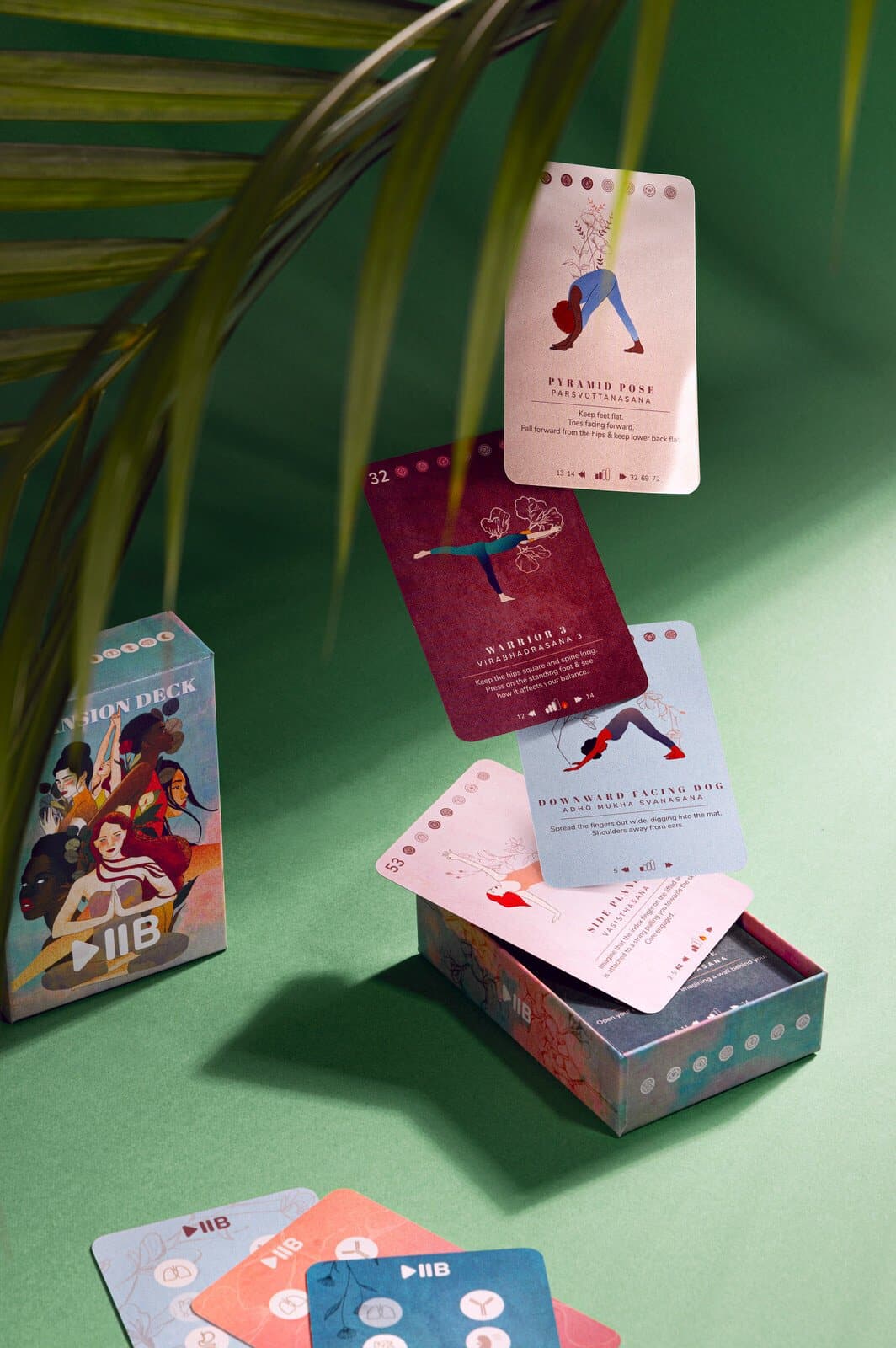 What is going to happen to your yoga practice?
In four words: It will improve dramatically.
We have taken a step further into the realm of immersive training, retaining the  acclaimed essence of the decks' previous version, and boosting it up with an even more comprehensive degree of mindfulness.
Some benefits you'll get from the new PlayPauseBe decks
The best choice for those who are committed to bring their Yoga practice to the next level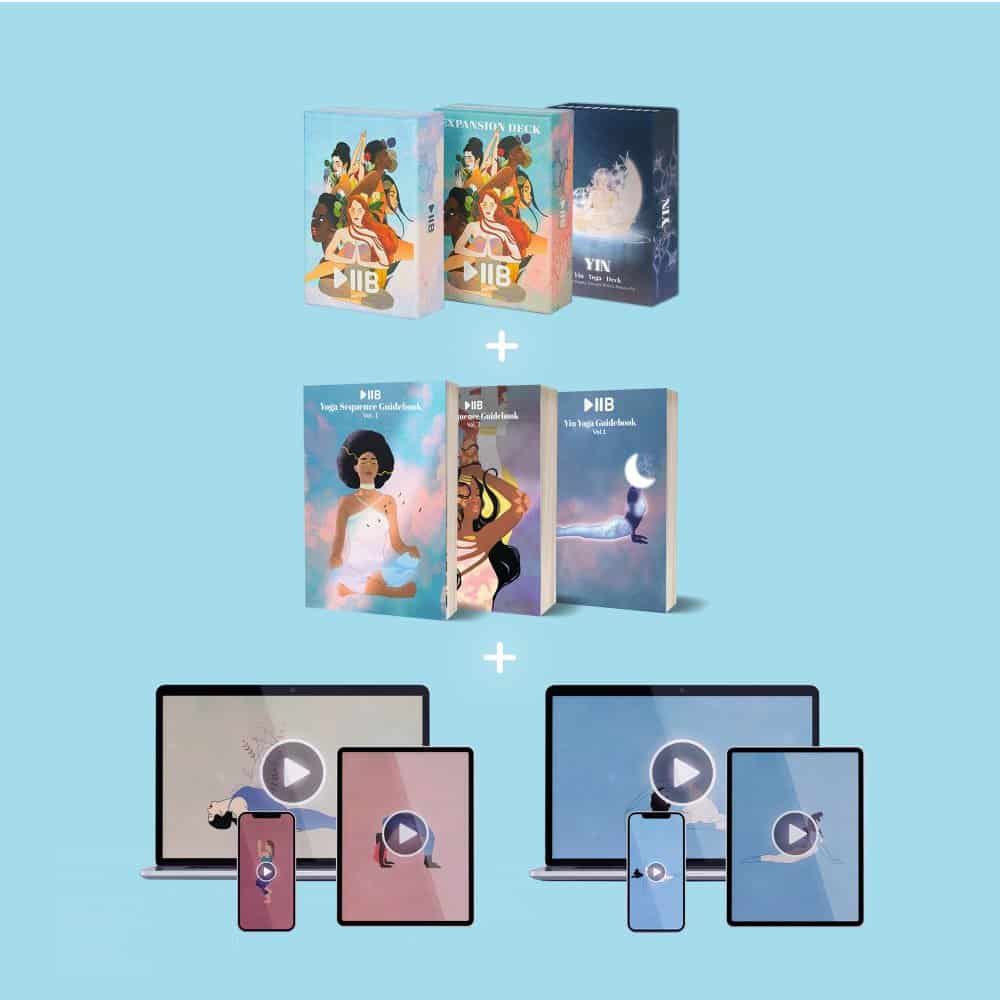 PlayPauseBe PRO includes the Yoga deck (82 cards), the Expansion Deck (78 additional cards) and the Yin Deck (68 cards) plus all the Yoga Sequence Guidebook (Vol.1 & Vol 2 & Yin Vol.1), giving you safe and enjoyable yoga sequences to do with your PlayPauseBe cards.
You will also get lifetime access to Asana Academy (Vol. 1) and Yin PRO, with over a 150 lessons covering each of the asanas included in the Yoga decks and other super important topics to help you grow in your self practice.
Are you ready to join our community?
Playpausebe is not just a product. As soon as you make your purchase, you'll have the opportunity to join our Facebook Group. A unique place for yoga students and teachers to connect, ask for feedback, share sequences, challenge each other and receive support not only from our teachers but also from the experienced yogis inside the community!
Take It From Our Happy Customers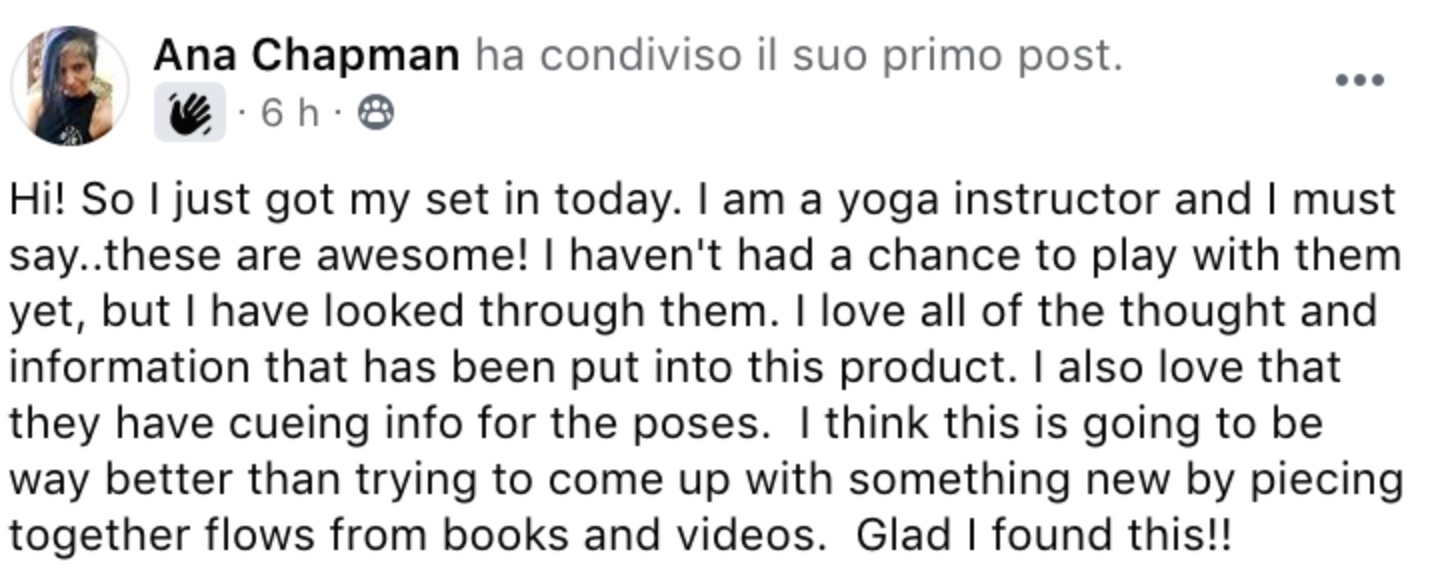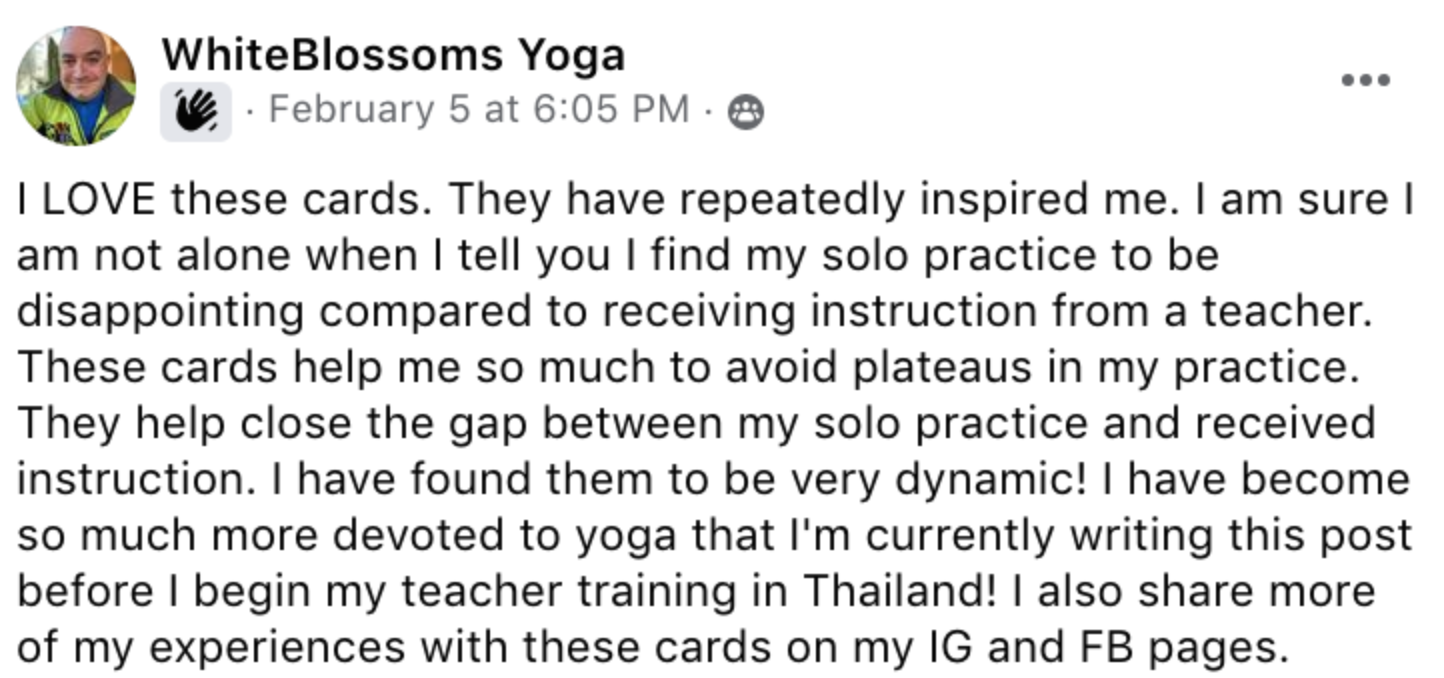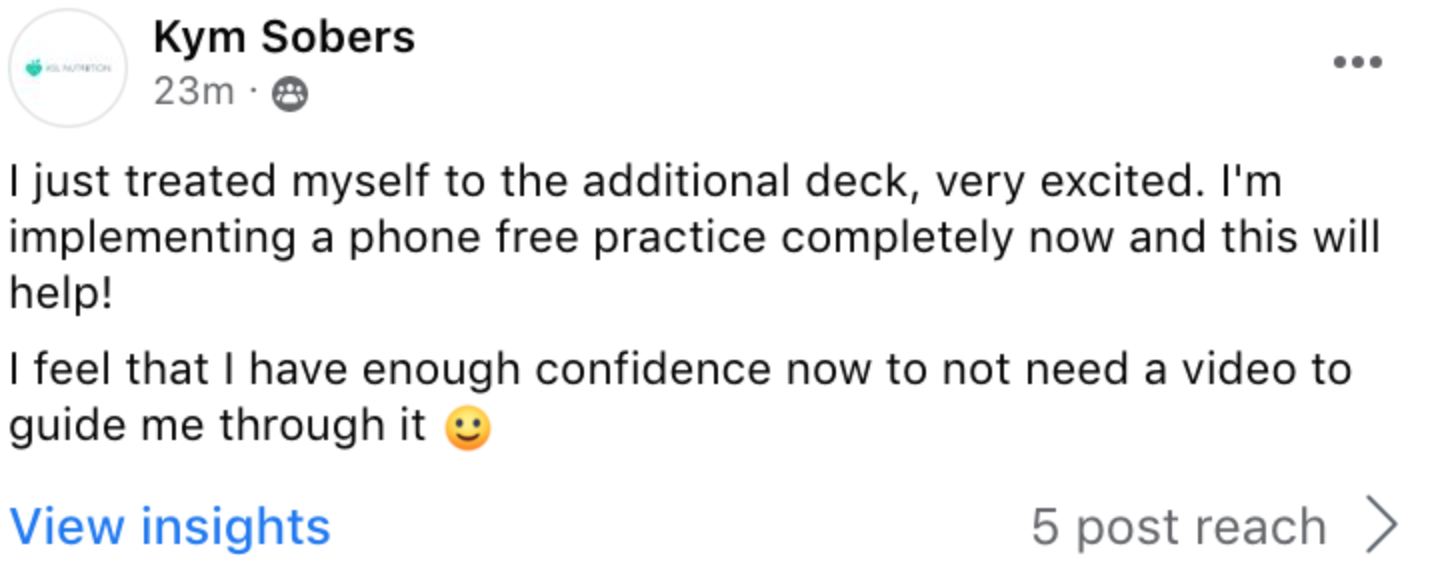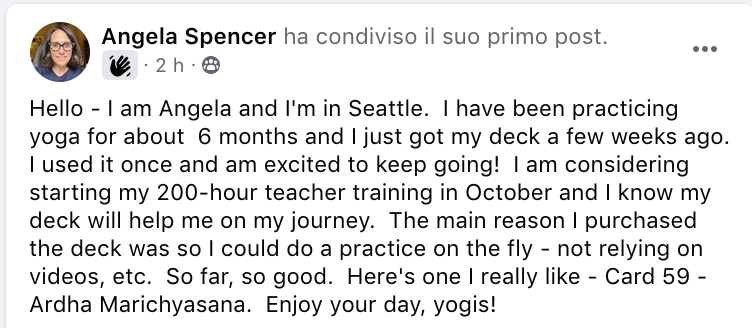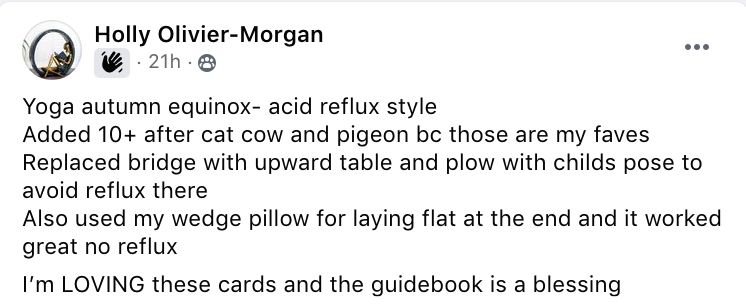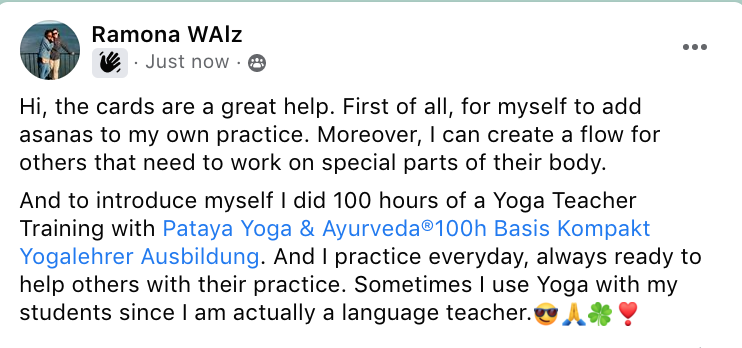 A regular yoga practice brings life-changing benefits to your body, mind and soul.
However, in this fast-paced society that asks us to be connected 24/7, it's often challenging to switch off and go within (even while doing yoga!).
This is why we created the PlayPauseBe Yoga deck.
Whether you're a beginner, an advanced yogi, or a yoga teacher, these revolutionary decks cards will help you practice with zero distractions and build sequences easily with confidence and inspiration.
82 illustrated poses in 9 categories
A unique sequencing reference system
Cues to practice safely
Benefits for each pose
Name in English and in Sanskrit
Difficulty level indications
Chakra indications for each pose
Intention Cards
Manual
PlayPauseBe is one of the most successful Yoga projects in Kickstarter's history. Our mission is to empower Yogis from all over the world and bring more purpose and awareness to their practice.
We are working to create new decks to expand the poses available and cover other styles of Yoga… (Psst…Our Yin Yoga Deck is coming soon on Kickstarter!)

PlayPauseBe is a Project by Strumpi LTD
271 Upper Street, London, England, N1 2UQ | VAT: GB 340489693