Explore the Transformative Power of Mudras
And experience profound balance in your mind, body and spirit.
Venture into the empowering world of Mudras with our revolutionary Mudra Deck. Engage with this integral aspect of yoga, exploring the path to heightened awareness, inner harmony, and holistic well-being.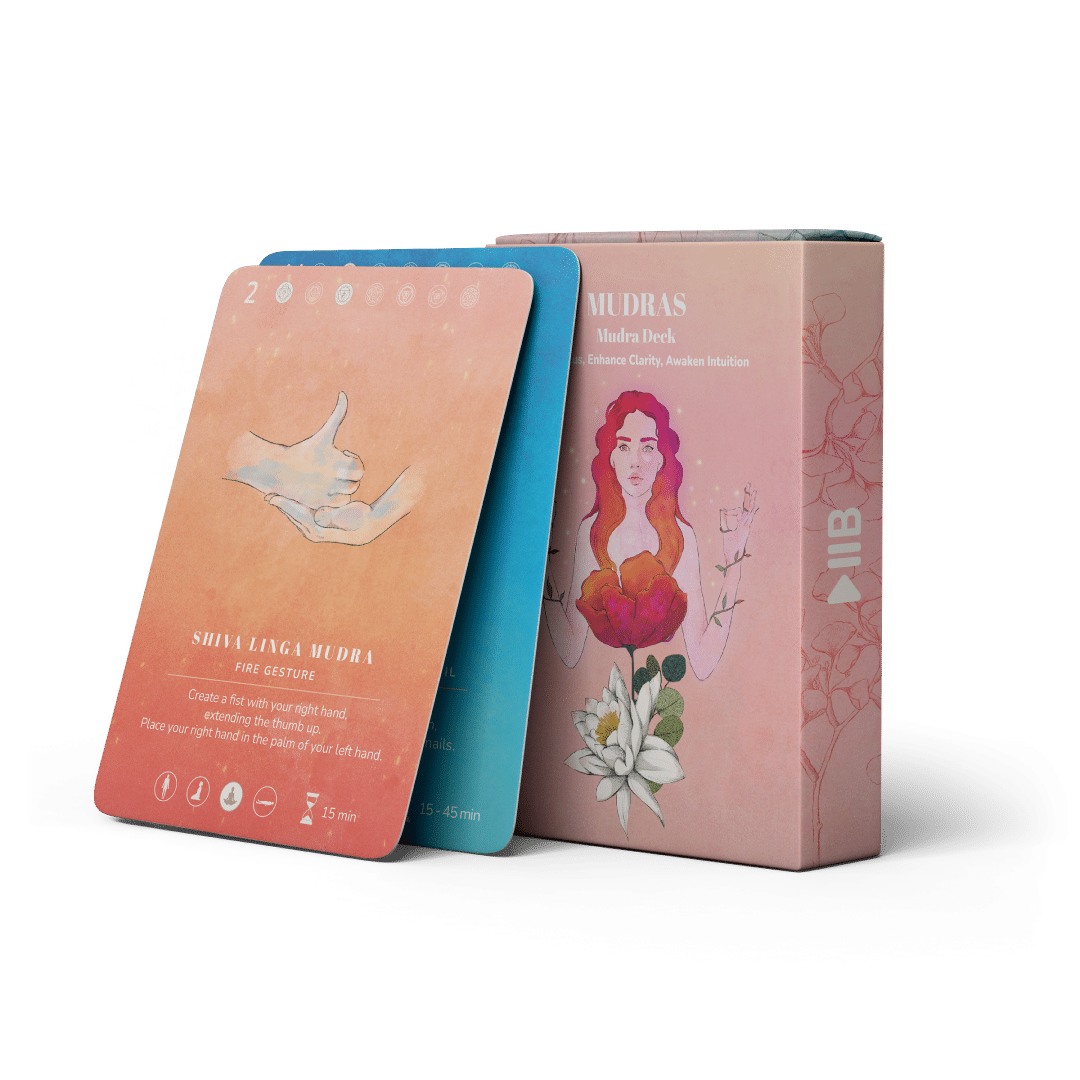 In our hectic, modern lives, the simple yet powerful potential of our hands often goes unnoticed. Hasta Mudras, or timeless hand gestures, represent a path to direct our energy and amplify our mindfulness practices.
Integrated with meditation, yoga, pranayama, or as standalone practices, Mudras enable us to access and navigate a spectrum of emotions, mental states, and spiritual dimensions.
Importantly, each Mudra resonates with distinct Chakras, our body's energy hubs, and their associated elements. This correlation fosters a holistic connection that profoundly enhances our physical and mental wellness.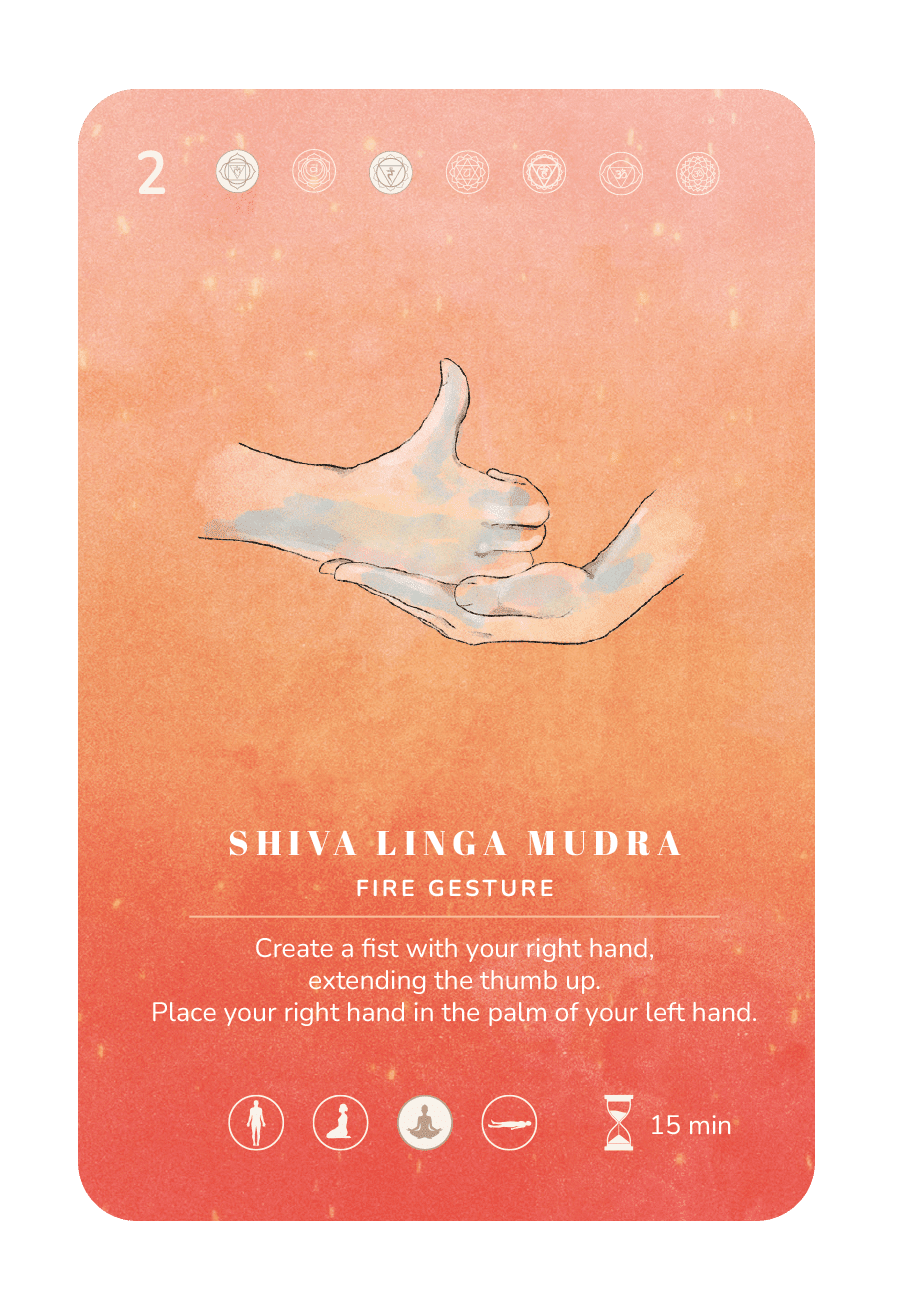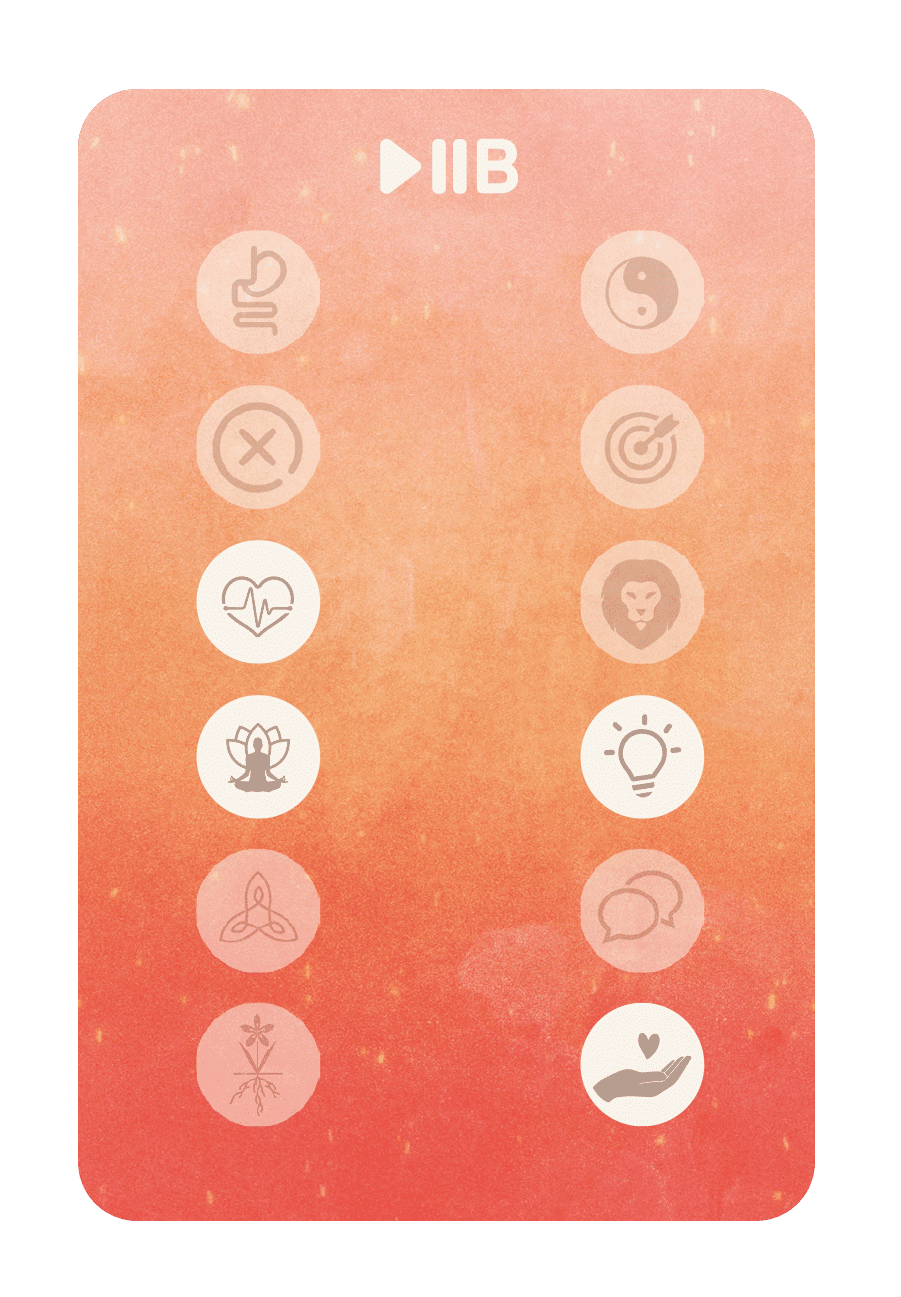 65 illustrated mudras divided into 6 categories
Name in English and in Sanskrit
Chakra indications on each card
Focus phrases for each mudra
Recommended duration for each practice
Complete Manual
11 illustrated bonus cards with Ayurvedic elements and hand warm-up exercises
Benefit indications
With the Mudra deck, you are not just practicing hand gestures, you are embarking on a journey of self-discovery and inner balance.
Boost Focus, Enhance Clarity, Awaken Intuition
Immerse yourself in the enlightening realm of hand gestures with our Mudra Deck. Tap into the serene reservoir of energy in your hands, ushering in a new wave of inspiration, balance, and profound well-being.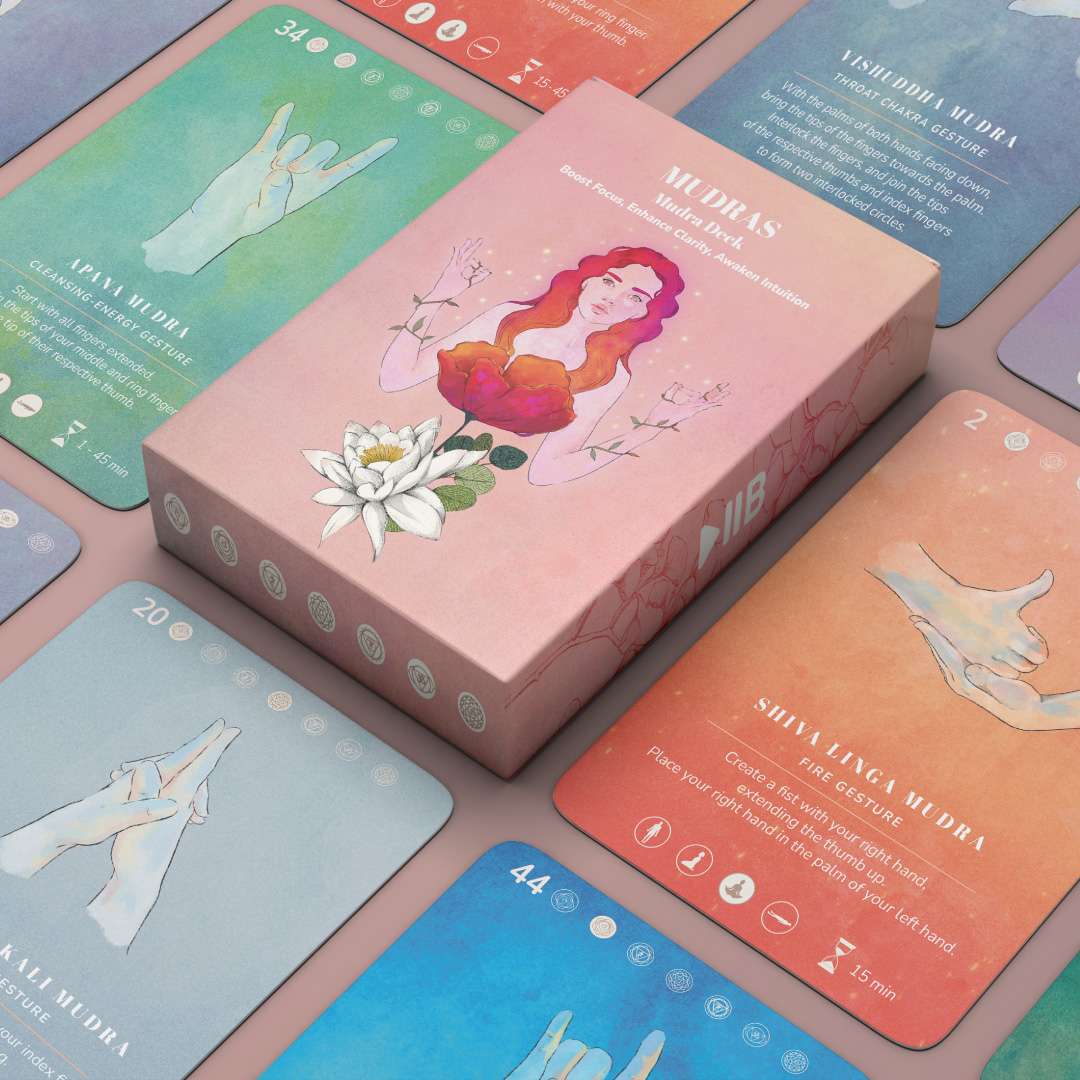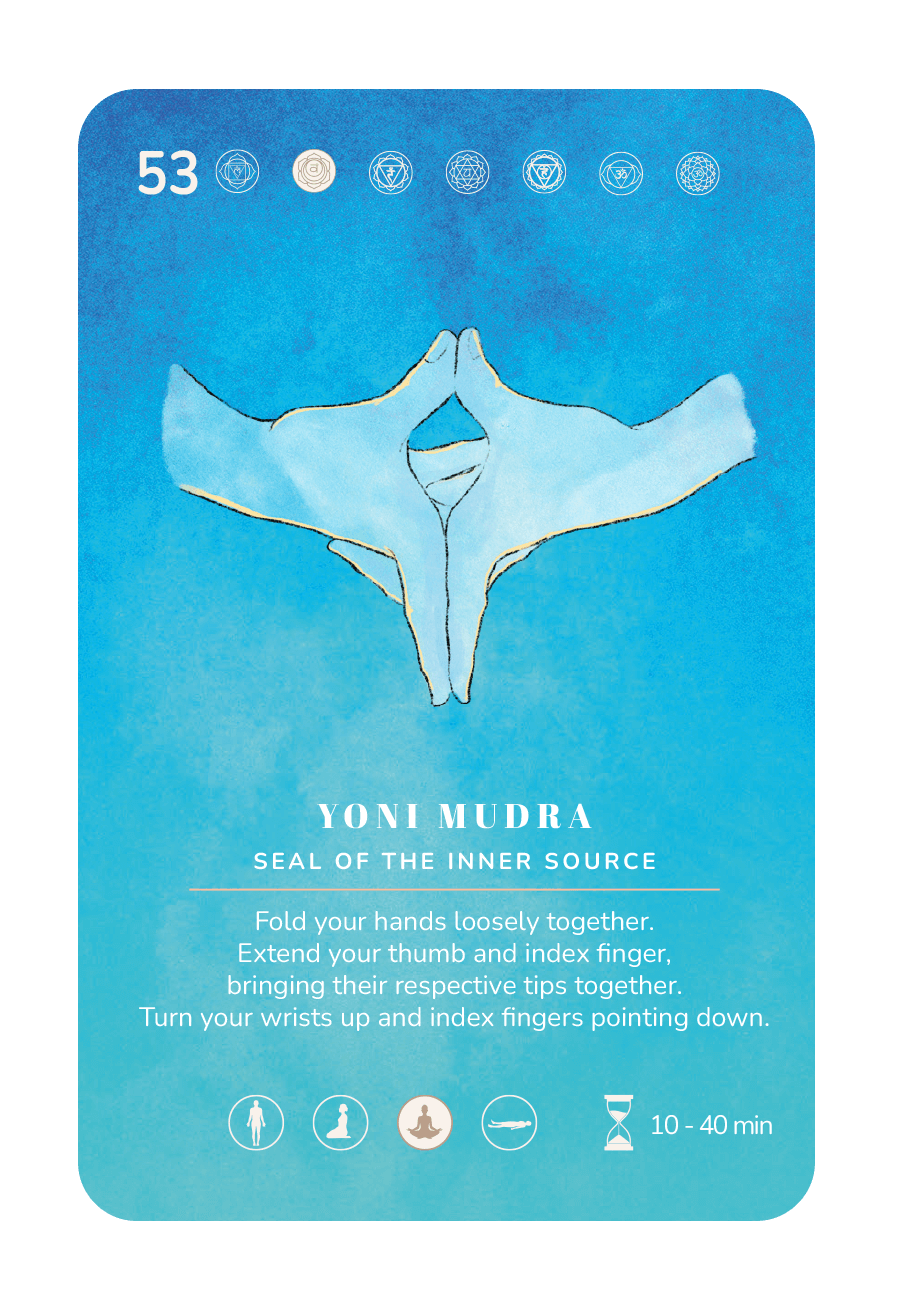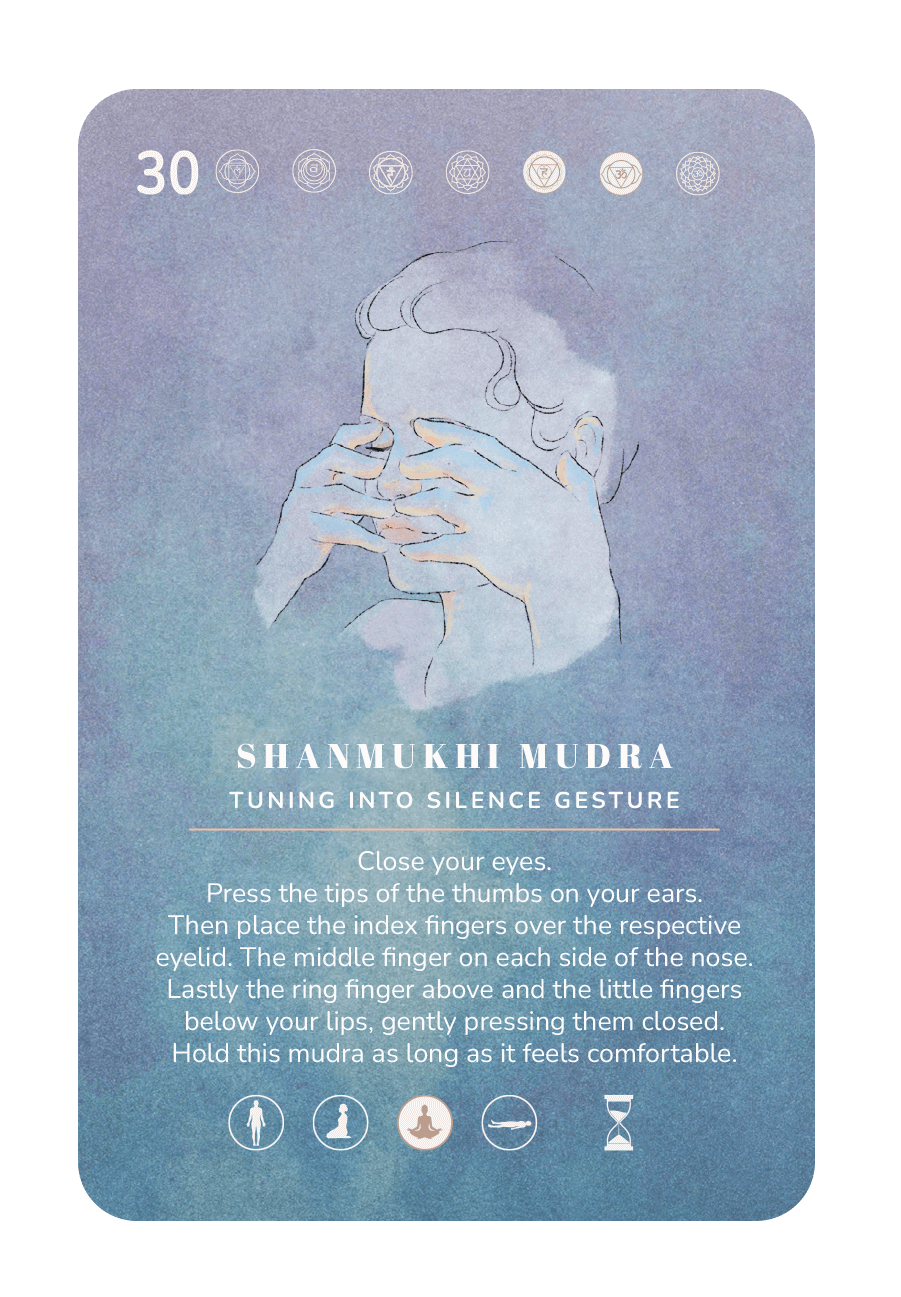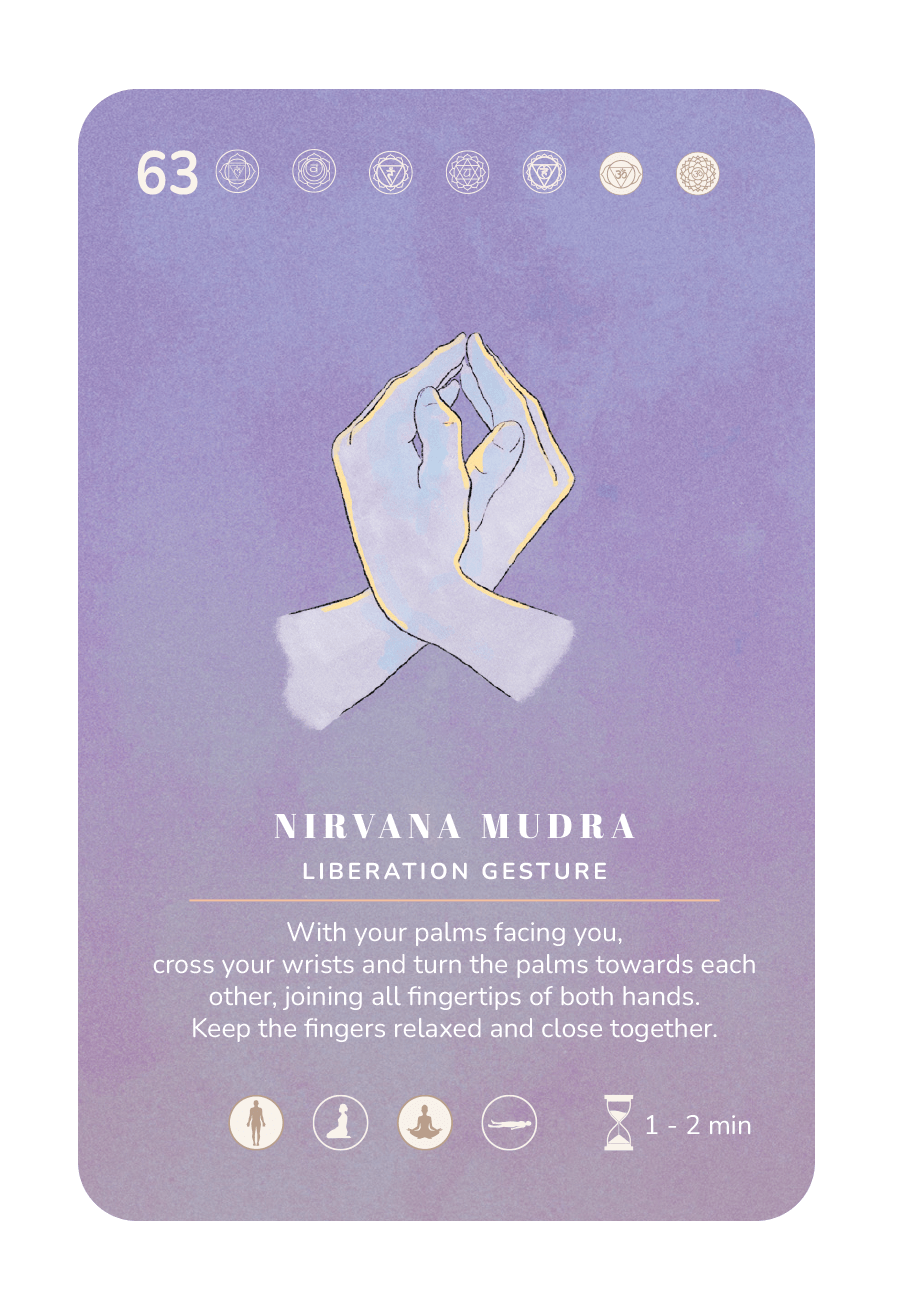 The Mudra deck includes 65 cards divided into 6 categories. 
Carefully crafted by artist Giulia Rosa, each card is a work of art, offering a rich, effective visual synthesis of information. Every detail, every symbol, is purposefully integrated to offer you a comprehensive understanding in a visually appealing manner.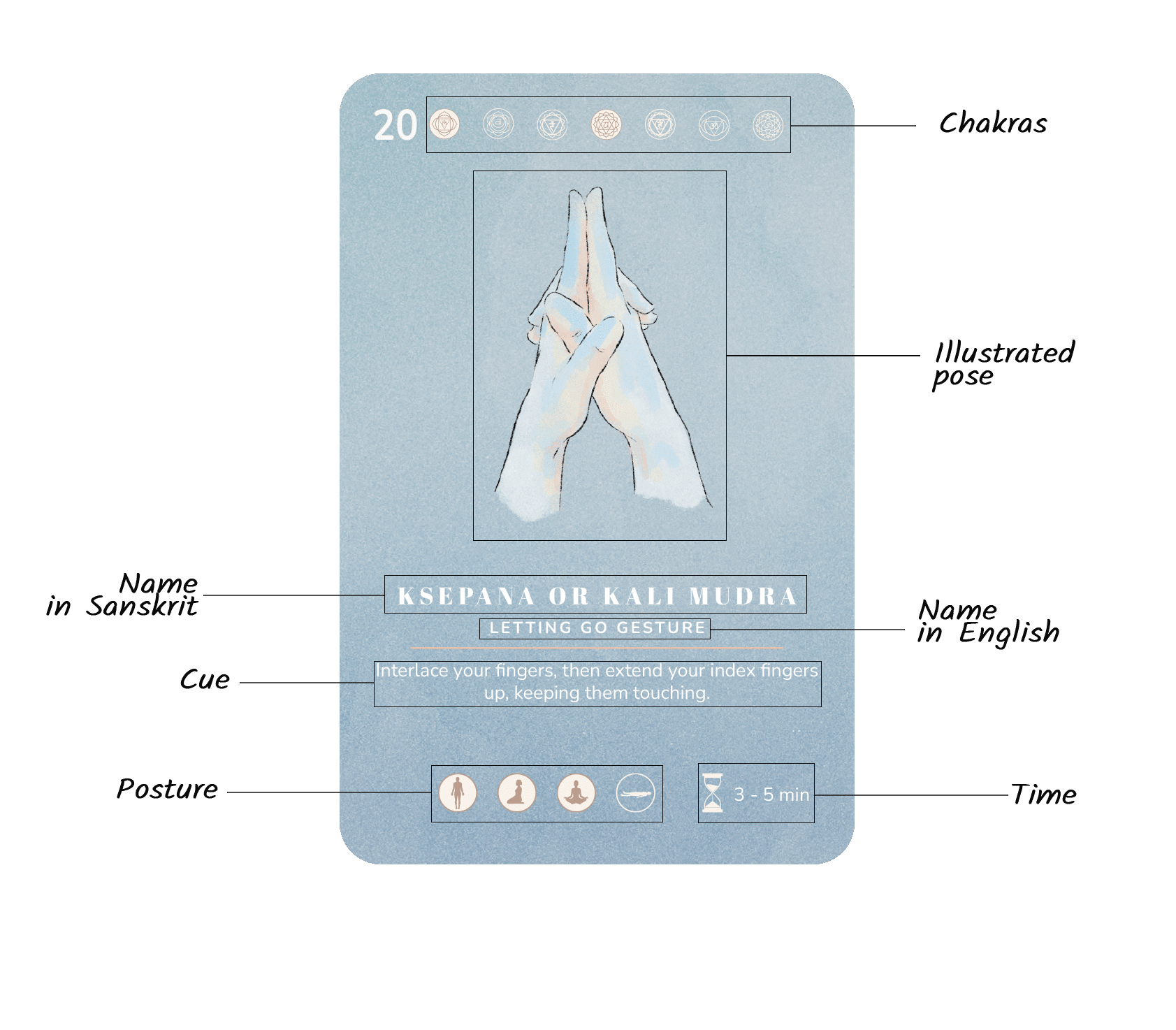 This thoughtful design makes absorbing and applying the benefits of Mudras incredibly accessible, transforming your practice into a dynamic, enlightening journey. 
With the Mudra Deck, you're not just holding a deck of cards, but a gallery of wisdom right in the palm of your hands.
On the back of each Mudra card, there are showcased benefits indications. This allows you to easily practice Mudras depending on the benefits you want to target. Whether it's improving digestion, enhancing vitality, de-stressing, promoting stability, or fostering courage, there's a Mudra for that.
Focus
Elimination
De-Stressing
Courage
Communication
Yin Yang
Vitality
Strength
Self-Esteem
Intuition
Grounding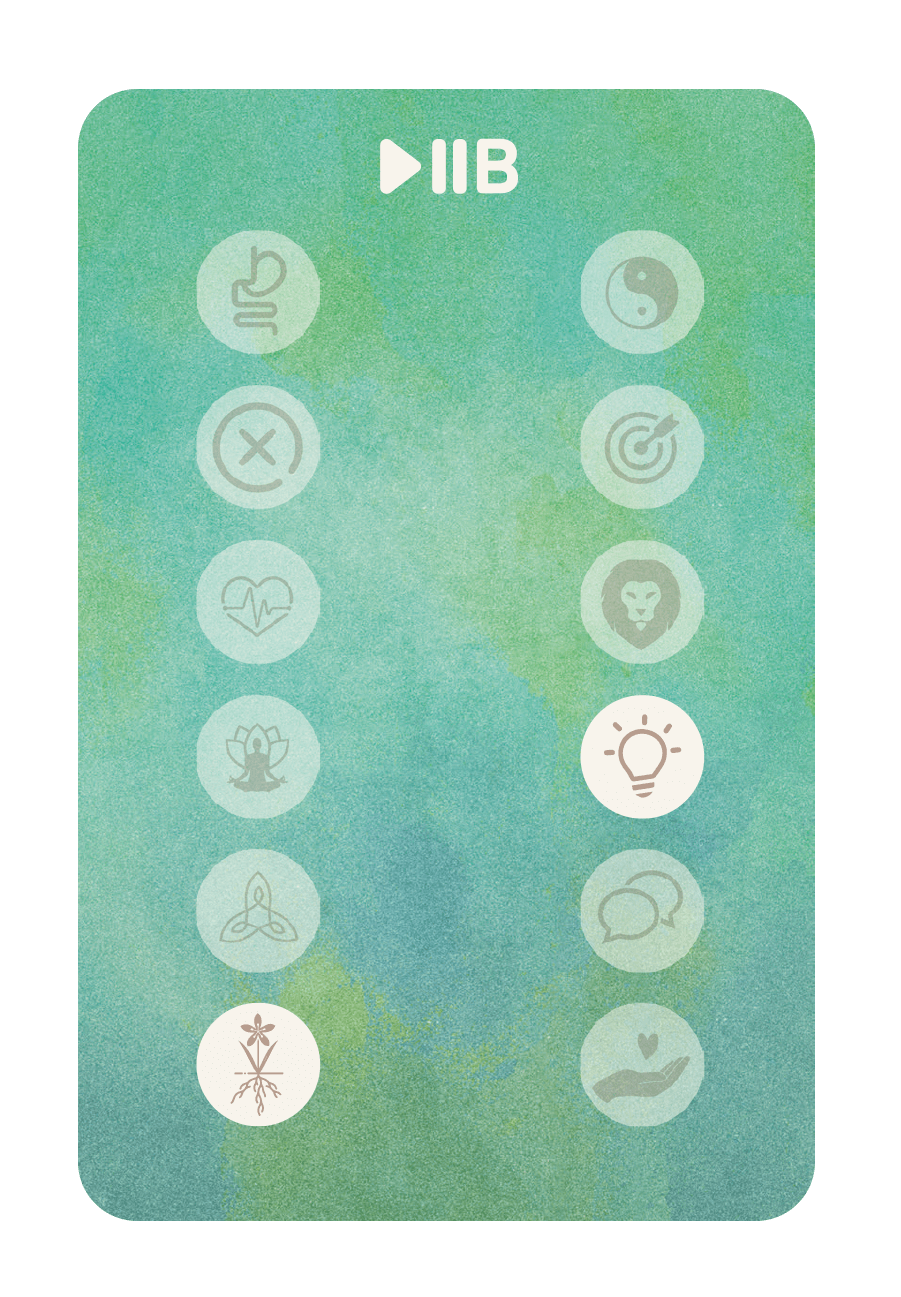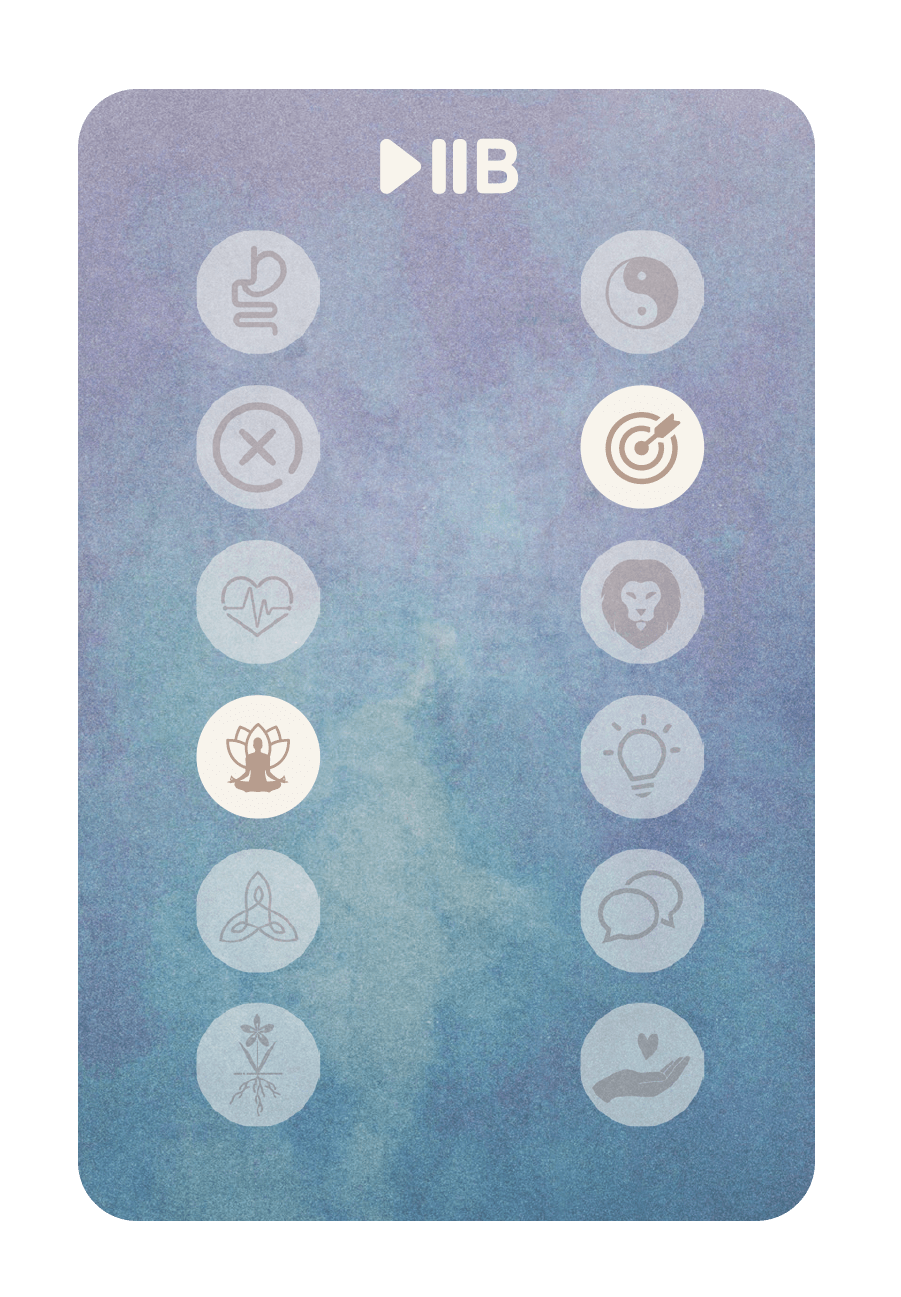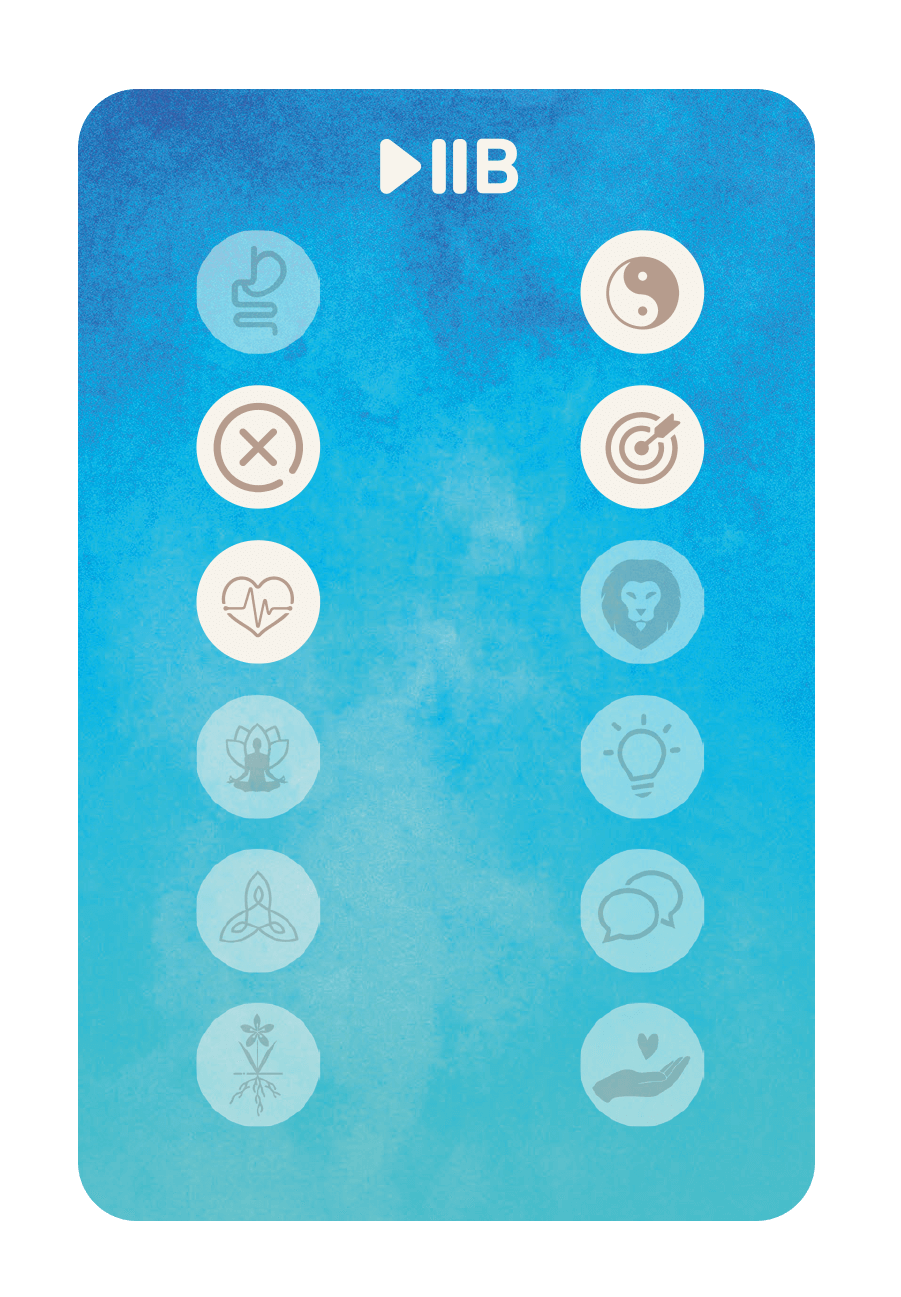 With the Mudra Deck, even the complex correlation between Mudras and chakras becomes immensely easy and intuitive. 
Each card is your personal guide to chakra activation. 
At the top of each card, you'll find the chakras that the Mudra stimulates, clearly highlighted for your convenience. 
Craft your mudra routine around a specific chakra, deepen your understanding of each Mudra's energetic influence, and navigate the depths of this intricate energy system with ease and grace. Your path to spiritual balance is clearer than ever.
Root Chakra
Sacral Chakra
Solar Plexus Chakra
Heart Chakra
Throat Chakra
Third Eye Chakra
Crown Chakra
One unique feature of your Mudra Deck is its division into categories based on elements: earth, water, fire, air, ether, and mind. 
This organization allows you to deepen your understanding and connection with the natural elements and your internal landscape.
Earth Mudras
Ground yourself. Enhance stability. Boost physical strength
Water Mudras
Balance emotions. Ignite creativity. Encourage fluidity.
Fire Mudras
Ignite motivation. Fuel your digestion. Empower yourself.
Air Mudras
Stimulate intellect. Enhance communication. Embrace freedom.
Ether Mudras
Inspire spiritual growth. Hone intuition. Connect to the divine.
Mind Mudras
Cultivate clarity. Sharpen focus. Balance your mind
By aligning your practice with these elemental forces, you can tap into the energy you need at any given moment. Whether you're seeking grounding, creativity, motivation, intellectual growth, spiritual connection, or mental clarity, there's a Mudra aligned with that element ready to guide you.
Some benefits you'll get from the new Mudra deck:
Enjoy the simplicity of practicing Mudras

, without the need for exhaustive study or training, thanks to the comprehensive information presented on each card.

Discover transformative Mudras

for enhanced physical, mental, and energetic well-being.

Effortlessly master the intricate relationships between Mudras, chakras, and elements

, enhancing your holistic understanding of this ancient practice.

Strengthen your meditation practice

and cultivate heightened awareness of your energy.

Effortlessly create a Mudra routine aligned with your specific needs

, goals, or intentions.

Integrate Mudras seamlessly into your yoga sequences

and poses for diverse daily practice. 
Enhance your yoga classes holistically with the mudra deck

, enriching the experience for your students. 

Select Mudras effortlessly

aligned with specific benefits, chakras, or elements, tailored to your session's theme and objective. 

Foster mindful hand movements

, raising students' conscious awareness of energy flow.

Easily remember Mudras,

their Sanskrit names, cues, and functions using the clear visuals and guidance on each card.
What is going to happen to your meditation and yoga practice?
The Mudra deck will help you create a self-practice where you deepen your connection to your energy and your mind. As you mindfully execute each Mudra, you'll feel the tension easing in your body and mind, and you'll gain a deeper understanding of your prana (energy) and the elements that influence it.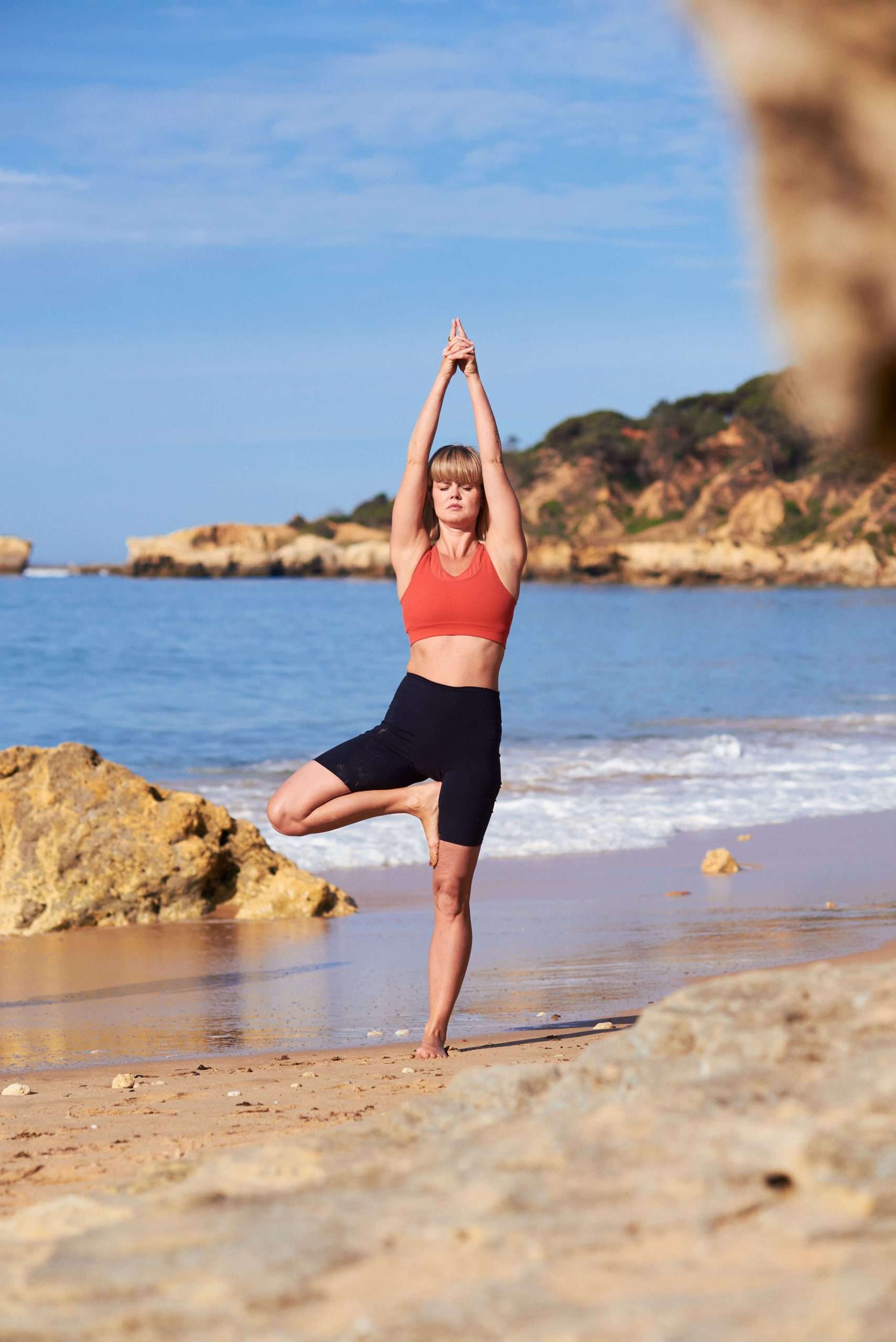 Pair The Mudra Deck
With These Incredible Courses
The best choice for those committed to bringing their meditation practice to the next level.

Perfect for Beginner, Intermediate or Advanced practitioner

The Mudra All-in-one solution

Exclusive Price
Mudra Mastery includes over 60 lessons covering each of the Mudras included in the Mudra deck. But it doesn't stop there! You'll also delve into the rich history of yoga and understand the intricate context of Mudras within this ancient tradition.
Here's what you can expect from Mudra Mastery
Gain mastery over Mudras with a comprehensive course combining the Mudra deck and the transformative Mudra Academy.

Explore 65 in-depth lessons, covering each Mudra included in the Mudra deck, unlocking their meanings, techniques, and profound effects.

Immerse yourself in the rich history of yoga and understand the intricate context of Mudras within this ancient tradition.

Unlock the secrets of Mudras and tap into their transformative power to achieve balance, harmony, and inner growth.

Receive expert guidance and teachings from our experienced instructor with +10 years of teaching experience and extensive knowledge in the realm of Mudras and yoga.

Discover the profound connections between Mudras, energy channels, and chakra systems, and learn how to harness their potential.

Develop the skills and confidence to integrate Mudras into your personal yoga practice, meditation, and daily life.
Embark on a transformative path with our captivating, condensed course that brings you the life-changing essence of mudras. 
This course is an exclusive reduction from our extensive Mudra Mastery Course, distilling its core teachings into a focused and accessible format.
With over 10 personalized mudra routines designed to cater to your specific needs, you'll not only learn but truly understand how to seamlessly integrate mudras into your everyday life, whether you're on the yoga mat or going about your day-to-day activities.
Here's what you can expect from Mudra Essentials
Learn about mudras and their applications in a remarkably short and efficient timeframe.

Discover 10+ customized mudra routines tailored to your specific needs.

Seamlessly incorporate mudras into your daily life beyond the yoga mat.

Explore practical applications of mudras for everyday tasks and profound moments.

Embark on a transformative journey toward empowerment, vibrancy, and personal transformation.
Pair The Mudra Deck
With These Incredible Courses
Elevate your meditation experience with the comprehensive Mudra Mastery course, our most extensive online course on Mudras.
Immerse yourself in the rich history of Mudras, their ties to Tantra and Hatha Yoga, and master precise techniques for correct practice. Explore 65 featured Mudras with detailed explanations and insights. Uncover the profound connections between Mudras, Vedic astrology, Chakras, Ayurveda, and Traditional Chinese Medicine. Access 15 personalized Mudra routines designed to meet your specific needs.
For a more hands-on approach, we came up with Mudra Essentials, an extract from the Mudra Mastery course, focused solely on practical Mudra routines.
These courses, accessible to all levels, provide the ultimate stepping-stone to taking your meditation practice to new heights.
(Please note that all the material in Mudra Essentials is contained within the comprehensive Mudra Mastery course, they are NOT two different courses.)
| | Mudra Essentials | Mudra Mastery |
| --- | --- | --- |
| Introduction to Mudras: History of Mudra & the Relationship to Tantra and Hatha Yoga | ✅ | ✅ |
| The right way to practice Mudras | ✅ | ✅ |
| Access to 15 customized Mudra routines for personal needs | ✅ | ✅ |
| All the 65 Mudras contained in the deck explained | ❌ | ✅ |
| Personalizing Mudra routines using Vedic astrology and palmistry insights | ❌ | ✅ |
| Examining Mudras' link with Ayurveda and Traditional Chinese Medicine | ❌ | ✅ |
| Explanation of common concepts related to Mudras (Maha Bhuta, Trimurti, Vayus, Chakras, Mantra, Yantras, Doshas, Koshas) | ❌ | ✅ |
| Scientific explanation of Mudras and the brain | ❌ | ✅ |
As a lifelong ballerina and bodyworker, Ann is passionate about love for Self, others, and the Earth. Ann has over a decade of full-time experience teaching in the field of human consciousness and over 1500 hours of certificates in Yoga/energy psychology.
Her mission is to remind you of your life's potential through compassion and curiosity with open and light energy.
"I am humbled for all my teachers & life lessons I have encountered so far and my capacity to increasingly appreciate my reality." – Ann ​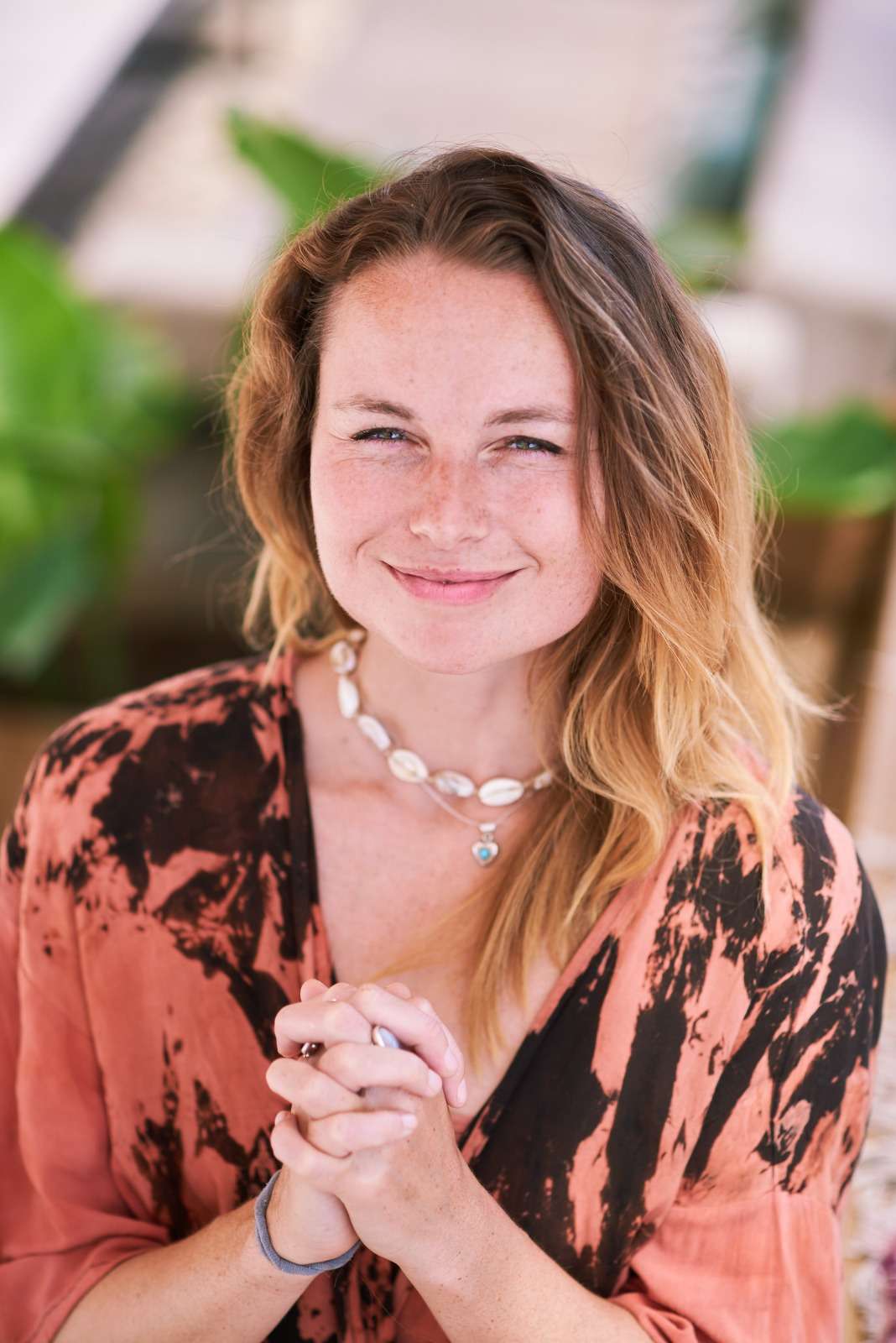 We're thrilled to announce the release of the new Mudra Deck and to mark the occasion, we've created 3 amazing deals for you to select from. But act fast – there is a limited number of bundles available. Grab yours now before it's too late!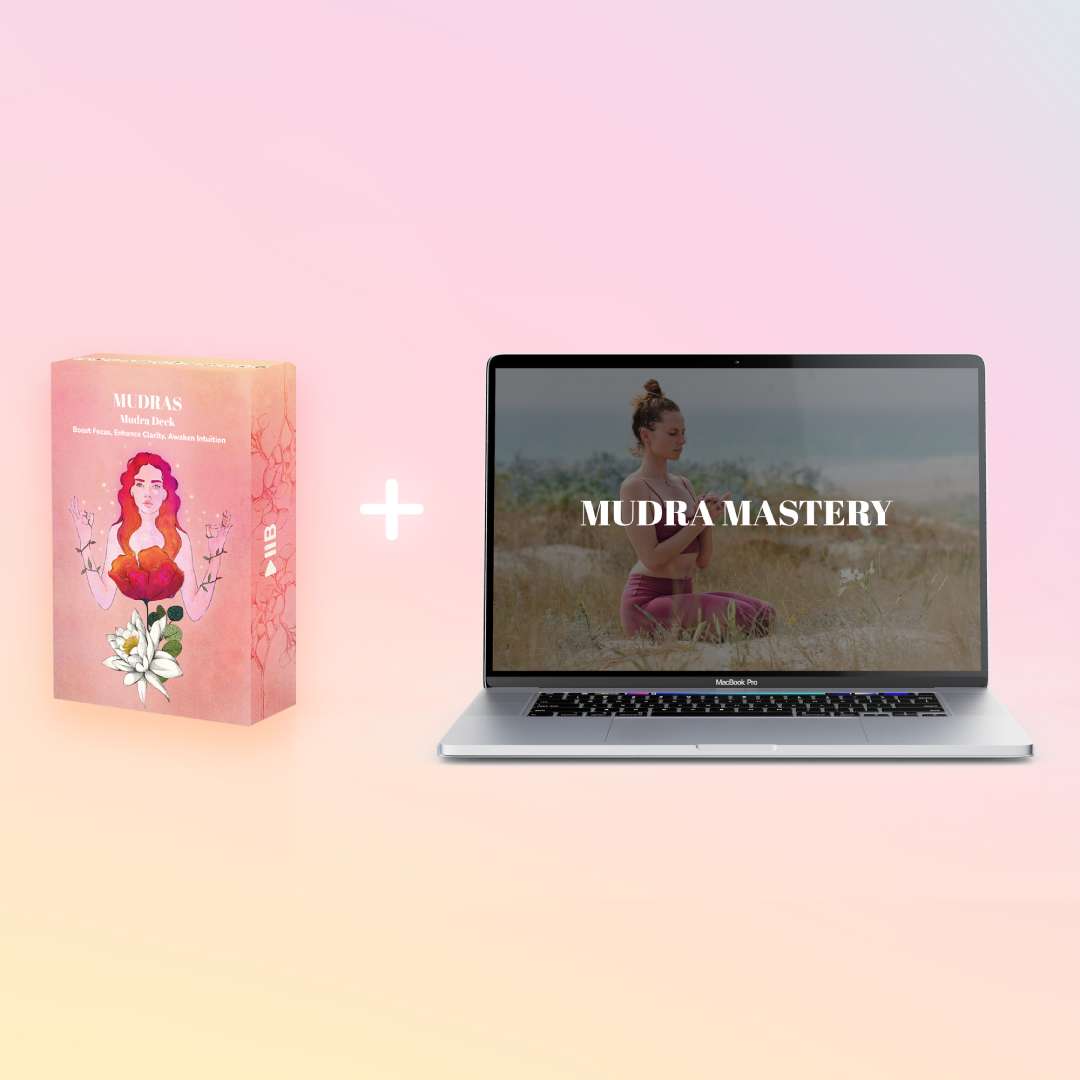 Mudra Deck Advanced Bundle
Exclusive price for Floga subscribers: $152.92
The Mudra Deck (77 Cards + Printed and Online Manual)

Mudra Mastery, a comprehensive online course that covers:

65 lessons that dive deep into each Mudra featured in the Mudra deck.

The exploration of the historical significance of yoga in relation to Mudras, and their profound connections with chakras, elements, and planets.

15 Mudra Routines

and insights on how to effortlessly practice mudras according to your needs in your daily life, both on and off the mat.
At this price, the Mudra Deck Advanced Bundle is an absolute no brainer. Undoubtedly our best deal. Do not miss out.
You'll receive the deck in September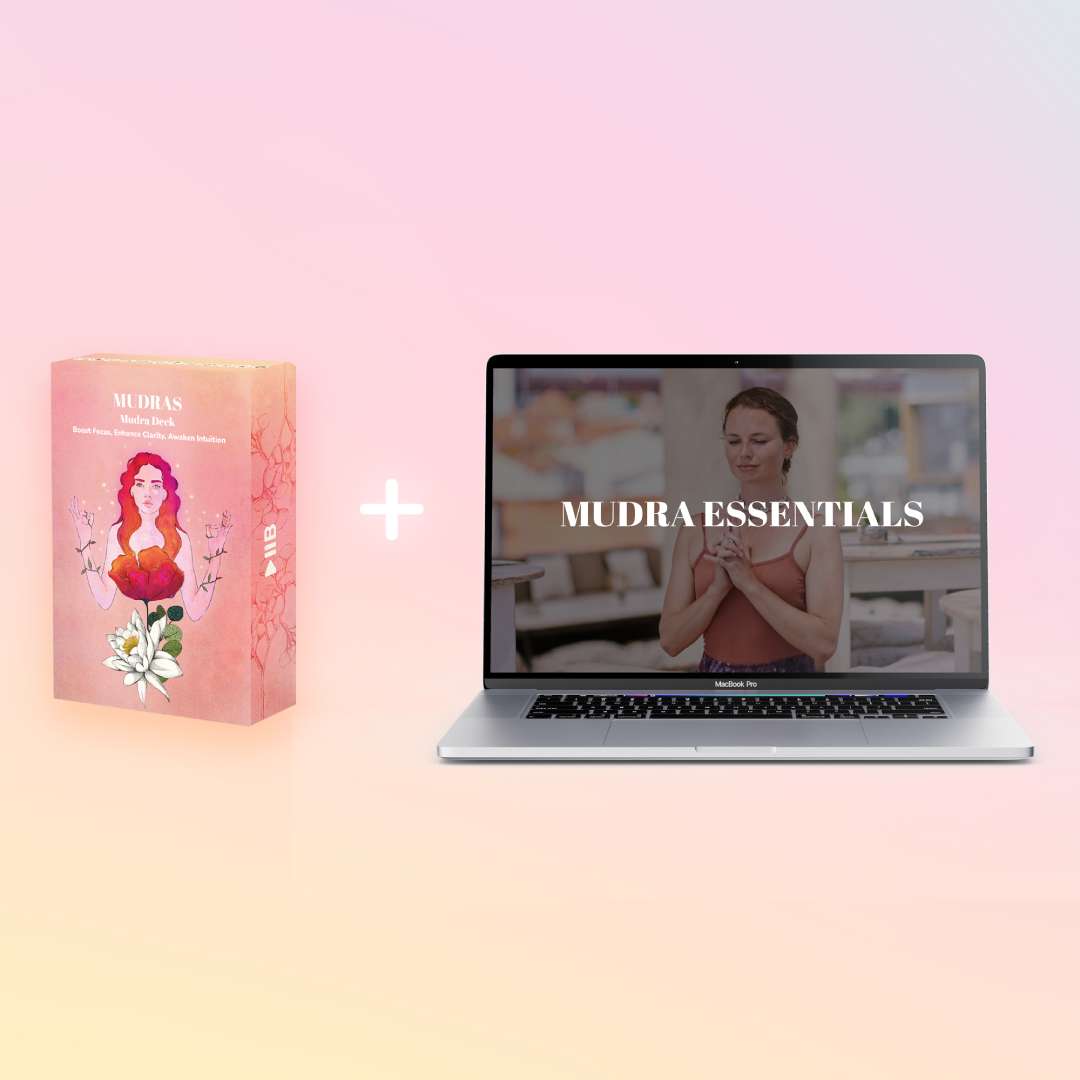 Exclusive price for Floga subscribers: $125.91
The Mudra Deck (77 Cards + Printed and Online Manual)

Mudra Essentials

,

a hands-on version of the comprehensive Mudra Mastery Course.

It includes an introduction to Mudras and 15 customized Mudra Routines to meet your unique needs and instructions on how to effortlessly incorporate mudras into your daily life, both on and off the mat.
You'll receive the deck in September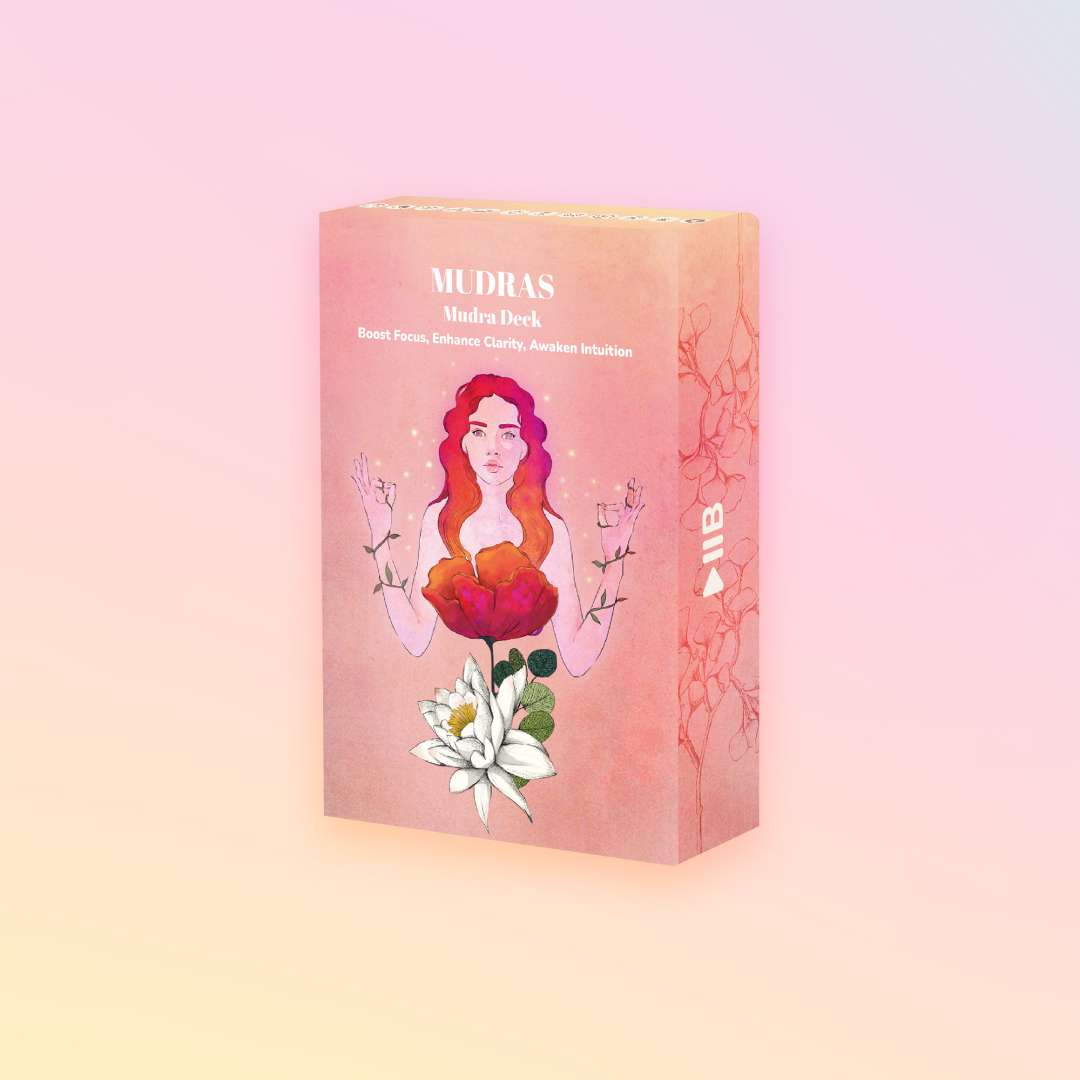 Exclusive price for Floga subscribers: $41.31
The Mudra Deck (77 Cards + Printed and Online Manual)
You'll receive the deck in September