Mindfully create replenishing Yin Yoga sequences
And experience stillness and serenity in your daily life
The Revolutionary Yoga Decks used by over 52,985 yogis worldwide has now gone YIN. Experience deeper stretches and more inner connection with this slower, more meditative style of yoga.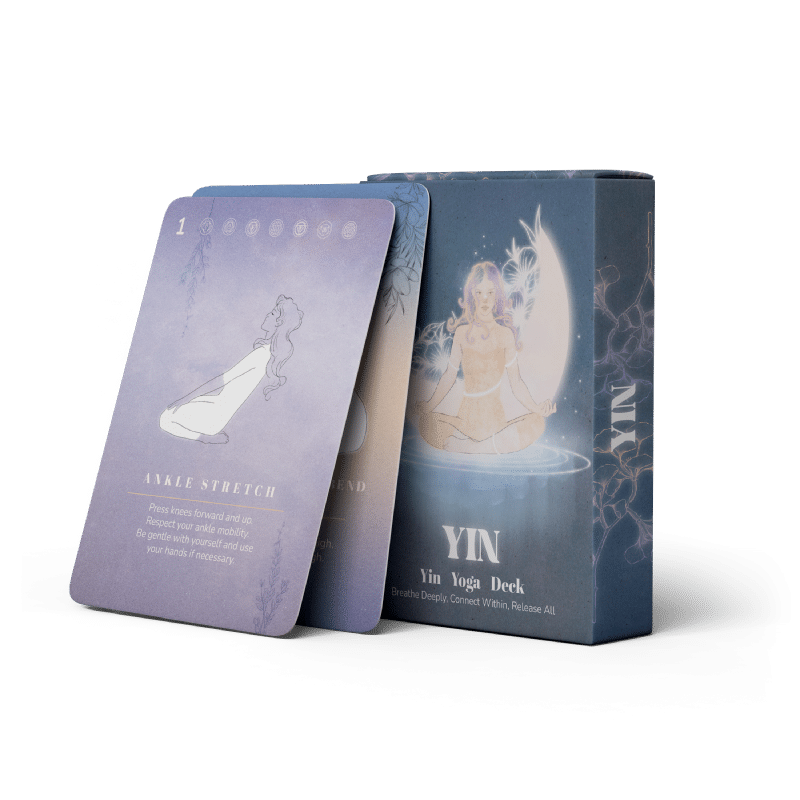 In our fast paced lifestyles we can all do with some more stillness. Yin Yoga gives us the opportunity to slow down, connect deeper within, and nourish our bodies, minds, and souls.
Yin Yoga is a slow, passive and meditative style. The practice calls for long-held stretches targeting the deeper connective tissue, such as the fascia, tendons, and ligaments. More dynamic styles of yoga do not stretch these tissues, so it's common for us to have tightness there.
Yin Yoga is closely linked to Traditional Chinese medicine, making it a truly holistic practice that connects us with our lifeforce (chi). The postures target particular meridian pathways, which can help to release physical tension and improve how you feel mentally and emotionally.
Moreover, the practice of Yin Yoga calls for slow, deep breathing, which calms the nervous system, stimulating the "relaxation response". This makes Yin Yoga an antidote to stress and anxiety.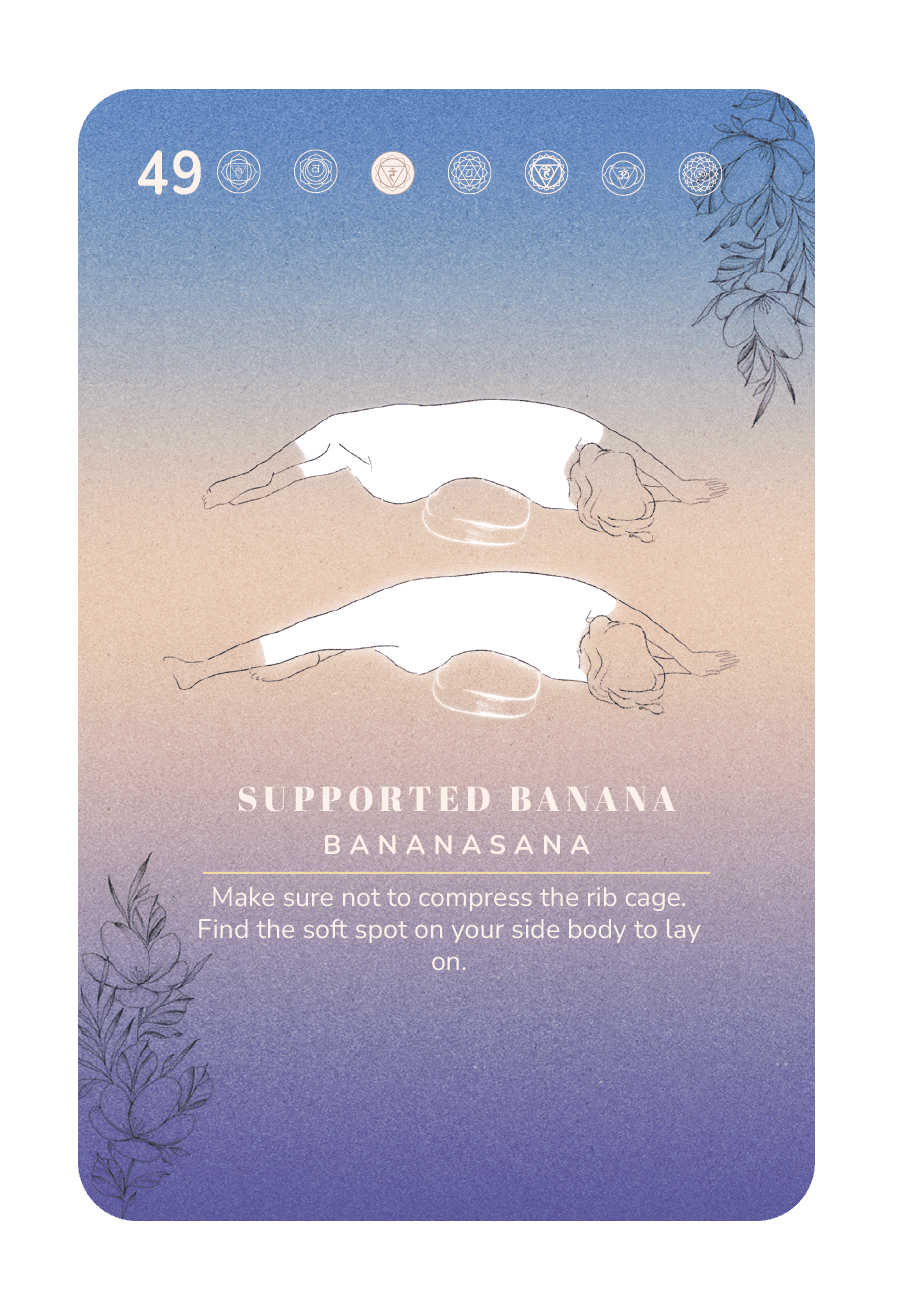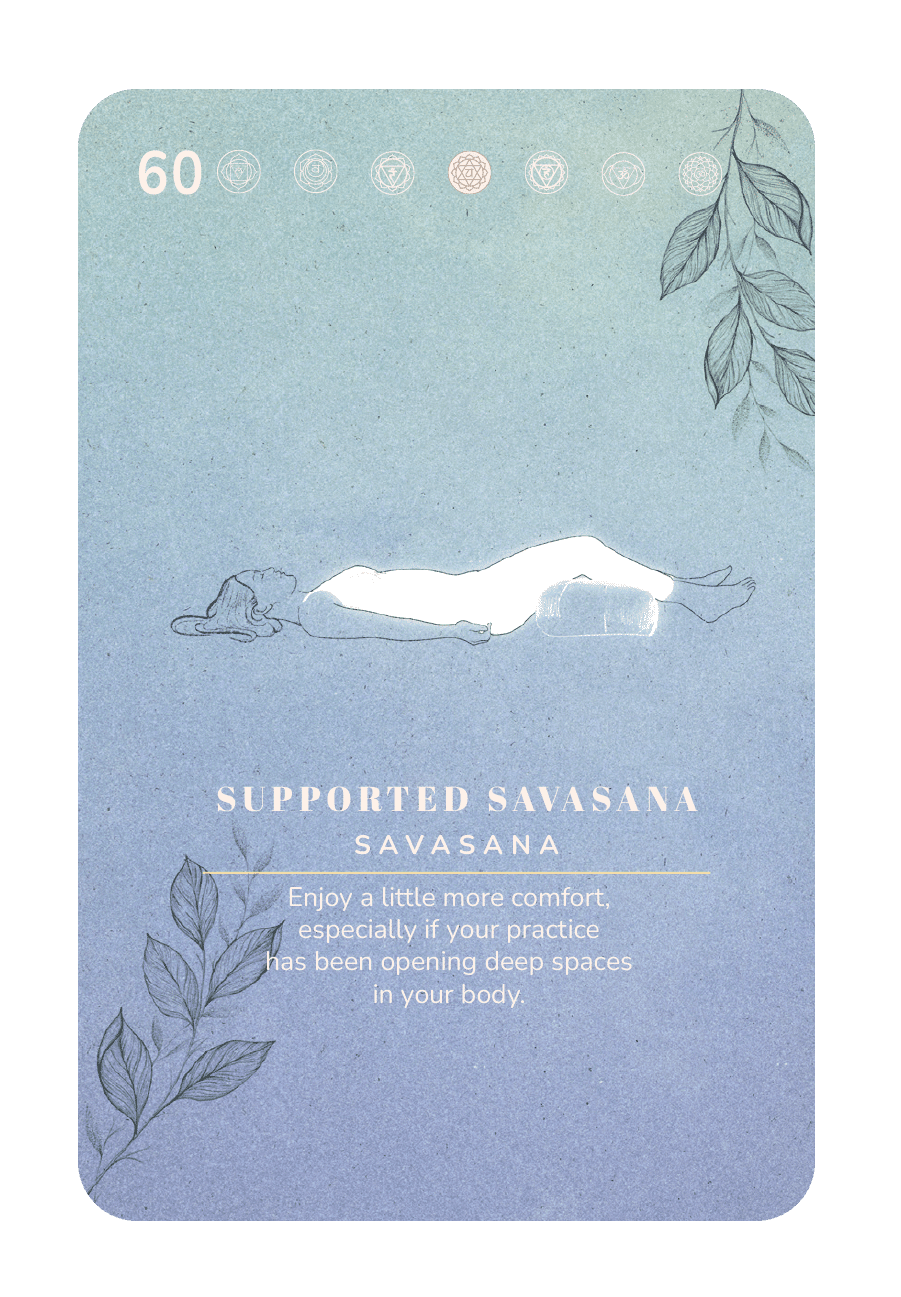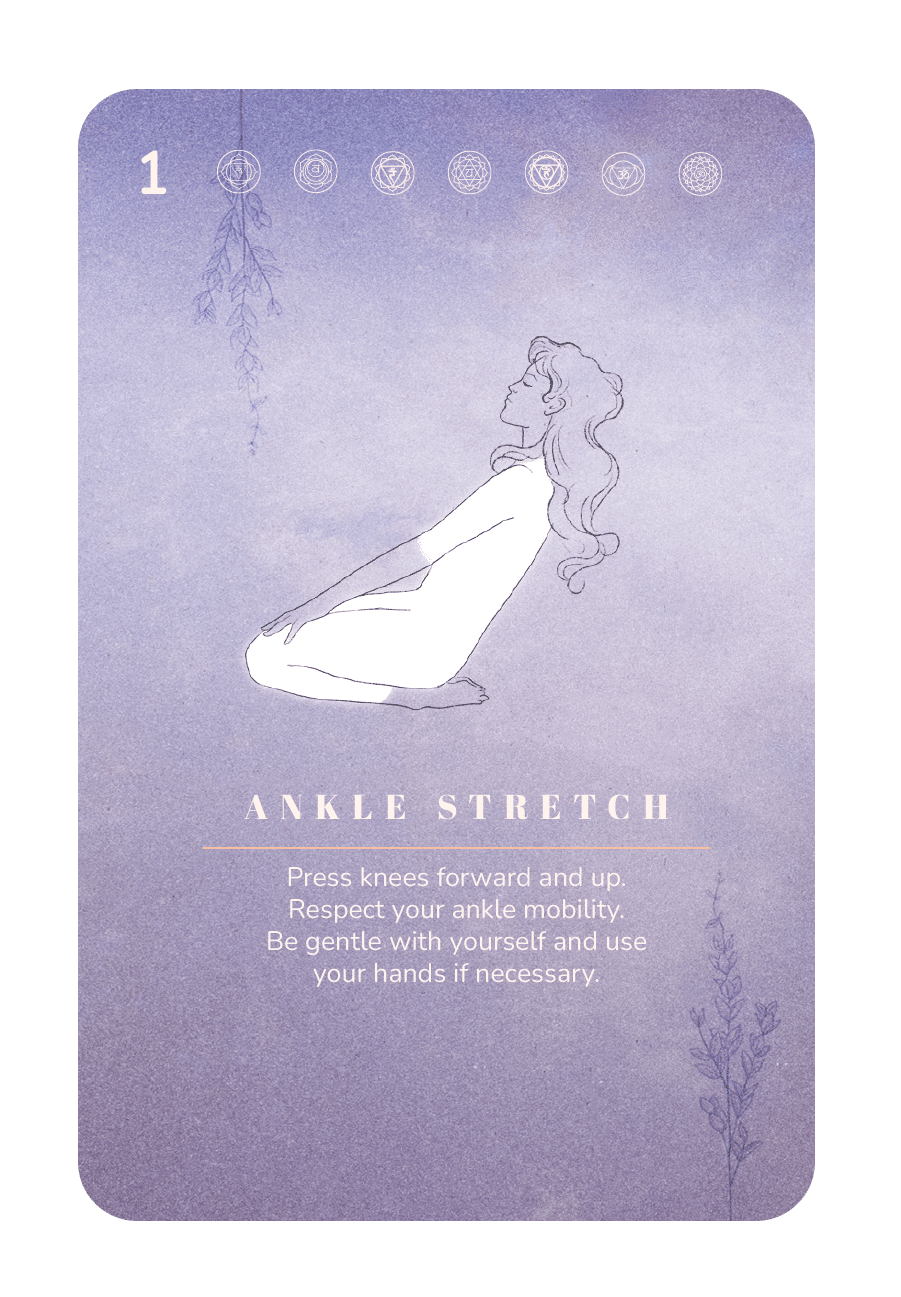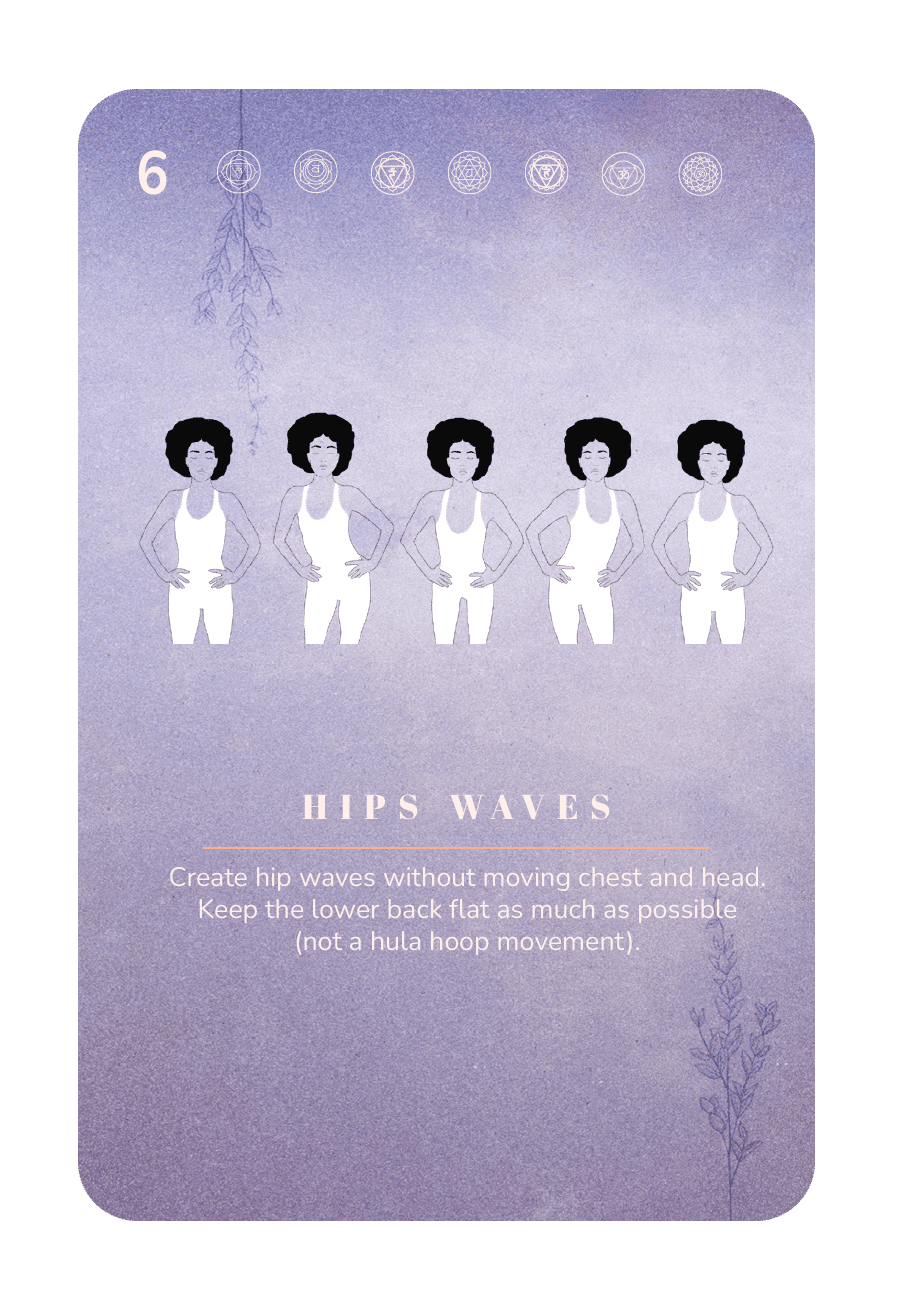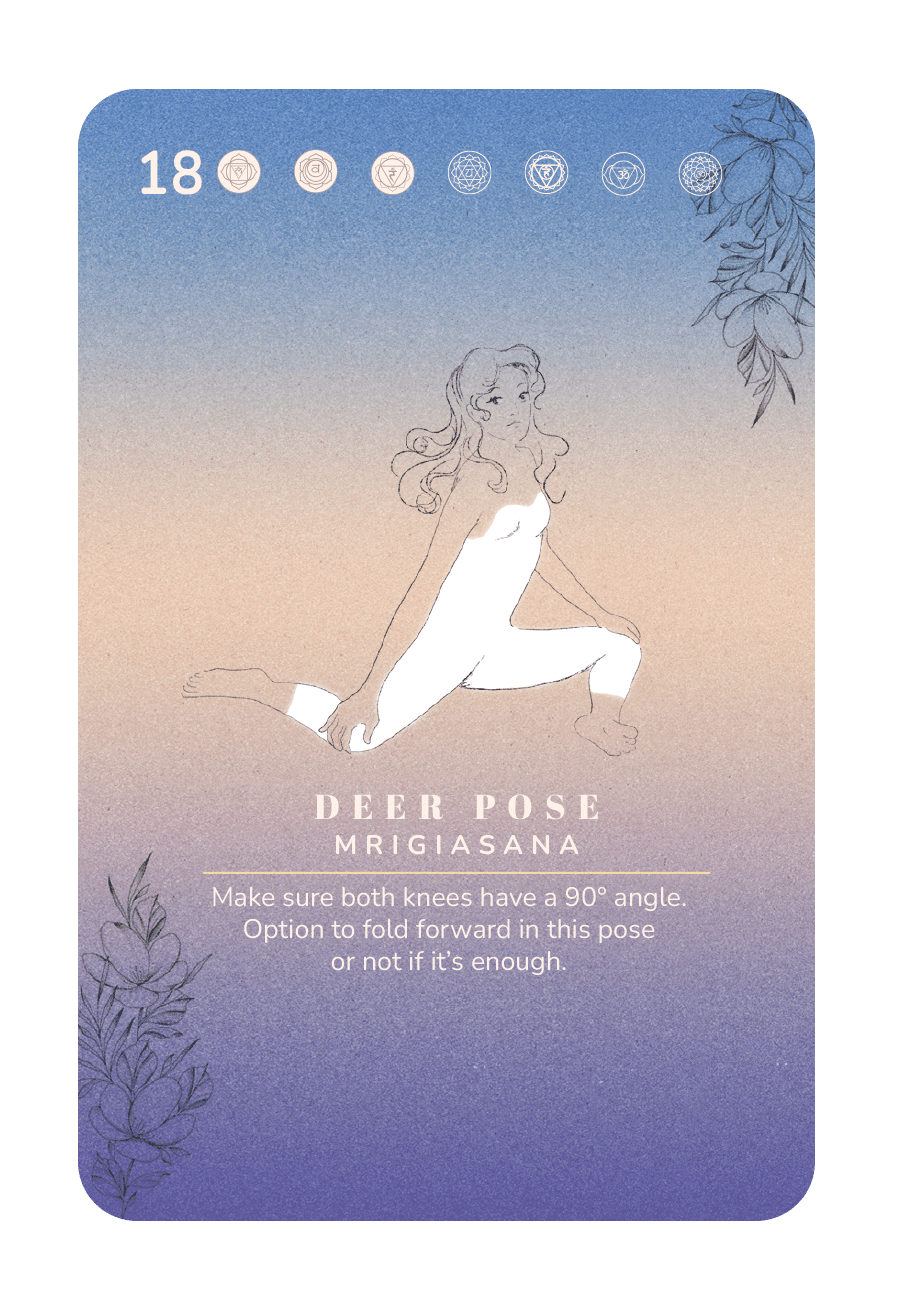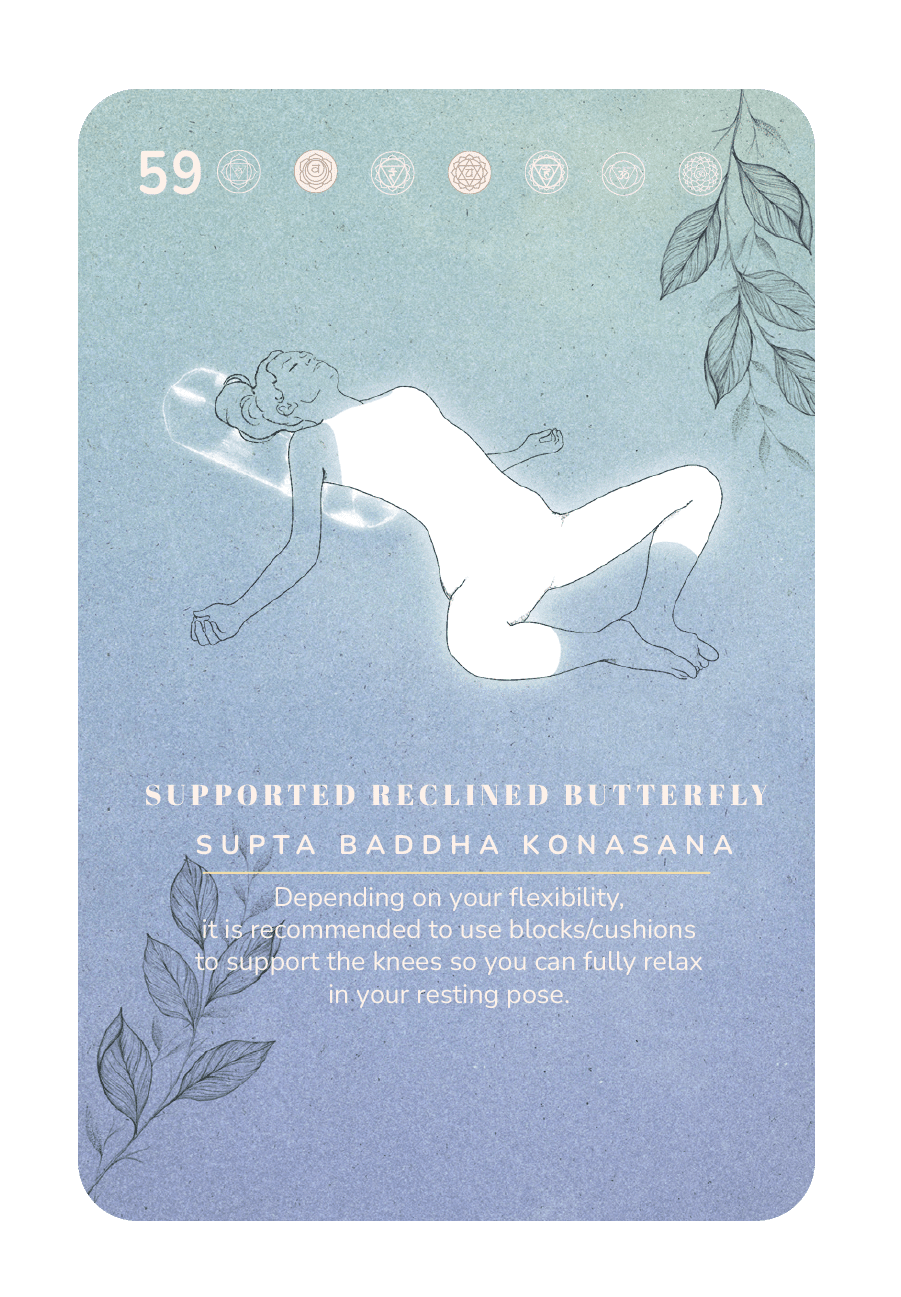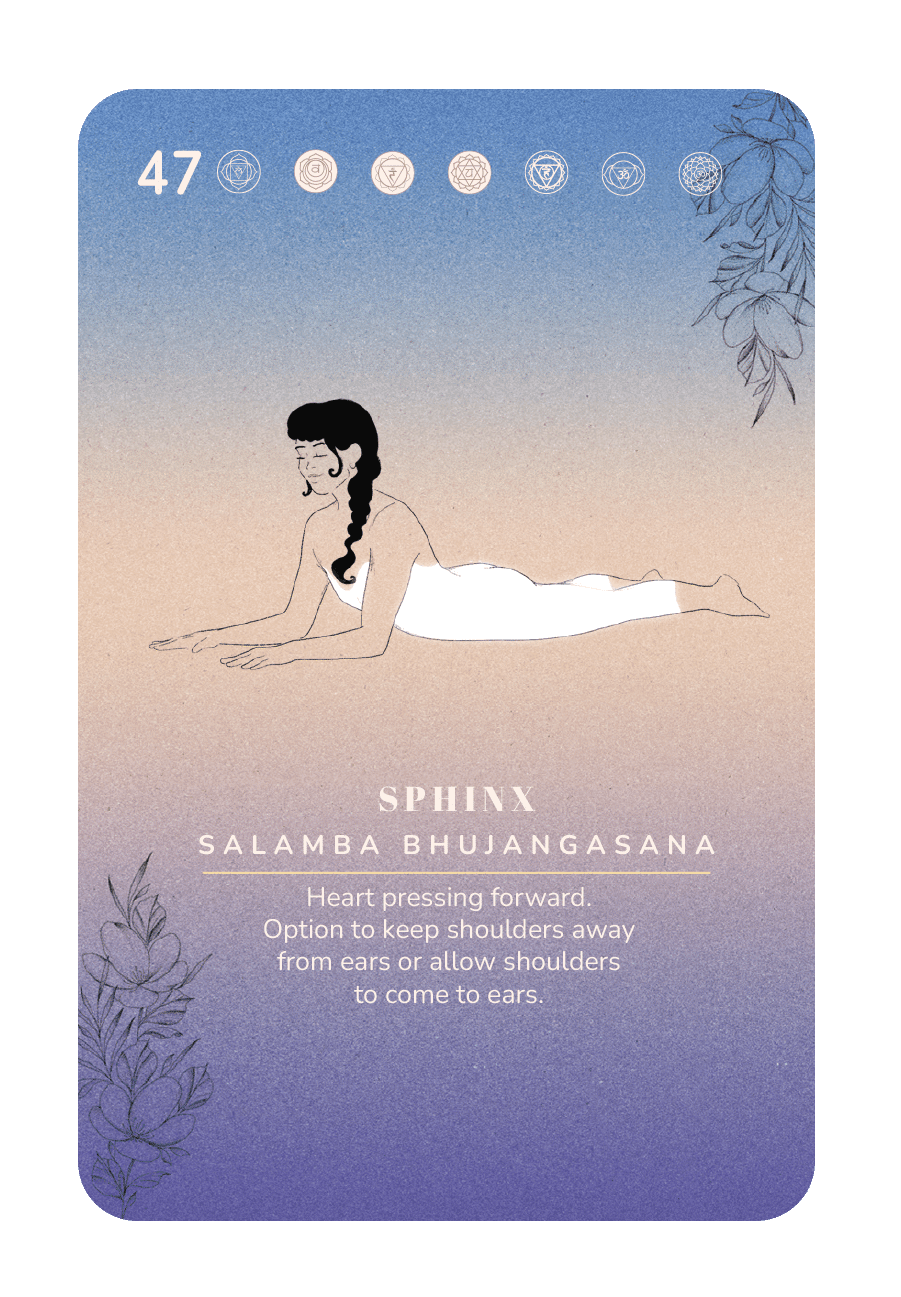 60 illustrated poses in 3 categories
Name in English and in Sanskrit
Chakra indications on each card
Focus phrases for each posture
Meridian indications
Complete Manual
8 illustrated bonus cards with chakra and meridian information
Breathe Deeply, Connect Within, Release All
Giving your body and mind exactly what it needs
The Yin Yoga Deck is a beautiful work of art consisting of 68 cards. The 3 categories of warm-up, poses, and restore cards will help you to create yin yoga sequences and cultivate a more mindful practice where you can disconnect from everything.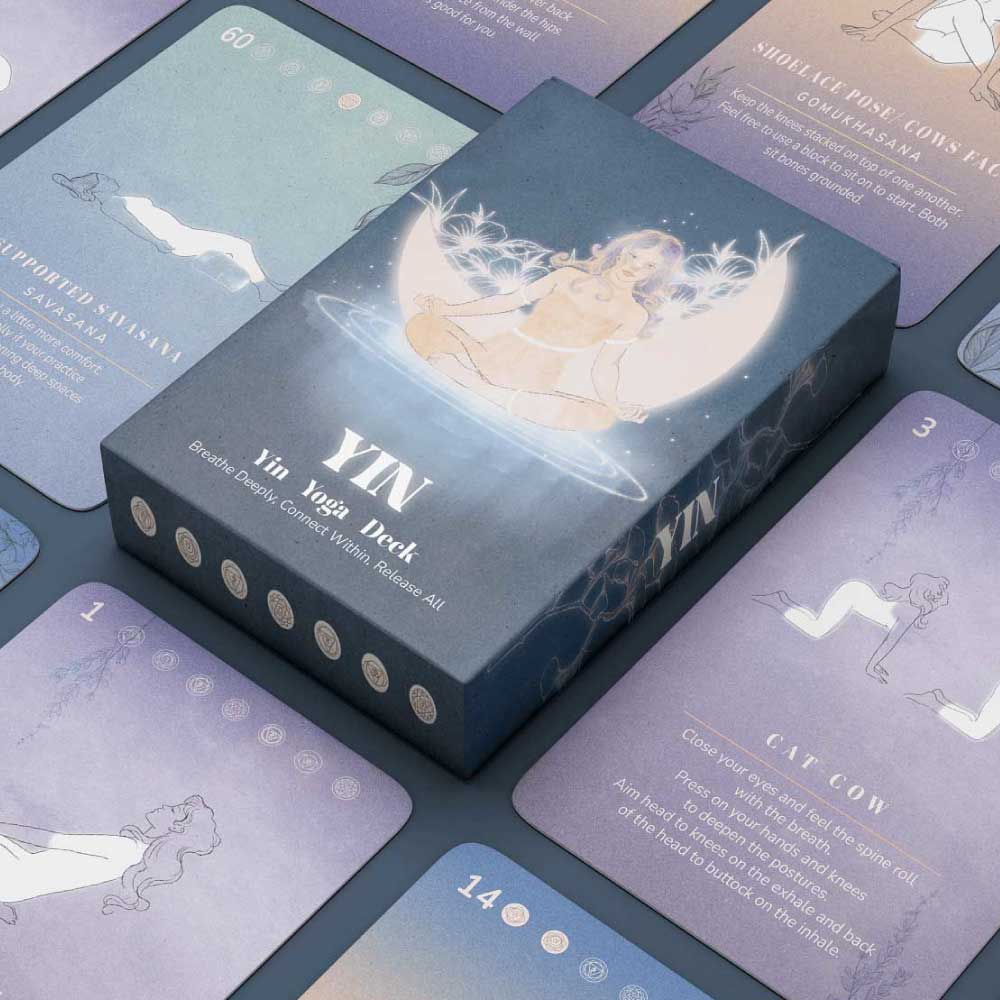 On the top of each card we added which chakra the pose activates. For each pose, you can find highlighted, the chakras involved. This way, you can easily create sequences based on a specific chakra theme, or discover a deeper understanding of each pose on an energetic level.
In addition, we have included 7 bonus chakra cards. Each illustrated card features a description and affirmation of that particular chakra. Plus, in the manual, you will find a complete explanation of each chakra, providing you with the knowledge you need to work with this energetic system.
Root Chakra
Sacral Chakra
Solar Plexus Chakra
Heart Chakra
Throat Chakra
Third Eye Chakra
Crown Chakra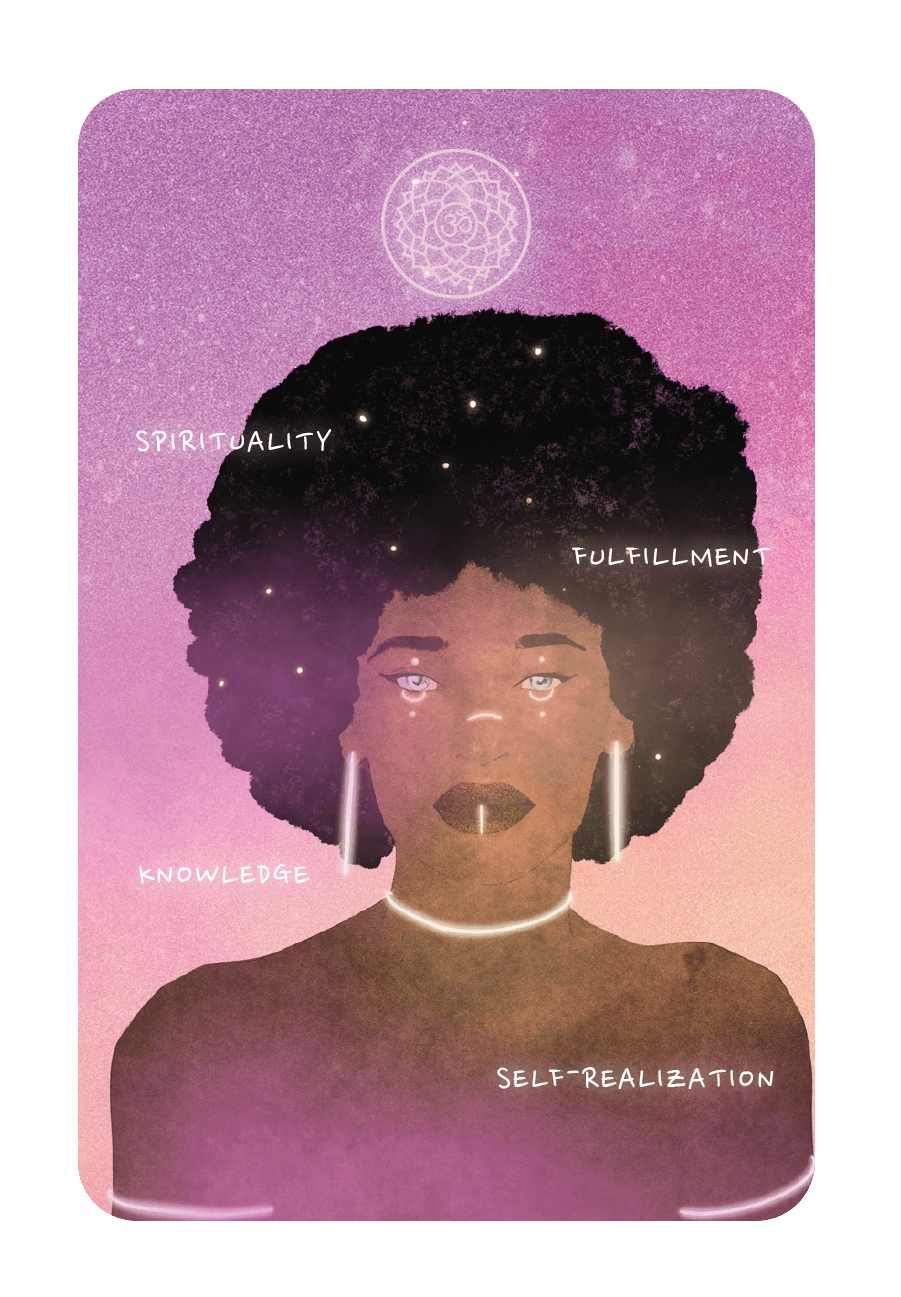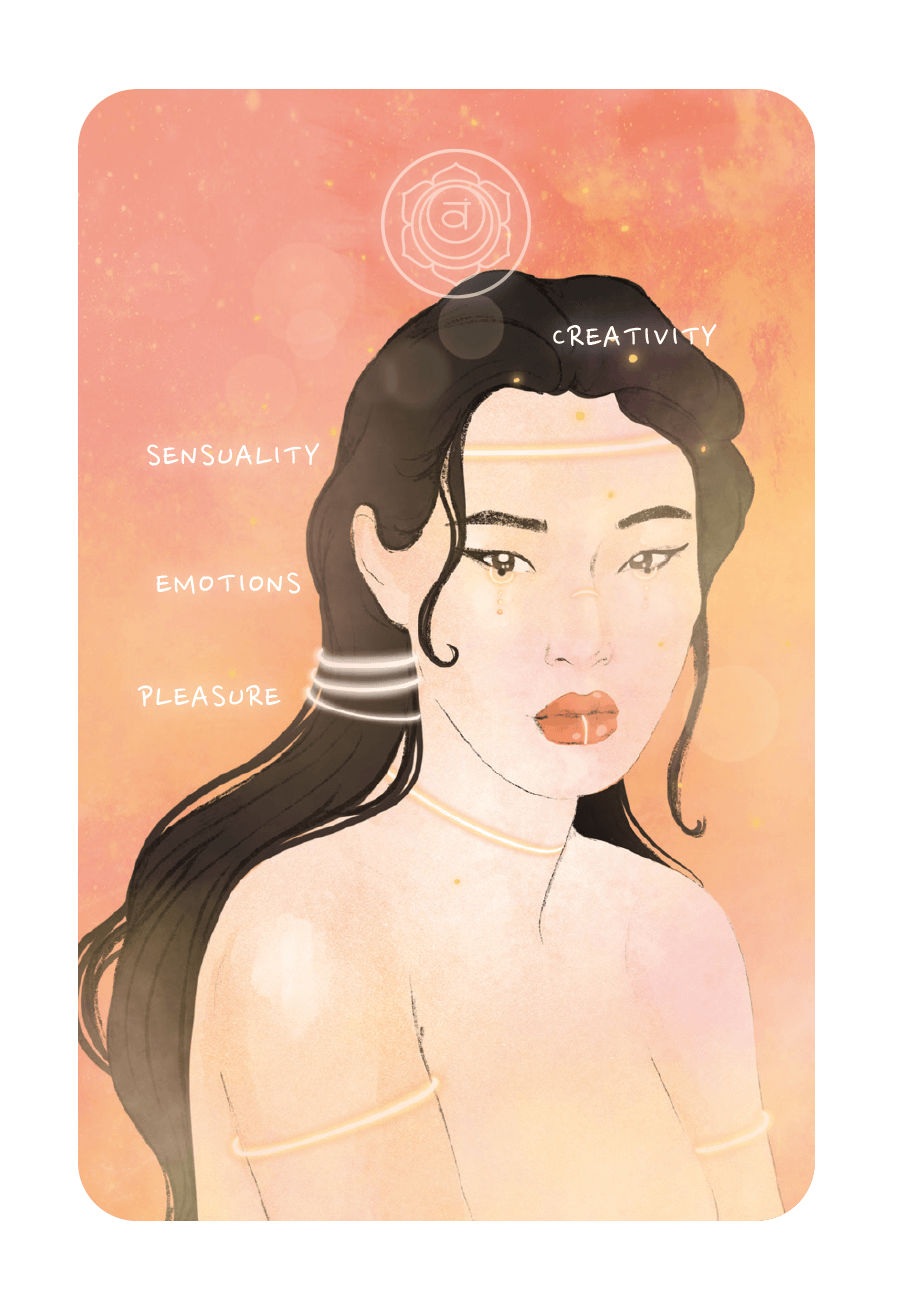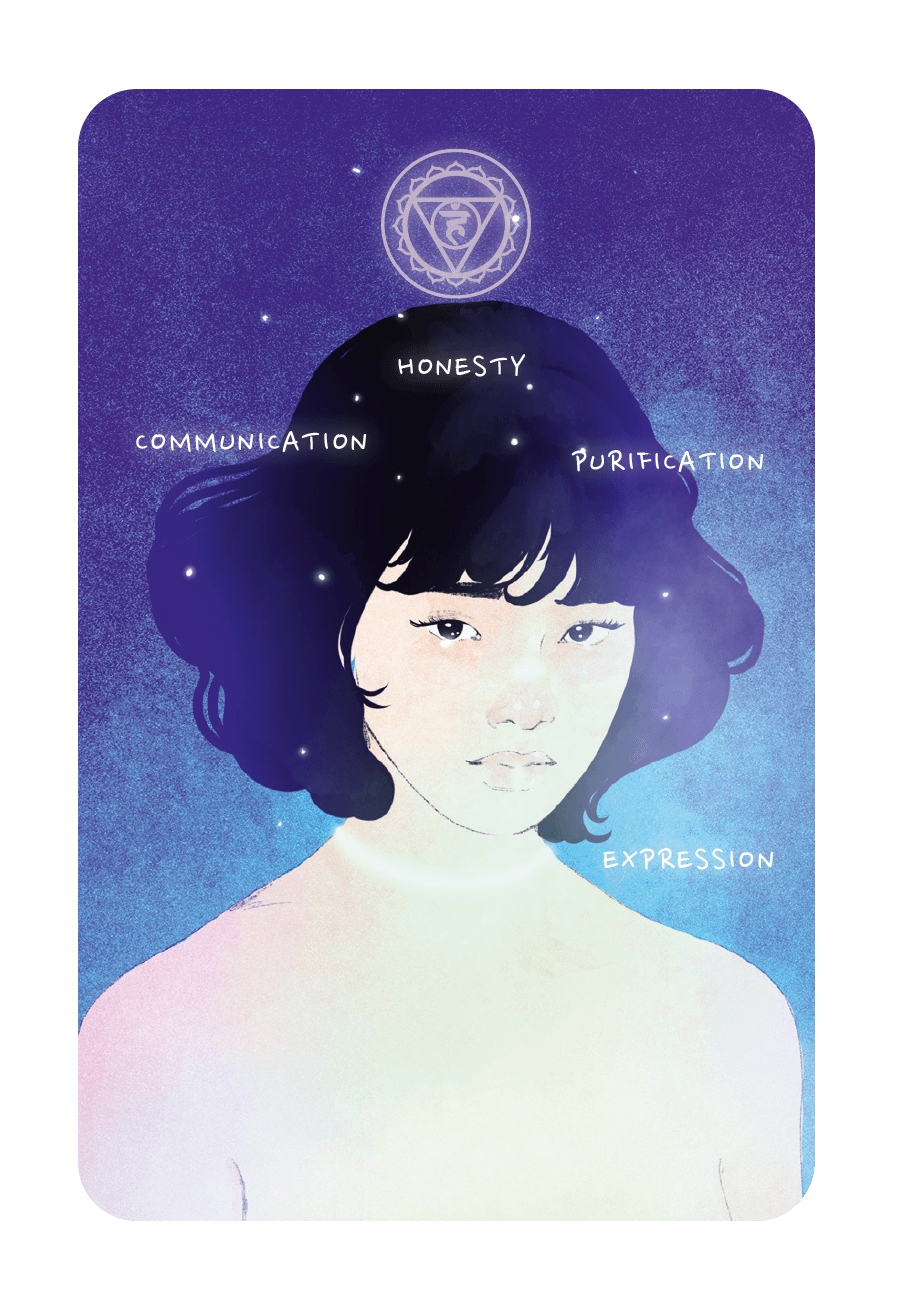 Easily target particular Meridian pathways
On the back of each asana card, you will find indications of the meridians. The ones that are relevant for the card at hand are highlighted. This way you can also create a practice according to your health goals.
Heart Meridian
Large Intestine Meridian
Small Intestine Meridian
Lung Meridian
Liver Meridian
Gall Bladder Meridian
Spleen Meridian
Kidney Meridan
Bladder Meridian
Stomach Meridian
Pericardium Meridian
Triple Burner Meridian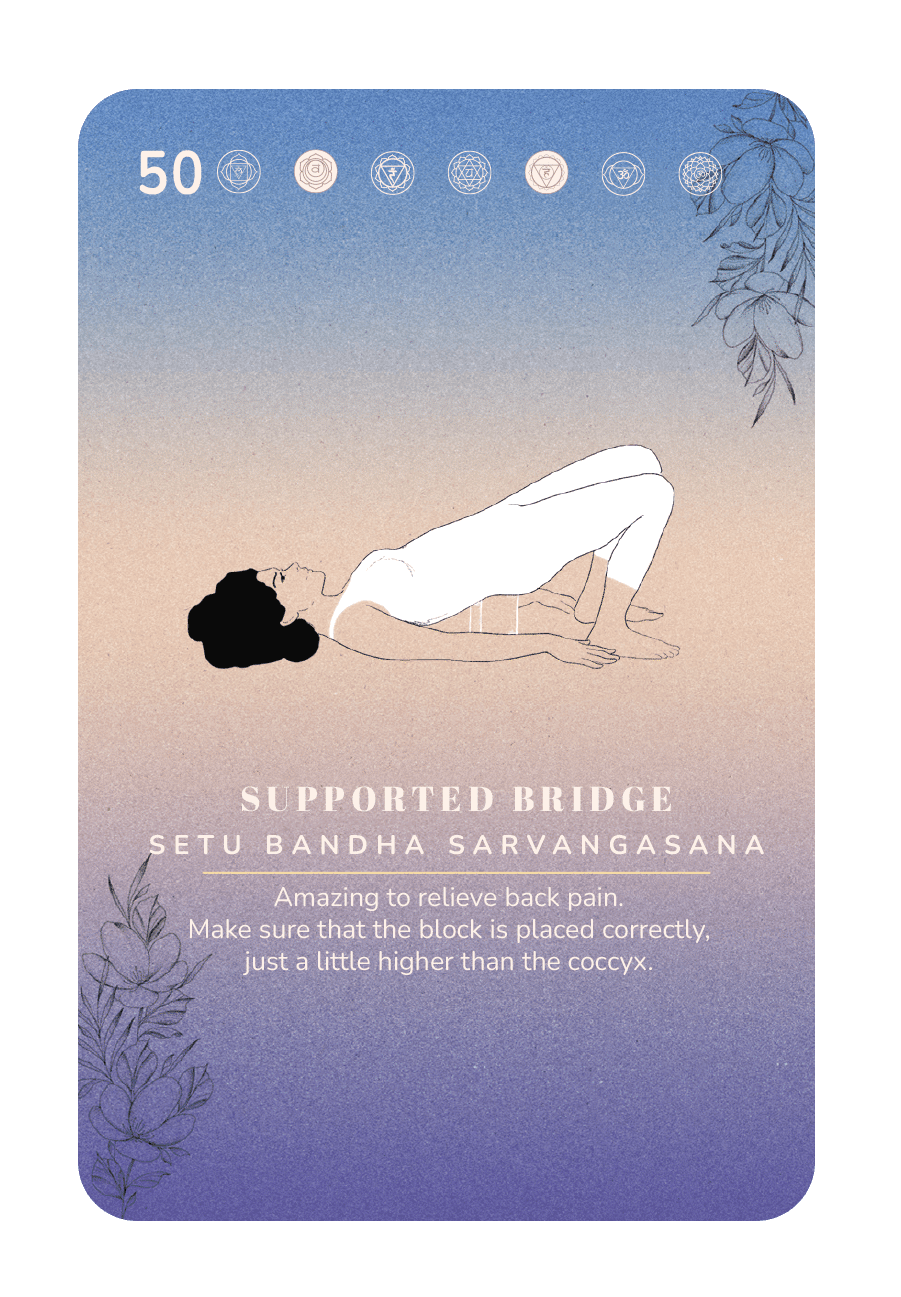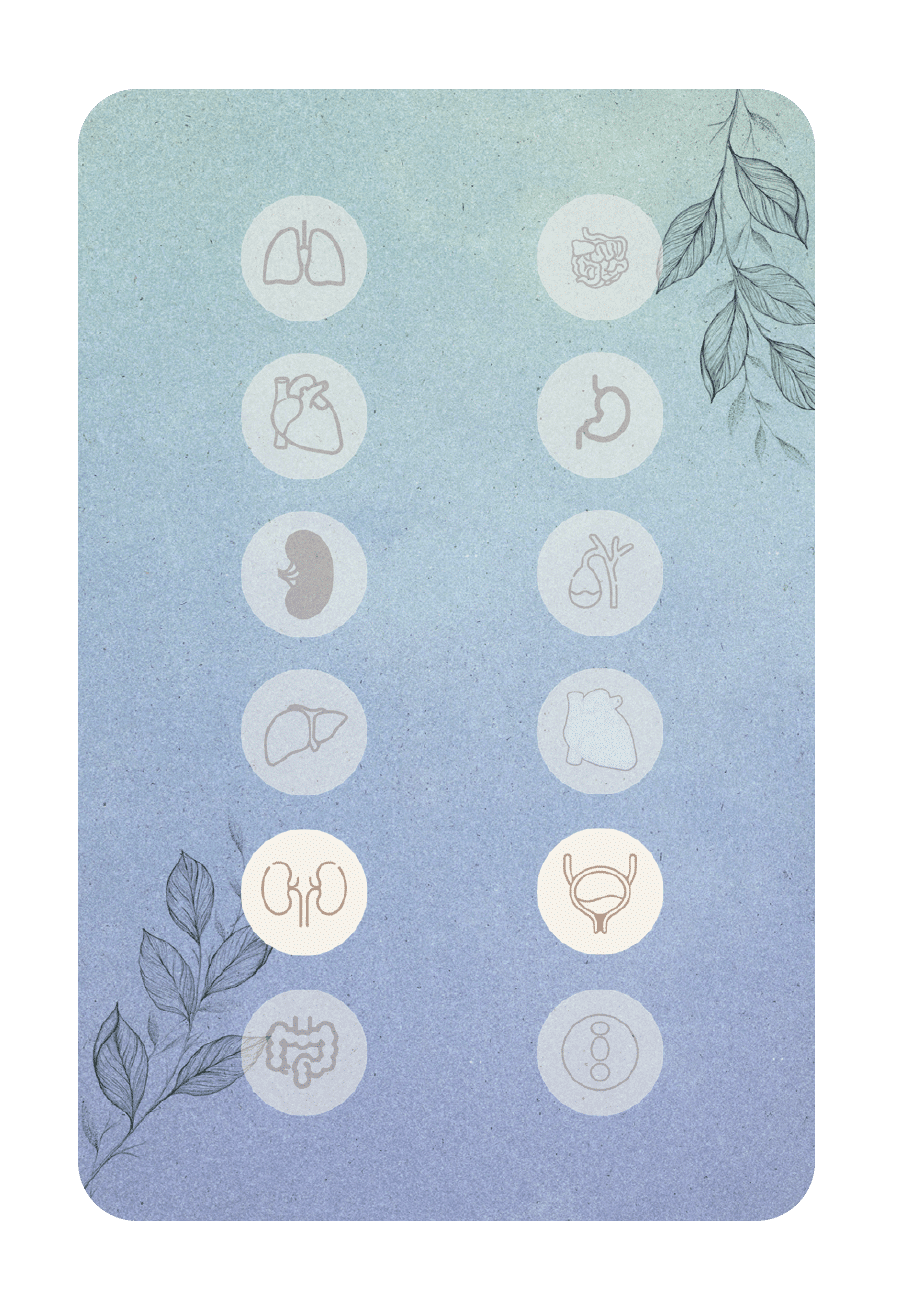 Aside from the indications on each card, we have included 1 illustrated bonus card that shows all the meridians and their pathways. Use this card together with the full explanations inside the Manual for a better understanding of these energy channels.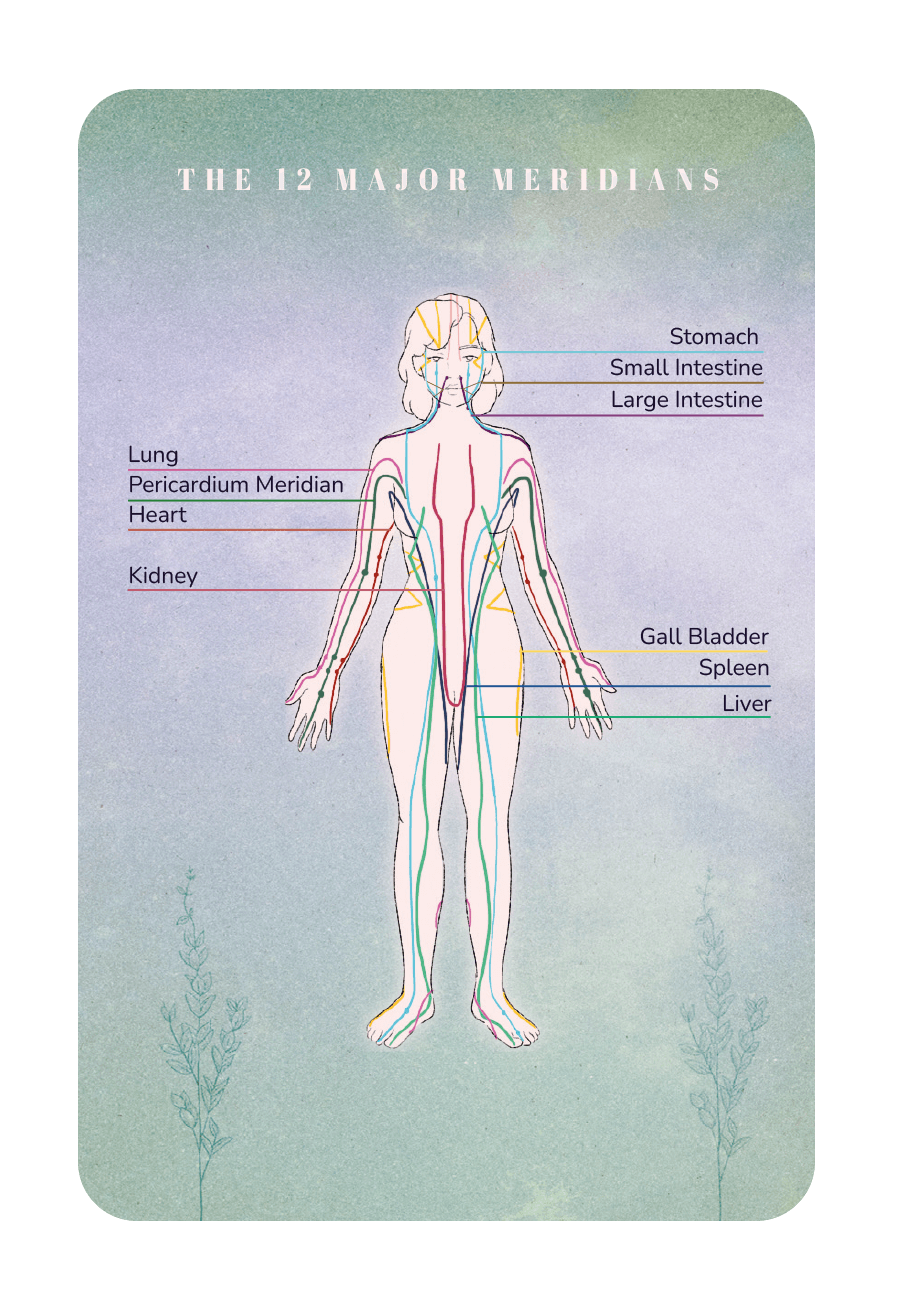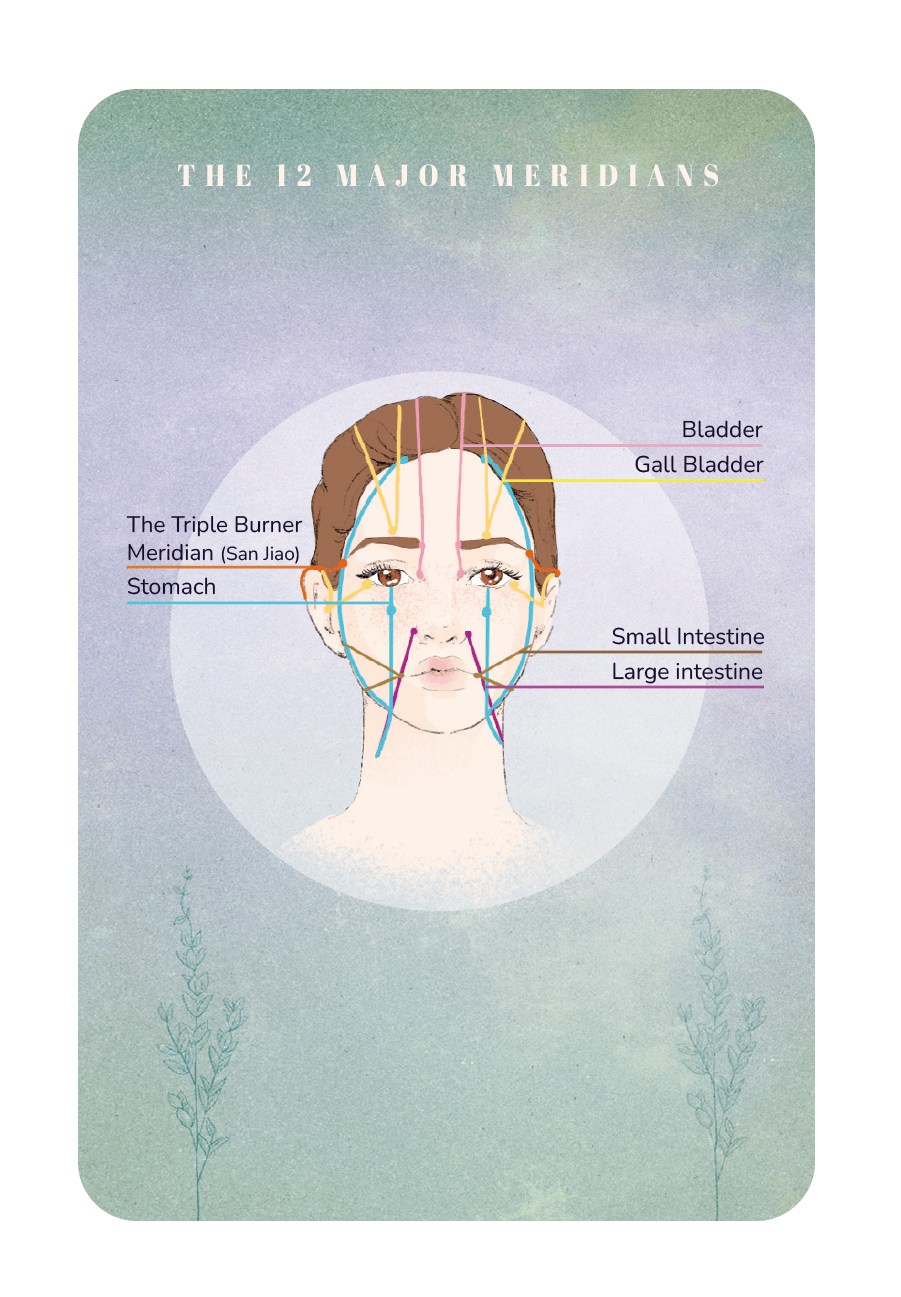 Practice in a
distraction-free
environment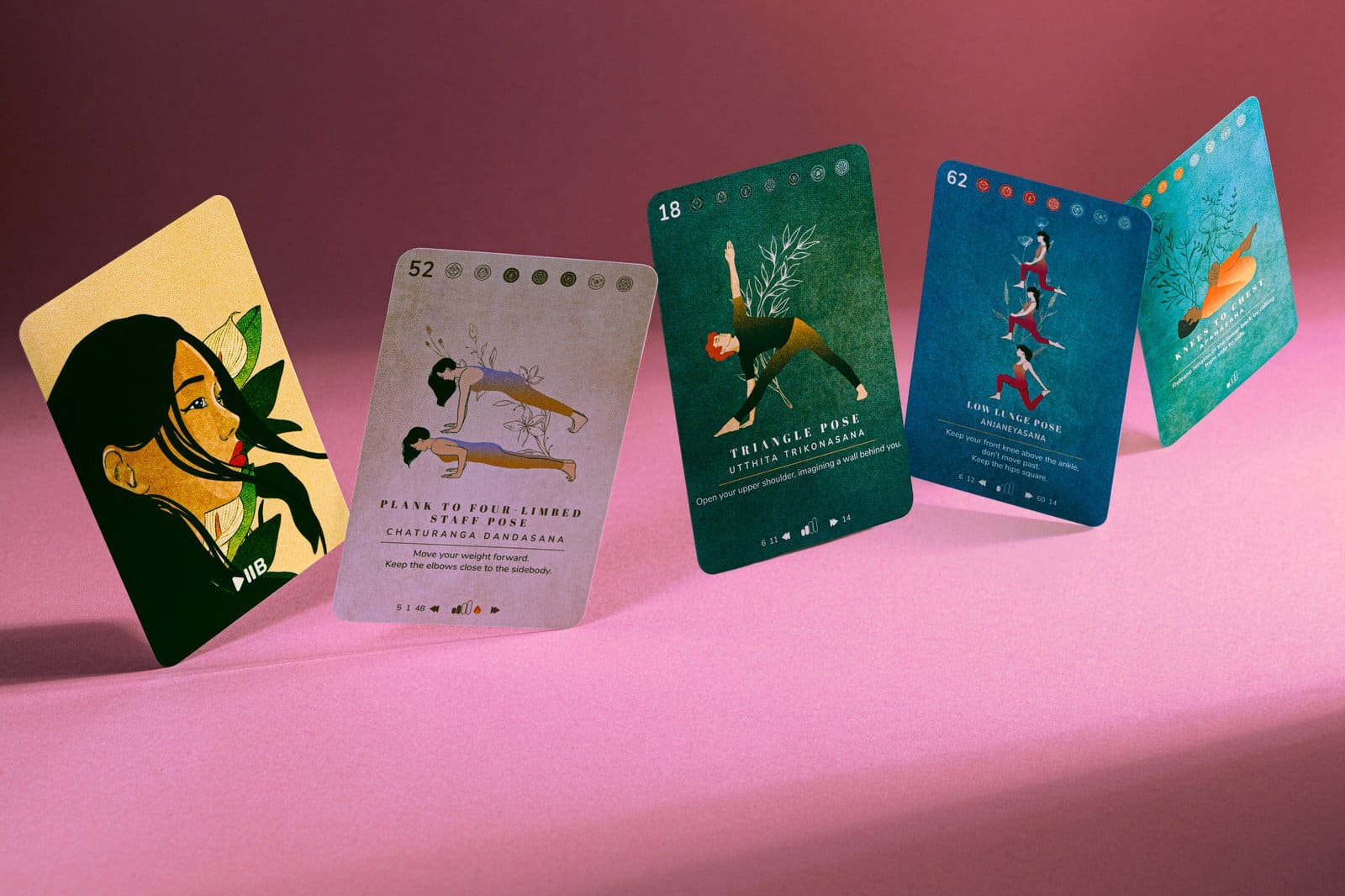 The PlayPauseBe yoga decks help you create a regular practice that unleashes your spirit in a distraction-free environment, where you can forget about your digital devices for a while.
Feel free to practice whenever and wherever you want: at home, in nature, or in your favorite spot, and enjoy the beauty of the present moment.
The PlayPauseBe cards are made in Europe with the highest quality, sustainable materials available. Our Eco factory is powered by solar energy, uses rainwater in sanitary installations, and recycles all production waste. Our goal is to make sure that we do not grow at the expense of our planet and its climate.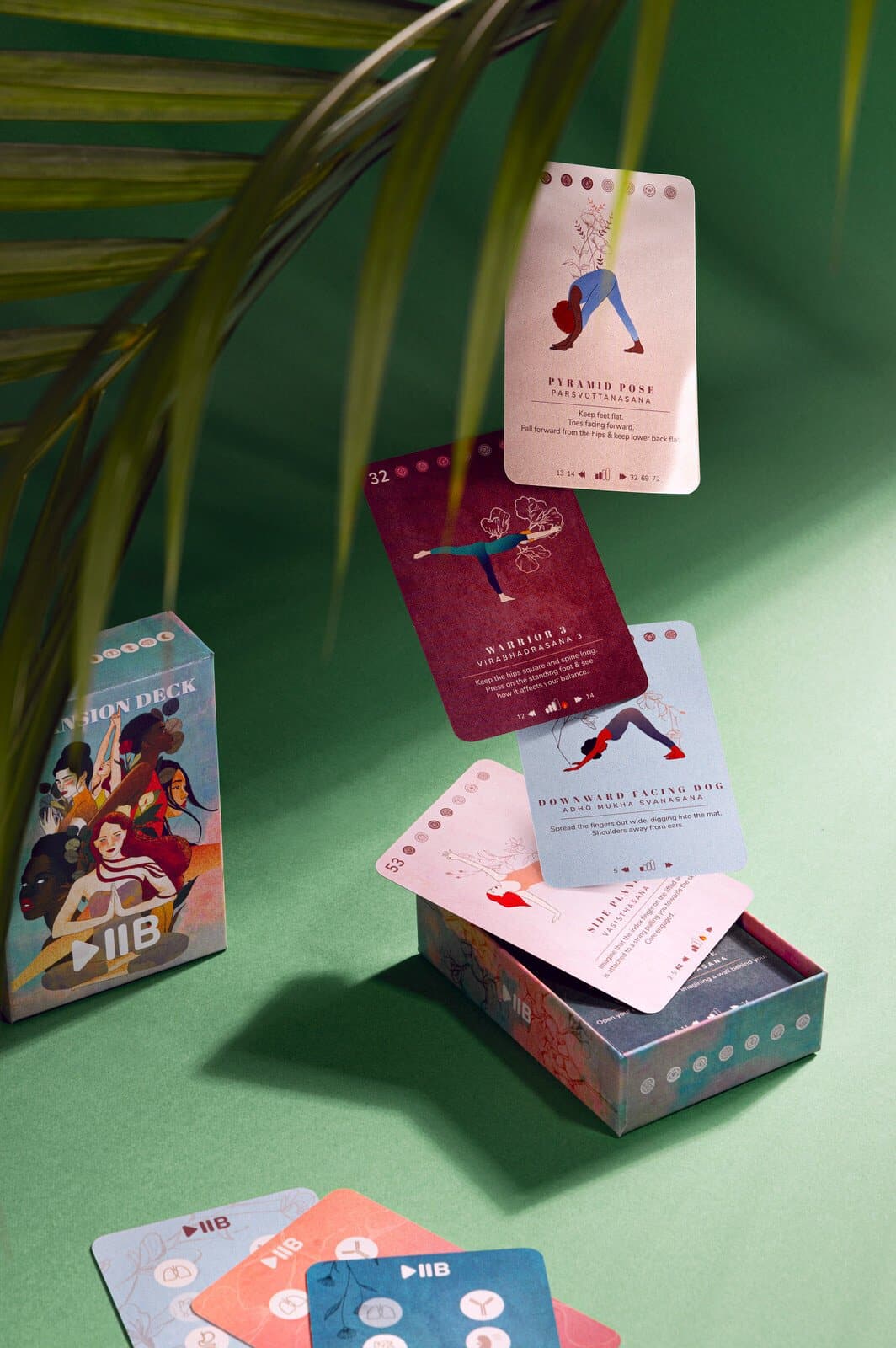 What is going to happen to your yoga practice?
The PlayPauseBe Yin yoga deck will help you create a self practice where you deepen connection to your breath and your body. As you mindfully hold the stretches, you'll feel tension easing in your body and mind.
What's more, as Yin Yoga targets the deeper connective tissue, you'll find your overall flexibility and mobility improving, allowing you to uplevel your practice in other yoga styles too.
Some benefits you'll get from the new YIN deck:
Pair The Yin Deck With Yin Academy
Discover the Secrets of Yin Yoga with our Comprehensive Yin Academy course!
Yin Academy teaches you how to create an effective and independent YIN yoga practice that you can turn to whenever you need more stillness, calm, or balance.
This amazing course has been meticulously designed to streamline your learning process, allowing you to assimilate Yin Yoga knowledge with remarkable ease and efficiency.
By learning the proper alignment, breath control, and precautions of each Yin pose, practicing with your Yin deck will be a safe and seamless experience. 

Module 1
Intro
Before learning the postures, it's vital to gain some understanding of where Yin Yoga comes from and what makes it unique. Yin requires a totally different approach to other yoga styles, and Illona shares the insights she has gained from years of studying, practicing, and teaching Yin Yoga.
Module 2
Warm Up
Although Yin yoga is known as a gentle style, some postures are more challenging than others. Doing some light movement before the deep, long-held poses will significantly help you let go of any physical or mental tension, so that you can fully surrender to the process. This section covers the best movements and stretches for preparing the body and mind.
Module 3
Poses
Here we get into all the juicy Yin postures. While traditionally most yin poses target the lower body, Illona shares some awesome stretches for the upper body too, giving you a complete, full-body practice. Learn how to approach some familiar asanas in the "yin way" and discover some incredible brand new stretches.
Module 4
Slow Down
Savasana is essential in all yoga styles, including a slow, passive one like Yin. And as this is such a relaxing practice, you'll get an extra juicy ending. In this section, Illona shares the different ways you can end your yin practice, besides the traditional Corpse Pose.
How YIN Academy
Will Uplevel Your Practice
Yin Yoga offers multiple benefits for the mind, body, and spirit.
YIN Academy will help you:
Experience more presence on the mat and in your daily life, improving your relationship with yourself and others.
Discover how to listen to your body and discover its unique needs, gaining deeper self-awareness.
Learn how to work with your body's fascia, reaching new levels of flexibility and well-being.
Work with the Chinese meridian channels that nourish your organs and boost your immune system, aiding healing on an energetic level.
Learn the most accessible and effective way to build Yin Yoga sequences, enabling you to create practices that meet your specific needs that day
We've curated a comprehensive bundle that includes the Yin Deck, Yin Academy, and the Yin Sequence Guidebook. This is the ultimate package for those seeking to elevate their Yin Practice to new heights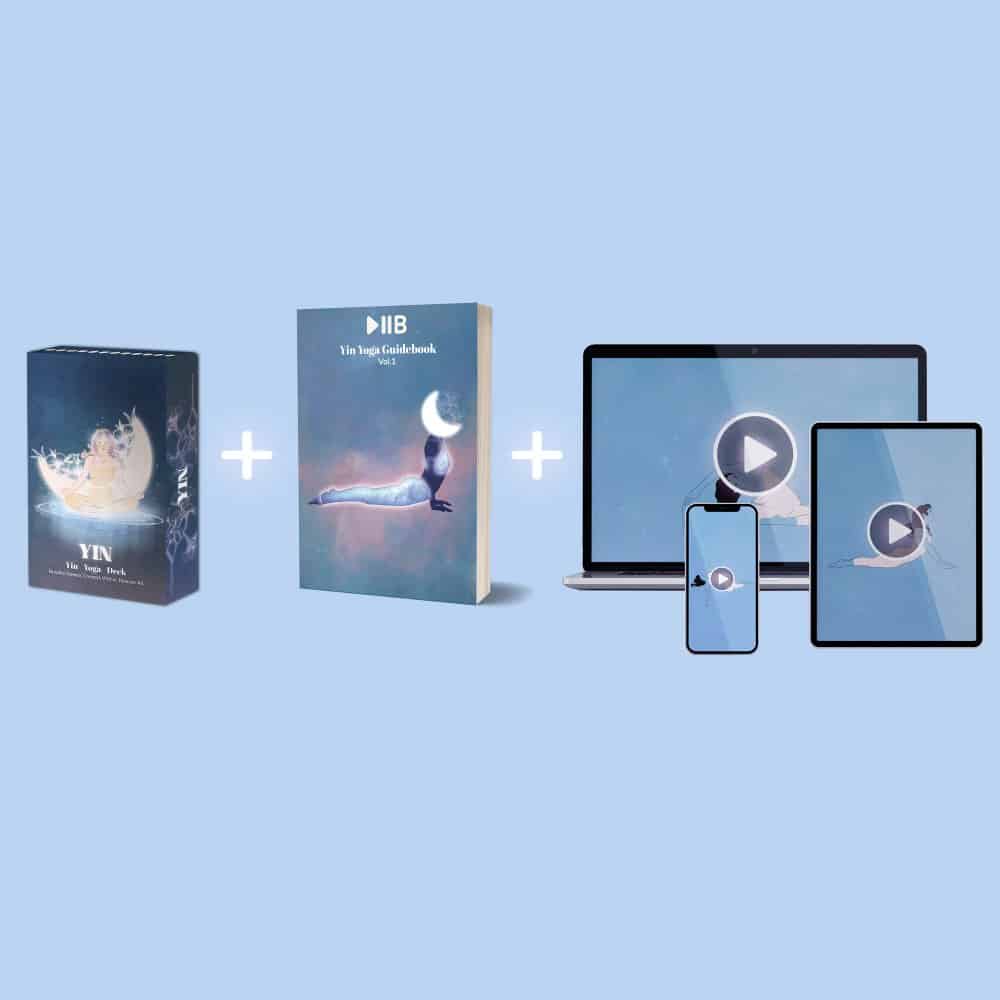 Yin Yoga PRO includes the Yin Yoga deck (68 cards) plus the Yin Yoga Sequence Guidebook, giving you safe and enjoyable yin yoga sequences to do with your PlayPauseBe cards. You will also get lifetime access to Yin Academy, with over 60 lessons covering each of the asanas included in the Yin Yoga deck! 
A regular yoga practice brings life-changing benefits to your body, mind and soul. However, in this fast-paced society that asks us to be connected 24/7, it's often challenging to switch off and go within (even while doing yoga!).
This is why we created the PlayPauseBe Yoga deck. Whether you're a beginner, an advanced yogi, or a yoga teacher, these revolutionary deck cards will help you practice with zero distractions and build sequences easily with confidence and inspiration.
Root Chakra
Sacral Chakra
Solar Plexus Chakra
Heart Chakra
Throat Chakra
Third Eye Chakra
Crown Chakra
Take It From Our Happy Customers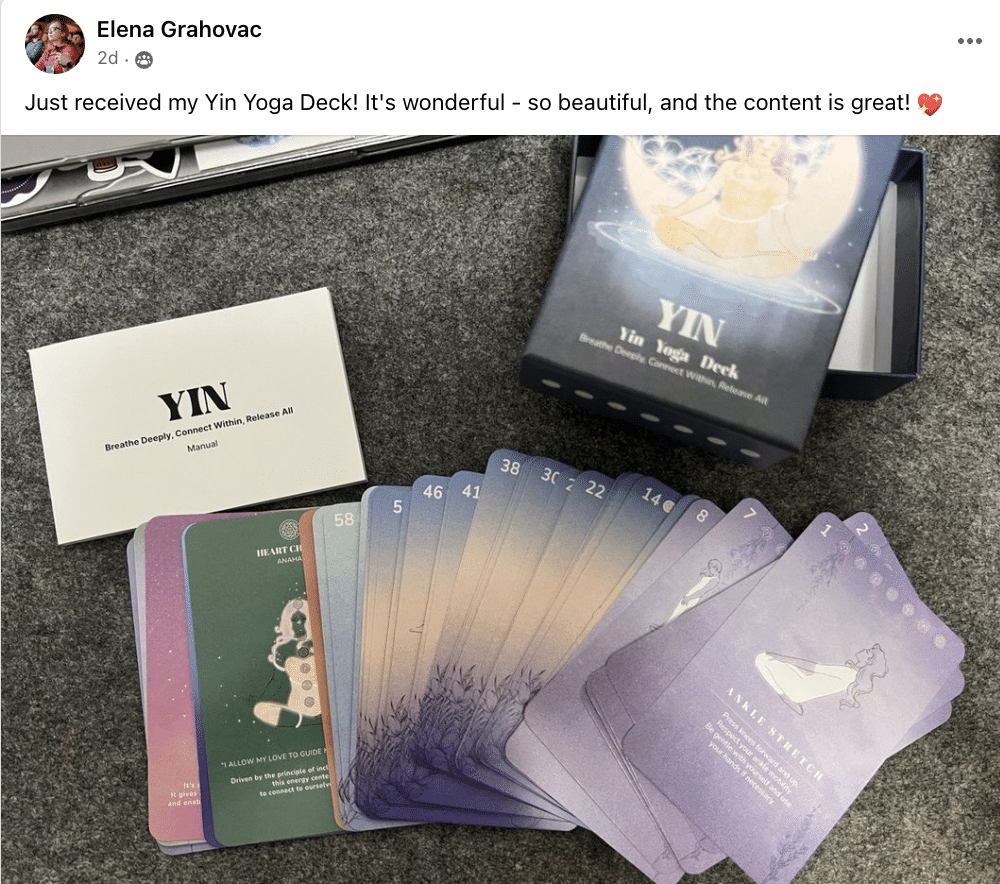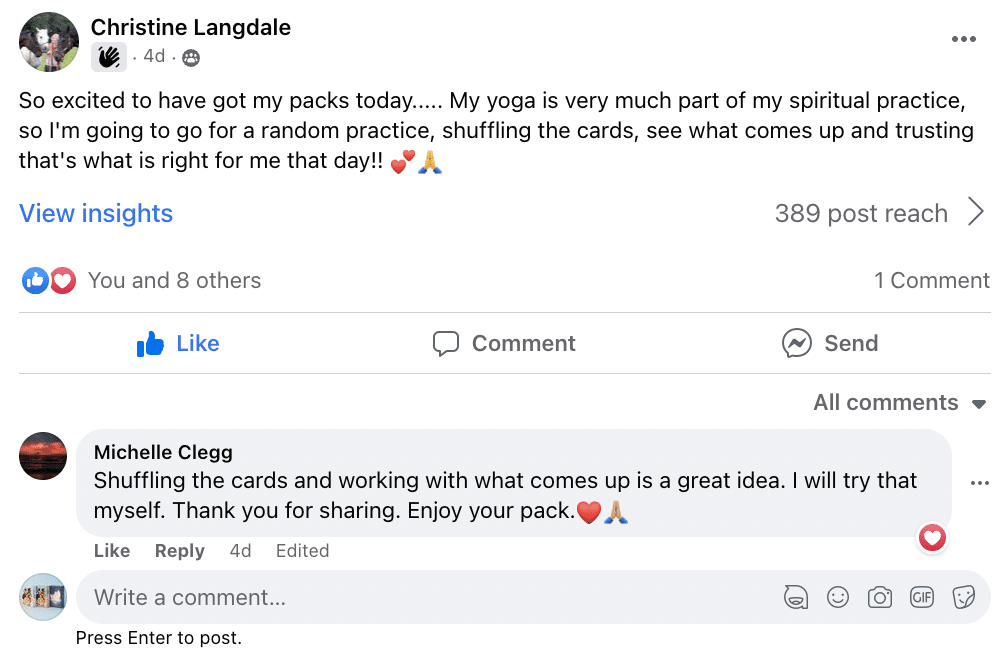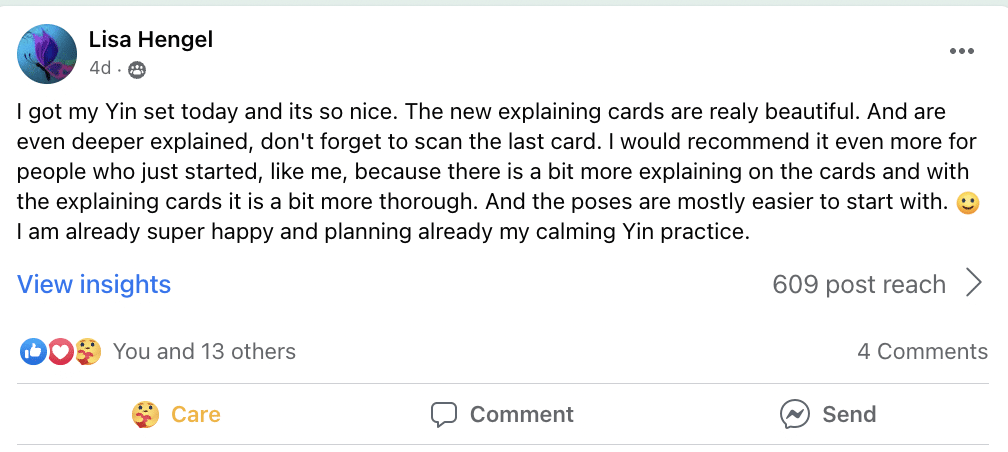 PlayPauseBe is one of the most successful Yoga projects in Kickstarter's history. Our mission is to empower Yogis from all over the world and bring more purpose and awareness to their practice. We are working to create new decks to expand the poses available and cover other styles of Yoga.